A mum of twin girls who were told they might not survive because of their knotted umbilical cords has shared an amazing photo of the entangled cord and her healthy daughters.
Kate Lucas was told during pregnancy her twins were "Monoamniotic" which means the twins share the same amniotic sac within their mother's uterus - they share the placenta but have separate umbilical cords.
Her twins - Harper and Cleo - from Queensland Australia were born weighing 4lb and 3lb but are now eight years old and Lucas has shared her story to inspire other mothers.
"He continued explaining they have no dividing membrane – they share the same amniotic fluid – and are given a 50-70% chance of surviving the cord entanglement they create by twisting and turning around one another."
The MoMo condition affects around one in 10,000 pregnancies, according to Miracle Babies, and the cords will wrap around each other as the foetuses grow which can often starve them of oxygen.
Lucas wrote that they began to see a foetal specialist and had fortnightly ultrasounds for safety, as well as being part of a support group - www.monoamniotic.org - to learn more about the condition.
The mother was monitored daily from 28 weeks and was told she would deliver by caesarean at 32 weeks.
Lucas explained in her blog the heartache she felt being a resident of the maternity wing at 28 weeks, away from her family.
But she was warned of the complications that could happen when they were born.
"We were told not to set up a nursery as it would make it too hard if we lost one or both the twins, so I spent time pouring over catalogues wondering what if anything I might need," she said.
Describing the birth, she wrote: "In no time at all our two tiny girls were born within minutes of each other – the girls screamed as they entered the world, and continued to breathe on their own! Harper 1.9kg and Cleo 1.5kg – tiny but perfect.
"They never needed oxygen, or any meds at all. They were even brought straight to us (after a quick once over) for a cuddle… I cried and cried as I never expected to see their little faces before they were covered in tubes, and put in humidicribs."
She continued on her blog: "When MoMos survive they are known to be the closest twins of all as they have been in physical contact since conception, they have been seen holding hands and sleeping forehead to forehead in the womb... and then similarly once born."
The twins were in the NICU overnight and had no difficulties.
Her children, described as Lucas as "twirlies" are now best friends.
"We made it and will be forever grateful we were lucky enough to be blessed with our miracle twins."
The twins' mum, Sarah, 32, told HuffPost UK Parents: "I can't believe they were holding hands. That's amazing. They're best friends already."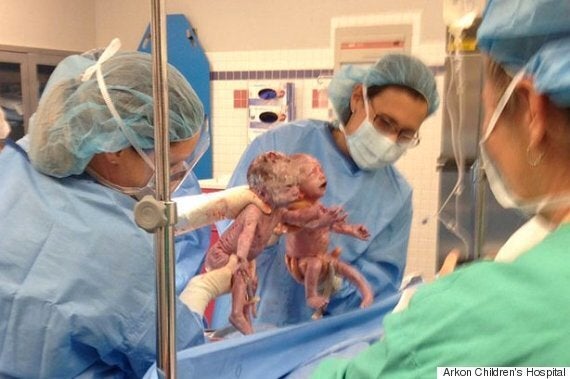 Just like Lucas' story, the mother faced a difficult pregnancy because of the concern the babies' umbilical cords can become tangled due to their positioning.
Before their birth, Sarah spent 56 days in hospital so the twins could be monitored but the twins arrived happy and healthy.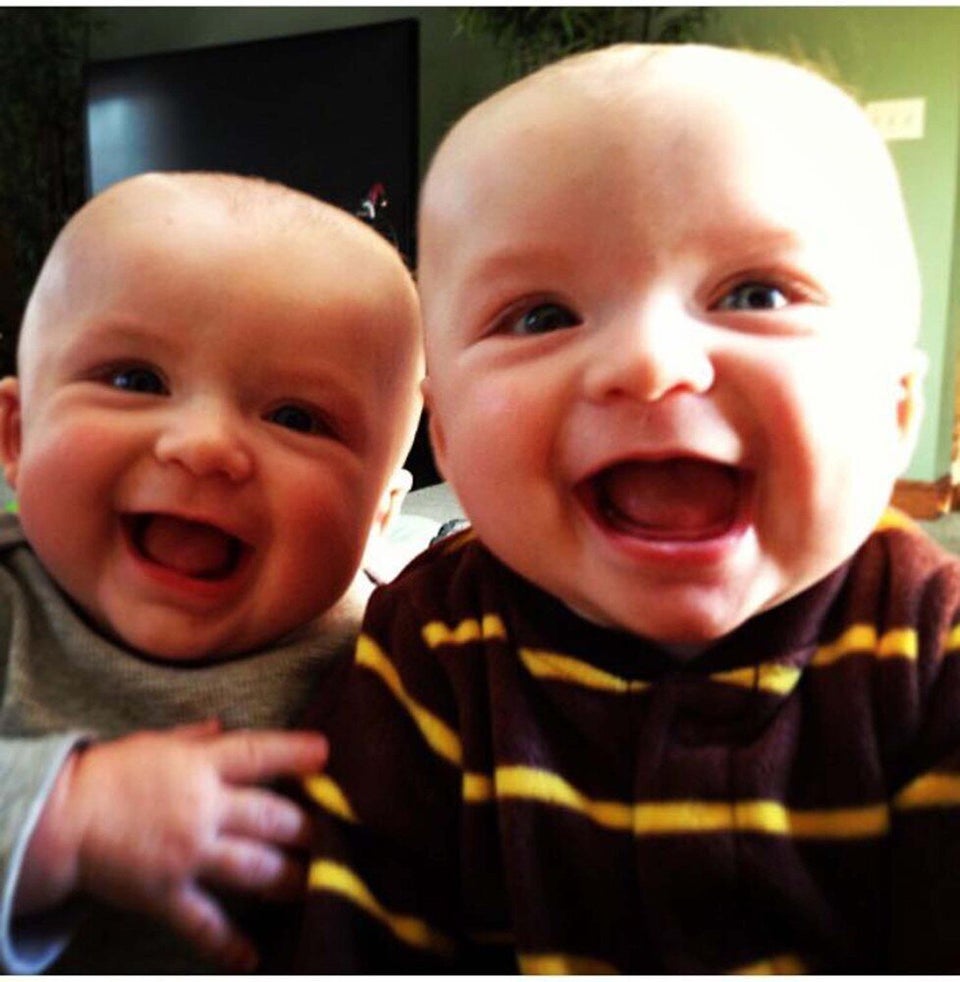 Twins