The five things you need to know on Tuesday July 14, 2015...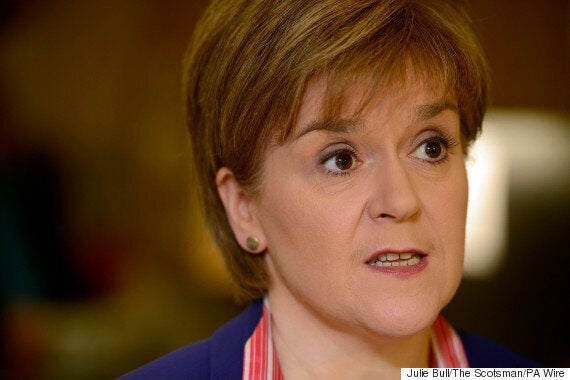 The SNP's gamechanging decision to vote against English foxhunting reforms is proof that 'the 56' are delivering early on their pledge to shake things up at Westminster. Their numbers now mean that David Cameron's free vote (though the SNP vote as one) to allow more hunting dogs is virtually a foregone conclusion: change ain't gonna come. The Scots sabs have won before the bugle has even sounded.
Nicola Sturgeon was at the meeting of her MPs last night and was instrumental in the big decision (though never underestimate Angus Robertson's role, clear in his HuffPost interview HERE). The First Minister told the Today programme this morning that it was 'Inevitable there will be another look at the Scottish law' to strengthen anti-cruelty measures.
But Sturgeon made clear that the real reason was that 'since the election David Cameron has shown very little respect to Scottish MPs' on their amendments to the Scotland Bill for more powers, and through his 'unconstitutional' changes to English Votes for English Laws.
Calls for an even tougher EVEL plan are sure to follow, but may be that's the whole point for both No10 and the SNP to harden their positions. Could things get out of hand for Downing Street, however? Don't forget there's a common cause here among some Tory backbenchers and the Scot Nats: two distinct Parliaments. And Sturgeon was explicit in pushing that agenda today, virtually goading the PM into retaliation: 'If David Cameron's proposition is for an English Parliament, let him make that case...'
Harriet Harman came in for a bit of a verbal pounding at the Parliamentary Labour Party meeting last night, but she only flinched a bit it seems. I'm told 13 MPs spoke to criticise her plan not to oppose the Tory two-child cap on benefit, and only 3 explictly backed the plan: Wes Streeting, Joan Ryan and Ian Austin (though Ben Bradshaw and Margaret Hodge gave more general support to Harman). Some modernisers are already pointing out that Streeting, Ryan and Austin all won their seats in tight fights with Tories in May.
The only leadership candidate to turn up last night was Liz Kendall, who felt Harman made a great speech. Indeed some present felt there appeared to be a praetorian guard around Harman that was made up of Kendall, Chuka Umunna, Tristram Hunt, Emma Reynolds - and Chris Bryant. The interim Labour leader defender her stance, stressing "I don't think we can campaign against the public" and that Labour voted hundreds of times against the Tories as part of its "virtuous Opposition" (a telling phrase that) in the last Parliament - all in vain. Still, some MPs ridiculed Harman's line that opposing more than 4 parts of the Tory welfare plans was too complicated.
Harman aides insist that the two-child line was signed off by Rachel Reeves (who's in the Burnham camp), Chris Leslie (who's backing Yvette) and Stephen Timms. But it was Stephen Kinnock's line on Daily Politics that caught our ear yesterday, as he compared the child restriction to 'eugenics' (and some papers have now picked that up too). When his dad Neil was asked last night what he thought about Harman's speech, the former leader replied: "Not much".
The Shadow Cabinet meets today and we could get a firm decision on what Labour does on the vexed Second Reading of the Welfare and Work bill next week. I'm told the whips are reporting that 'dozens' of Labour MPs, both frontbench and backbench, could vote against Second Reading anyway. The Tory plan to cause havoc in Opposition ranks is patently working.
Meanwhile Labour's 'day job' of opposing the Government continues. It got a bit lost last night but in the Lords ministers lost three votes on the Devolution bill. More sexily, the Government lost a 'regret motion' on Universal Credit after a rambling speech from Lord Freud. More on that later.
Today, Liz Kendall is trying to move the agenda on with a fresh policy of her own: she is urging her party to table amendments to the Finance Bill to oppose the Tory inheritance tax cut. She's written a HuffPost blog on just why it's right 'morally' and 'fiscally' to oppose it.
The cartoon that's gone viral in Greece this morning is of Alexander the Great with bloodied nose. Also viral was the hashtag #thisisacoup. And for Alexis Tsipras, for all his claims to have secured a major debt restructuring and lasting settlement, the humiliation is real.
The clock is still ticking. Four pieces of legislation must be passed by the end of tomorrow, including pension and VAT reforms. But Defence Minister Panos Kammenos, a junior coalition partner, has already said he will not support the measures. If the deal fails, Greek banks face collapse and Grexit could still follow. The FT says the Greek PM may have to rely on his political opponents to get the plan through. Expect a Cabinet reshuffle and maybe even a unity government by the end of the week.
George Osborne is preparing to defy Brussels attempts to get the UK to shell out £850m towards the bailout, the Mail reports.
Speaking of fiscal autonomy, our own independent Bank of England governor Mark Carney gives evidence on the quarterly inflation report to the Treasury Select Committee at 10.15am today.
BECAUSE YOU'VE READ THIS FAR...
David Cameron political transvestitism continues apace today as he nicks another Labour garment from the election campaign: a pledge to tackle the gender pay gap. The PM will make a speech with a new ambition of ending the gap 'within a generation'.
Firms with more than 250 staff will have to mind the gap by publishing figures (in aggregate, not for individuals). At present the gender pay gap stands at 19.1% - a woman, on average, earns around 80p for every £1 earned by a man. The UK has the sixth highest such gap in the EU. Writing in the Times, Cameron said the compulsory National Living Wage for over 25s unveiled in last week's Budget would play an important part. Nicky Morgan has also welcomed new stats showing FTSE 100 companies have met the Coalition (remember that?) target of 25% of women on their boards.
Labour's Gloria de Piero points out the Government voted against an annual pay check only last month. The ghost of Vince Cable looms on this too. Jo Swinson the former minister who worked with Grazia on their last campaign on this, says the PM's 'generation' ambition is 'to put it mildly, unambitious'.
The word 'historic' is overused in journalism but for once it looks like it could apply to the Iran nuclear deal. Just after 7am, Reuters reported that there has been an agreement struck and Barack Obama could have a crowning achievement for his post-Bush policy of jaw-jaw rather than war-war. The details are only just emerging but it could be that John Kerry's patient diplomacy has paid off and we are seeing the final fruits of all that optimism when president Rouhani was elected.
Israel is bound to react hawkishly despite the obvious point that it too has a secret weapons programme that defied international opinion.
We have Foreign Office Questions at 11.30am so the Speaker may deem that's appropriate enough a forum for British reaction. But perhaps there could be an Urgent Question or oral Statement.
Chris Bryant has a Big Speech tonight warning that there are just '18 months to save the BBC'.
HM Inspector of Prisons Nick Hardwick has a damning report on the rise of prison violence. Another area where Michael Gove, fresh from his books-for-inmates move, could talk more about rehabilitation?
Harriet Harman attends a meeting of the National Security Council this morning and we can expect more 'mature Opposition' from her and Vernon Coaker on tackling ISIL.
HuffPost UK launches its "15 from '15" interview series today, a weekly chat with 15 MPs from the 2015 intake of Tory, Labour and SNP newbies. They have 15 questions each. Today's is Labour's Jess Phillips. 'Return of the Jedi' you say...?
If you're reading this on the web, sign-up HERE to get the WaughZone delivered to your inbox.
Got something you want to share? Please send any stories/tips/quotes/pix/plugs/gossip to Paul Waugh (paul.waugh@huffingtonpost.com), Ned Simons (ned.simons@huffingtonpost.com), Graeme Demianyk (graeme.demianyk@huffingtonpost.com) and Owen Bennett (owen.bennett@huffingtonpost.com)