A 94-year-old former SS officer dubbed the "bookkeeper of Auschwitz" has been handed a four-year jail sentence after being found guilty of being an accessory to the murder of 300,000 people.
Oskar Groening was responsible for collecting and examining people's belongings as they arrived at the death camp, as well as removing and documenting any currency found.
He himself admitted that he was an enthusiastic young Nazi when he was sent to work at the camp in 1942, aged 21.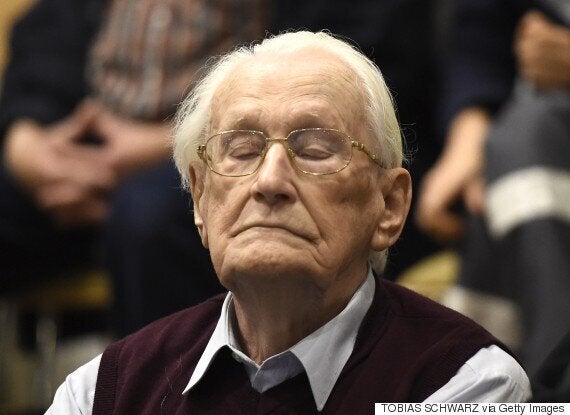 Oskar Groening reacts to the verdict
The charges he faced at the Lunenberg court pertained to a period between May and July 1944, during which time at least 300,000 people were sent straight to Auschwitz's gas chambers, according to court documents.
The trial heard form a number of Holocaust survivors, who spoke of the horrors they witnessed at the camp.
Groening said that he admitted "moral guilt" but insisted that he was not personally responsible for any deaths, describing himself as a "small cog in the wheel" of the Nazi regime.
However, prosecutors argued that by helping to ensure the smooth running of the camp, he was an accessory to the killings.
During his trial, he apologised to victims and said that he had "no right" to ask for forgiveness from them, adding that he could only ask God.
Before proceedings, Groening had publicly discussed his role at the camp, describing atrocities he witnessed.
"I was on the ramp when the selections [for the gas chambers] took place."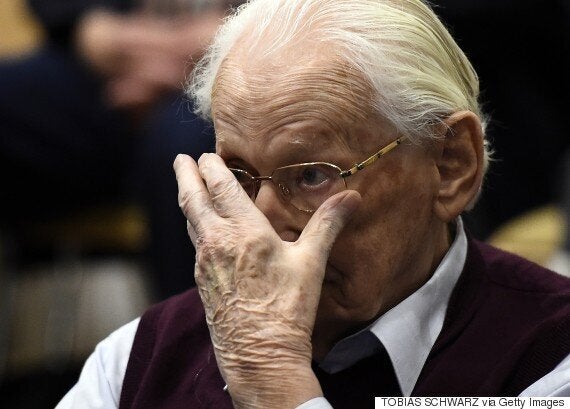 Groening said that he "no right" to ask Holocaust survivors for forgiveness
During the four-month trial, the court sat for just three hours each day because of Groening's frailty.
In reaction to the verdict, Dr Moshe Kantor, President of the European Jewish Congress, said: "We welcome today's verdict and the historic significance of the trial of Oskar Groening, and the opportunity it provides for to educate a generation that is all too distant from the horrors of the Holocaust.
"Although more than 70 years have passed since the liberation of the Nazi death camps, this trial reminds us that there is no statute of limitations for those responsible for Nazi horrors and of the real and present danger of intolerance and demonstrates the constant need to guard against anti-Semitism, racism and hate."