Theresa May today poured cold water on the use of water cannon in mainland Britain, despite London Mayor Boris Johnson having bought three of the machines.
The Home Secretary announced this afternoon she would not be giving permission for police to use the devices as part of riot control techniques, citing safety fears as a major factor.
However, water cannon can still be used by police in Northern Ireland.
The ruling, supported by Labour, is an embarrassment for the London Mayor, who spent £218,000 on three German water cannon last year.
But after the announcement Mr Johnson vowed to keep the water cannon, and said he would not hesitate to reapply for permission to use them if there were riots on the streets of London.
Speaking in the House of Commons, Mrs May listed the criteria she considers before granting permission for any new police power, and said: "Where the medical and scientific evidence suggests that those powers could cause serious harm, where the operational case is not clear, and where the historic principle of policing by consent could be placed at risk I will not give my agreement.
"The application for the authorisation of the Wasserwerfer 9000 water cannon does not meet that high threshold."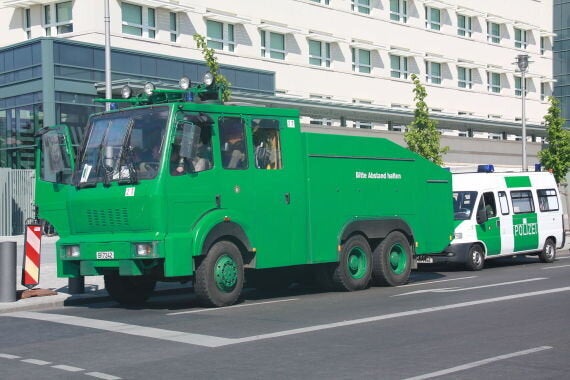 The Wasserwerfer 9000 water cannon
Mrs May told MPs that evidence she had received from senior police officers indicated that using water cannon "in areas with a history of social unrest or mistrust of the police" can actually make situations worse.
She added: "This country has a proud history of policing by consent and this is a decision which goes to its very heart."
Mr Johnson bought the 25-year-old German machines last year, a move which was welcomed by the Metropolitan Police.
He attracted criticism at the time for spending £218,000 of London taxpayers' money before getting approval for the Home Secretary for them to be used.
Speaking on Sky News after the announcement, Mr Johnson vowed to keep the machines despite Mrs May's ruling.
He said: "We will continue to maintain and train with these water cannon which we have at our disposal."
The London Mayor added that while he did not want to ever see water cannon on the capital's streets, if "there were an occasion in which life and limb and property are at risk" he would reapply to the Home Secretary for permission to use the machines.
Former Home Office Ministers Nick Herbert and Damian Green sided with Mr Johnson in the row, and tore into their former boss Mrs May.
Mr Herbert, who served as Police Minister from 2010 to 2012, said policing in London was a matter for the Mayor, not the Home Secretary, and added: "A riots a riot whether it is in Northern Ireland or on the streets of London."
Mr Johnson also pointed out there was no "physiological difference" between a rioter in Northern Ireland and one on mainland Britain.
Caroline Pidgeon, Leader of the Liberal Democrat London Assembly Group, praised Mrs May for her "wise decision".
She said:"The Mayor of London very foolishly purchased a number of water cannon despite the Met having no authority to use them.
"The Mayor must now apologise to London taxpayers for his foolish and costly actions."