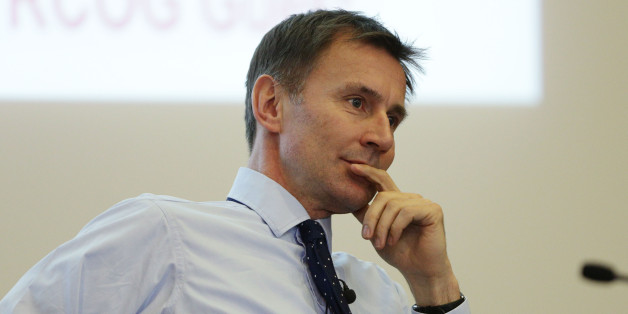 Yui Mok/PA Archive
Disagreements over the viability of a seven-day NHS are rumbling on and Jeremy Hunt this week demanded that consultants' working hours be extended.
The health secretary said that a "Monday to Friday culture" in areas of the NHS was having "tragic consequences", according to the BBC.
But many medical staff today took to Twitter to show the health secretary that for them, Britain's healthcare system was already a 24-hour, seven days a week job.
Doctors, nurses and other workers posted selfies of themselves in the workplace alongside the hashtag #ImInWorkJeremy.
Yep it's Saturday & #ImInWorkJeremy@Jeremy_Hunt & so are the consultants 😱 Did you know we worked unsocial hours? pic.twitter.com/whFEKonbA1

— carensa (@carensababy) July 18, 2015
#ImInWorkJeremy Consultant presence a must for Laparotomies 24/7

#NELApic.twitter.com/BXtE8xEDCO

— Richard Jones (@JonesTheGas) July 18, 2015
Seeing patients. Drinking coffee. Storing your comments in a box behind me #ImInWorkJeremypic.twitter.com/WHzJEfl5sB

— Dr Keith Grimes (@keithgrimes) July 18, 2015
Hi Jeremy. Its 0320 on saturday here in A&E. Could we conference call to discuss my lack of vocation? #ImInWorkJeremypic.twitter.com/PMq4IzDNqL

— Tom Evens (@DocTomEvens) July 18, 2015
@Jeremy_Hunt@IminworkJeremy#ImInWorkJeremy

Missing my brother's bday fun to be at work today, classic lazy doctor! pic.twitter.com/3irnxkHqOb

— Oliver Harris (@OliHarris87) July 18, 2015
Not a Dr but on Day 4 of 6, Jezza. Maternity wards at #NMUH are full of MWs, HCAs, Drs etc. #ImInWorkJeremypic.twitter.com/SovMnJm38t

— Pickle (@picklepoo) July 18, 2015
It's a Saturday and guess where I am? I'll give you a clue, it's somewhere you certainly won't be! #ImInWorkJeremypic.twitter.com/sIO6HMm6J5

— Lauren Mullen (@doctormulls) July 18, 2015
Our weekend paediatric team. 2 consultants, 2 registrars and 3SHOs. @Jeremy_Hunt#ImInWorkJeremypic.twitter.com/SceDnc309Q

— Anna Brough (@brough_anna) July 18, 2015
#ImInWorkJeremy - have been all night. And the night before. And all of this week. Back tonight too! #NHScoastingpic.twitter.com/WwehQKk8OO

— Clovis Rau (@clovisrau) July 18, 2015
Others also pointed out the effects that working all hours had on their families…
#ImInWorkJeremy I'm 5 weeks old and I know where my daddy would rather be. Instead he's looking after people. pic.twitter.com/eiyog8Or7B

— Rachel Clark (@RachAM) July 18, 2015
My Husbands on a 48hr straight oncall @Jeremy_Hunt No chance of seeing his 4mth Baby #HesInWorkJeremy#ImInWorkJeremypic.twitter.com/4DKkh76zXQ

— Dr Jasmin (@JazzFarikullah) July 18, 2015
Ah! What a beautiful day. Glad I get to spend it w my husband in the gar...oh no wait. #ImInWorkJeremy. pic.twitter.com/rgvtS64dS3

— hannah (@hannahsalad) July 18, 2015
Blogging on HuffPost UK, GP Dr Zoe Norris called for a strike following Hunt's demands and explained why she would not want her own family treated by a seven-day NHS following Hunt's demands.
She added: "I hope the BMA view this as a gauntlet thrown down. Let's see what they are made of, because I think the profession is ready for a fight. This new look NHS? It's not where I want my children or my parents to be treated, which is a damning indictment."