A champion surfer has escaped unharmed after he was attacked by a shark on live television during the final of the J-Bay open competition in South Africa.
Mick Fanning, who is an Australian world champion surfer, was grabbed by the shark in the middle of the contest. The shark's fin can be seen moving towards him in shocking film scenes.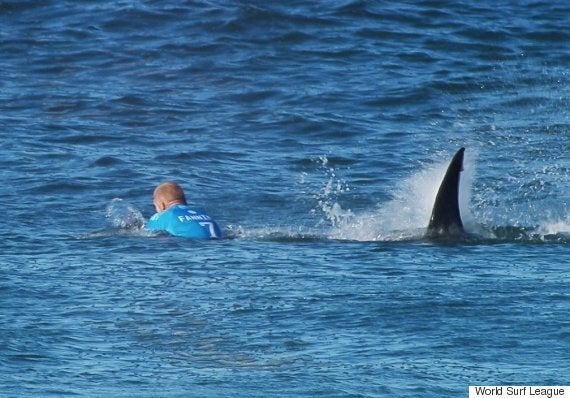 The shark appears behind Fanning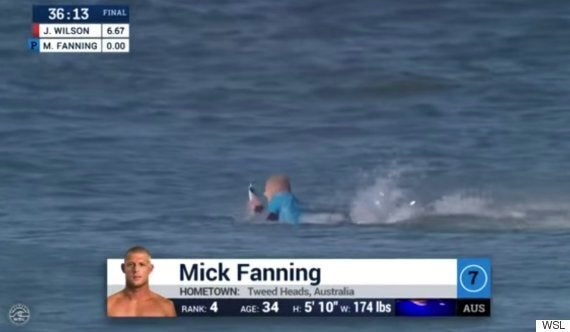 He realises what is happening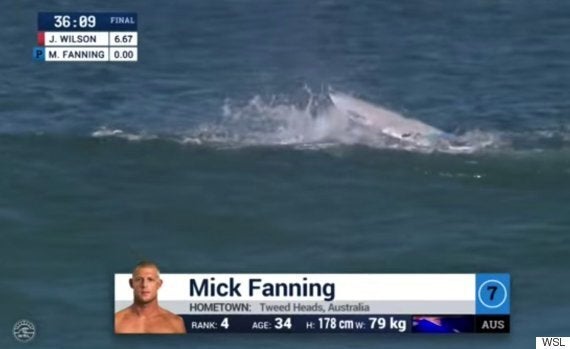 The world champion disappears beneath the waves
Fanning looks around, jumps from his board and disappears under the water in the film, which was captured on video by the World Surf League which runs the competition.
He can then be seen punching the shark, which bit off his surfboard leash.
Within seconds of the attack, a klaxon sounded to postpone the competition, and boats raced towards Fanning to help him.
The event's commentator says "holy shit, excuse me" as he realises what has happened.
Amazingly, Fanning escaped from the incident unharmed. The water was cleared of surfers and Fanning and fellow finalist Julian Wilson were taken to safety by boats.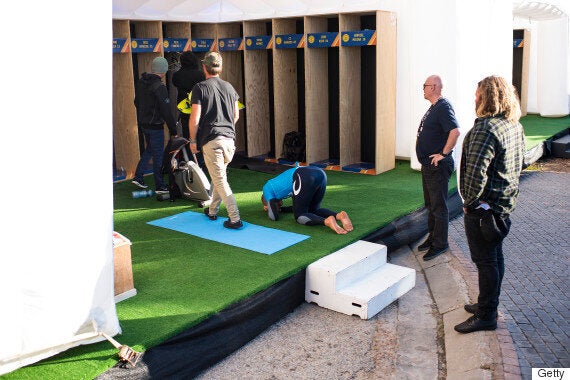 Fanning collapses on the floor of the surfers locker room after returning safely to shore after being attacked by a shark.
Speaking on a safety boat after he was pulled from the water, Fanning said: "It was big enough... it came up, it got stuck in my leg rope."
"I was just sitting there, I was just about to start moving, and then I felt something grab... like got stuck in my leg rope. And I instantly just jumped away, and it just kept coming at my board and I was just kicking and screaming.
"I just saw fins, I didn't see the teeth, I was waiting for the teeth to come at me as I was swimming.
"I punched it in the back."
Pointing to the boat they were on, the WSL presenter said: "This is is exactly why this is here."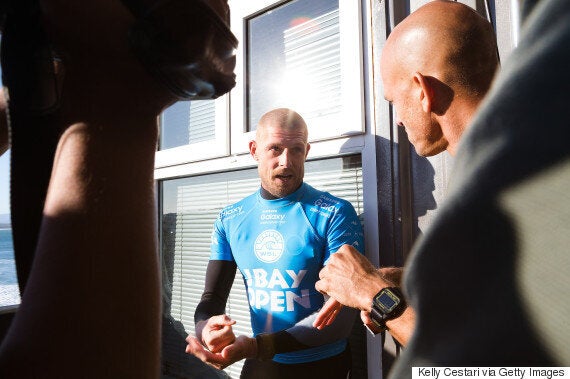 Mick Fanning reacts after he was attacked by a shark and explains to Kelly Slater how he fought off the shark
The J-Bay Open has been called off after the attack.
"We are incredibly grateful that no one was seriously injured today. Mick's composure and quick acting in the face of a terrifying situation was nothing short of heroic and the rapid response of our Water Safety personnel was commendable -- they are truly world class at what they do.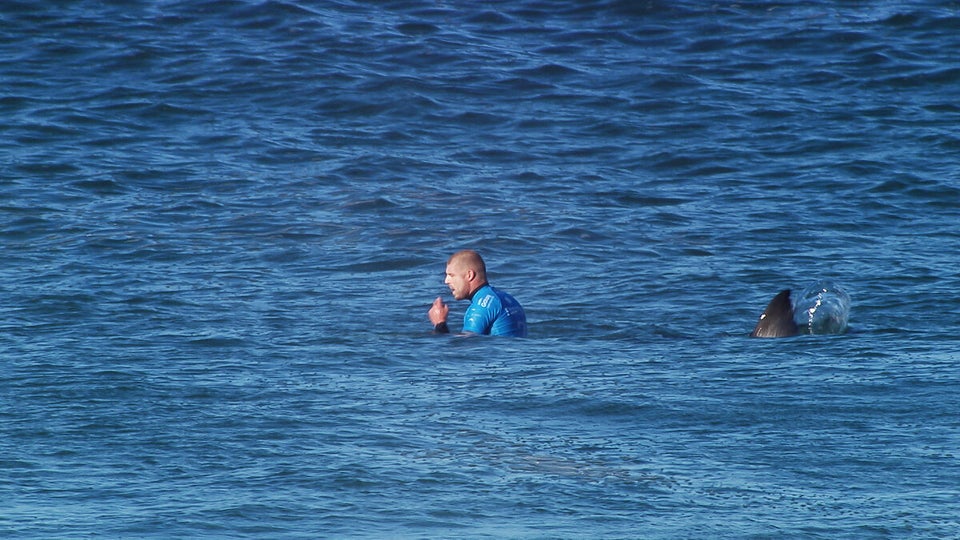 Mick Fanning fights off shark
"The safety of our athletes is a priority for the WSL and, after discussions with both Finalists, we have decided to cancel the remainder of competition at the J-Bay Open. We appreciate the ongoing support we have in South Africa and once again want to express our gratitude to the Water Safety Team."
Fanning achieved a score of 9.63 in the semi-final before today's event.
Related