A woman who has severe burn scars has spoken out against complete strangers who judge her and her partner.
Ash Shine, now 26, received 85% burns to her body during a house fire when she was just 17. After three years of walking around "like a mummy", she met and fell in love with Amy Shambrook, 28.
But the couple say they are routinely judged by complete strangers.
Tired of the constant stares and points, Shambrook decided to take a stand and posted a photo of her and Shine on Facebook. The image struck a chord with people across the world and has been liked almost 10,000 times.
"My partner has burns to almost 85% of her body and is the most amazing, inspirational, funny, smart, kind hearted, loving and beautiful person I have ever met," Shambrook wrote on Facebook, next to the photograph.
"It doesn't bother me that she has scars, it only bothers me is when people are rude or mean. She makes me laugh by waving at people who stare for too long. She's awesome like that."
Ashley Stevens, 21, jumped to the defence of her boyfriend Christopher Reed, also 21, after he was criticised for his weight on Reddit. Stevens had uploaded a photo of her and her boyfriend after she caught the bouquet at a wedding.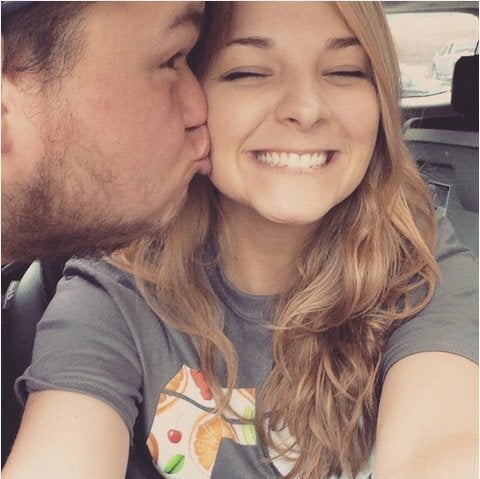 "I won the jackpot with Christopher," Stevens wrote. "He may not have rock hard abs like the world tells girls to want in a guy, but really, why does that even matter when you are trying to really find someone to spend the rest of your life with?
"He is so thoughtful and patient, he always shows me how he loves me in little ways, he is my best friend. I love him for who he is and he loves me for who I am. Understanding, loving, and hilarious, which is so rare to find these days!!"
Shambrook and Shine, both from Australia, have also been cruelly judged by complete strangers and wanted to take a stand.
"It's not for them to decide...heaps of lovely people who have been through hard things in life or look different to the status-quo deserve a heck of a lot more of a chance than they do get."
The couple have just celebrated their four year anniversary and are engaged. If anything sticks two fingers up to nasty bullies, we think it's the strength of their relationship.
Their photo, which was shared on a Sunrise post, has had almost 10,000 likes (and counting).
Shine was seriously burned during a house fire when she was 17 and met Shambrook at a community organisation.
Shambrook says that most of the time she forgets her partner even has scars.
"She is so outgoing and funny and generous and her scars just show me how strong of a person she is for going through something so hard," she told Daily Mail Australia.
The couple aren't the only ones to share their relationships to Facebook to show that beauty really is in the eye of the beholder.
One woman shared a photo with her and her husband of seven years, saying: "I used to always think I was punching above my weight. I haven't thought about it in years though... been with my husband for seven years.
"Good on you for not letting other people's opinions get you down. Love is love is love, in the end it's nobody's business."
Another man wrote: "My gorgeous wife loves me to death, as I do her. You don't need to fit a mould, be yourself and everything else will follow."