How many people do you know who have done the London to Brighton bike ride?
Chances are it's probably quite a few.
But how many people do you know who have got on their bikes to travel from London to... Japan?
Sounds like you'd need to be an athlete to complete that course right?
Not so, as Claire Mason, 30, and André Siwek, 31, are proving.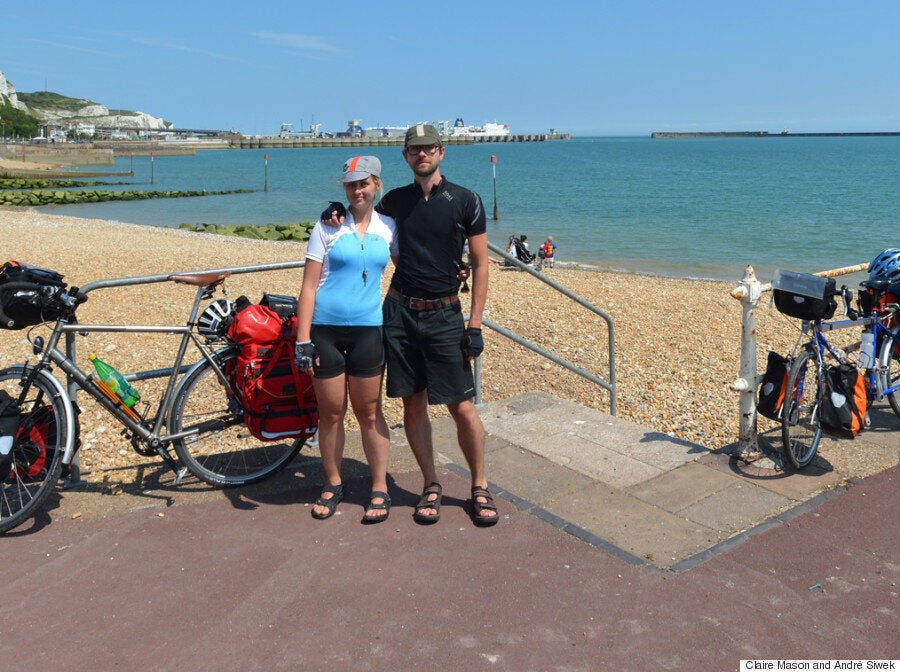 Claire Mason and André Siwek waiting to board a ferry in Dover
The couple are following a route that will see them cover a distance of more than 12,900 miles - through Belgium, The Netherlands, Germany, Poland, Slovakia, Hungary, Romania, Bulgaria, Turkey, Georgia, Azerbaijan, United Arab Emirates, Oman, India, Nepal, Myanmar, Thailand, Laos, Vietnam and China.
Yet neither of them are professional cyclists.
The couple lived in a rented house Greenwich, London, where Siwek, who is originally from Toronto, Canada, worked as a civil engineer and Mason studied psychology and worked as a research assistant within the Military Health Research department at Kings College London.
They cycled to work every day, but other than that didn't train or prepare for their mammoth journey.
"Our life consisted of a couple of trips to the pub each week, especially on pub quiz nights, and at weekends we would meet up with friends for bike rides, trips to the park or board games in the pub when the weather was bad," Mason told HuffPost UK Lifestyle.
The idea for the trip blossomed out of an off hand comment and before they knew it Mason and Siwek were handing in their notice and packing their bags.
"The idea started as a kind of joke," explained Mason.
"We had been on a few shorter cycle vacations and we were always disappointed about how short and rushed they felt.
"We had both always wanted to visit Japan well before we met and one day we just joked about cycling there.
"It was a crazy idea that quickly became more and more realistic.
"The initial steps such as reading about places to visit were pretty noncommittal.
"Then purchasing some gear was the next step, then slowly, reading more about routes, places people have cycled long distances and also seeing others who were out on the road, put us over the edge.
"I think we both had concerns about whether we were making 'the right' decision, especially as many of our friends were purchasing houses, getting work promotions and making other big and more conventional life choices."
Mason adds that both she and Siwek agree the hardest part of their preparations was finding the right way to explain to their bosses why they were leaving. But they needn't have worried:
"Both bosses was surprised by the trip and had lots of questions, but were also excited for us and incredibly supportive," says Mason. "Both of us left on really good terms with our work place."
Mason handed in her notice, but Siwek's company let him take unpaid leave for the entire length of the trip and then he will be able to return to his position when the cycling is finished.
"What an amazing organisation to work for," adds Mason. "In our experiences our bosses were far more understanding and encouraging than we imagined and all our worrying was unfounded."
The couple spent a year saving up and when they set off in spring 2014 they calculated that they had enough money to last them a year - however their money has gone further than they imagined and they have managed to extend their trip by an extra six months.
"The thing about cycle touring is it's really cheap," explains Mason.
"Transport is free, we camp or stay with people along the way who we meet or find on warmshowers or couchsurfing. So, nearly all our expenses are for food."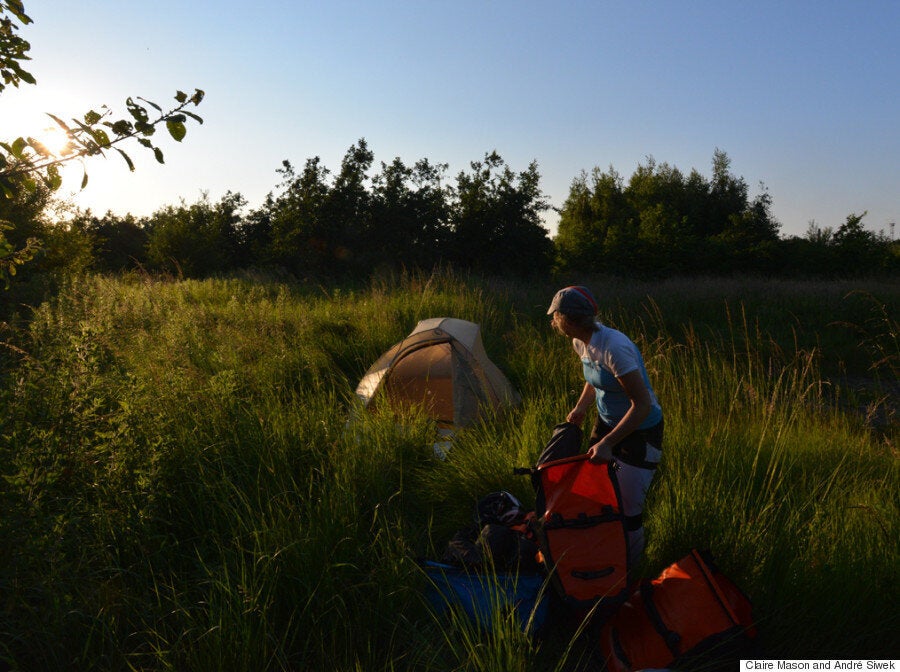 "Living on a budget has actually not been as big a change as I expected," she adds.
"Perhaps this was due in part to having been on a very tight budget for 10 months or so before leaving for the trip.
"Also we just find there is not so much to spend our money on now, not many pubs or shopping malls in rural India or Burma.
"We do occasionally struggle when we are in cities, then the lure of new clothes or a fancy dinner is tempting but we know for every pound we waste now we are shortening the trip or making things difficult for ourselves in the future.
"I think for myself the hardest part is when it is raining and miserable and I just want to stay in a hotel, but we can't stretch the budget that far, so we have to put the tent up in the bad weather and just deal with it.
"We also have much more of a 'make do and mend' mentality than we did before. André has sewn up so many holes in his shorts that I am not sure there is much of the original shorts left!
"It also makes you realise how easy it is to get caught up in the need to buy and replace things all the time – and it is not really necessary.
"We try to keep a good balance of sticking to our budget but still treating ourselves every now and again."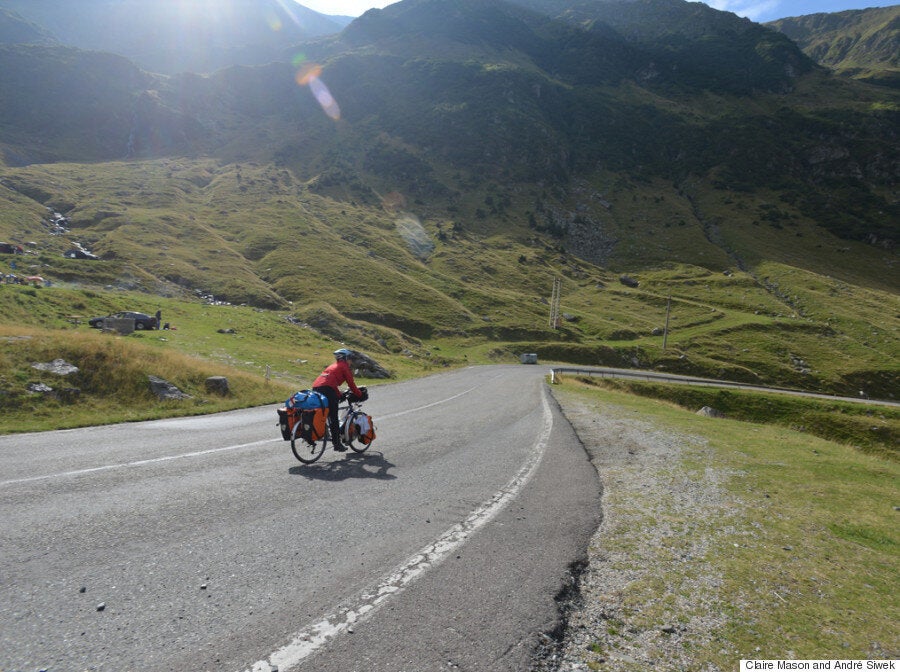 Cycling over the Carpathian Mountains
Aside from budgeting, another major concern for anyone considering this type of trip would be fitness levels, but Mason says you shouldn't concern yourself too much with questions over whether you are "fit enough":
"Maybe you are and maybe not," she says. "However after a couple of weeks on the bike you will become fit enough!
"The great thing about a cycle trip is you can go at your own pace, doing as little or as much a day as you wish.
"Our longest day has been 130 km and our shortest just 10 (pushing your bike up a muddy track in the Himalayas is not fun).
"We commuted by bicycle to work every day in London before the trip but other than that did no training or preparation.
"We began in Belgium and Holland - great places to start as they are so flat and our fitness just improved as we went along. Some days are hard and some days just fly by."
Mason and Siwek are currently in Hanoi on route to the Chinese border.
"The city is a great place to stop and recuperate," says Mason. "The food is fantastic and there is a lot to see.
"We also took a trip to Halong Bay but opted not to take a tour and instead travelled by moped, we saw a lot of the hidden places of the beaten track and it was stunning."
They had planned their route to include places they had both never been and had a desire to see, however they have had to make a few adjustments along the way.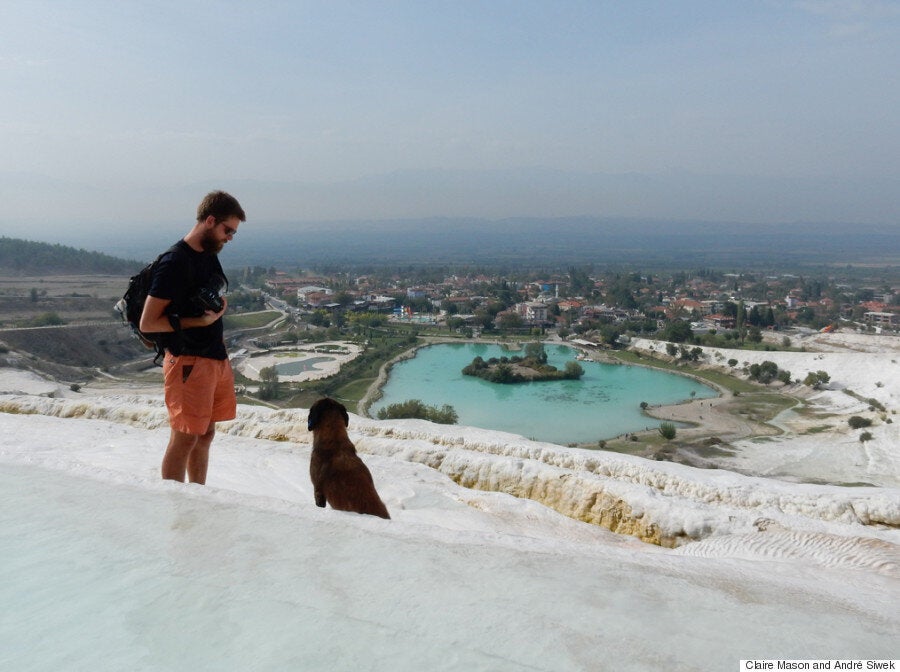 "We had originally wanted to visit Iran," says Mason. "Sadly due to a change in Visa regulations we were not able to.
"However, every change in our route has led to new adventures in really interesting places. Georgia, Azerbaijan, United Arab Emirates and Oman were a few countries that were not originally part of the plan, but have been some of the most interesting of places we passed through."
A typical day for Mason and Siwek begins with packing up their campsite and making breakfast, before cycling for a few hours.
They stop for a few short rest breaks along the way and take a more substantial break for lunch before cycling for a few more hours.
Then they find a wild camp spot, set up their tent and beds, make dinner (often pasta or rice) whilst listening to music or a podcast, clean up, clean themselves (if possible) and then crawl into bed to read or watch a film before sleeping.
However, their 'typical day' changes a lot depending on the country, hours of sunlight and weather.
"Highlights of the trip so far - besides the big sights such as the Taj Mahal in India, Ephesus in Turkey, the Wieliczka salt mine in Poland, and other big well known sights - we have seen some other gems along the way which are off the beaten track, beautiful monasteries and ancient underground in Turkey, mysterious burial mounds and old Portuguese forts in Oman, wild landscapes and beautiful fortified churches in Romania and so many other beautiful places in between.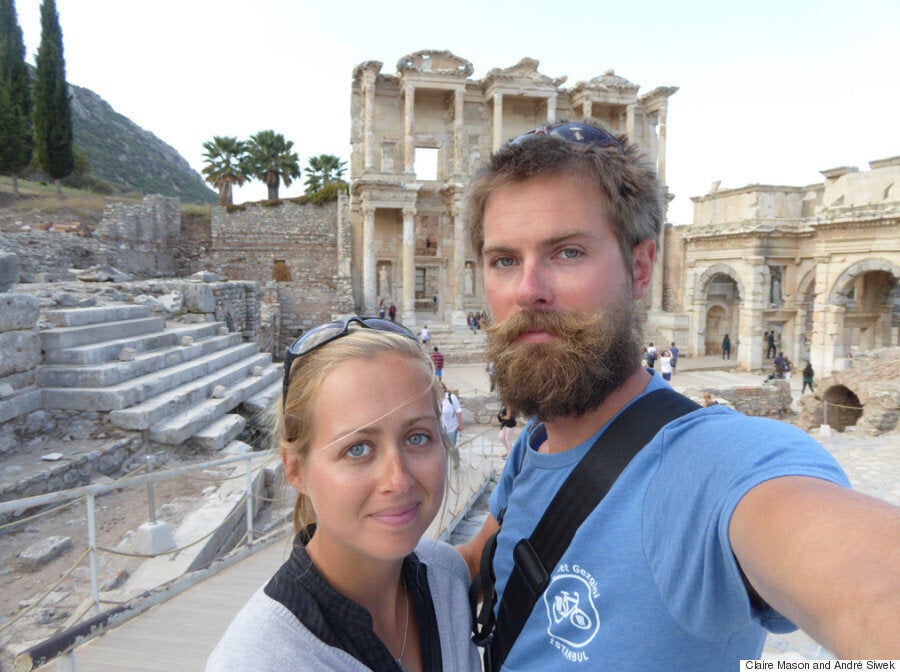 Aside from planning a provisional route, Mason and Siwek arranged very little before they left.
"It has been a real adventure, often not knowing where we will be spending the night," says Mason.
"This one particular fact has put us 'out there' and open to new experiences and meeting new people.
"We have ended up sleeping in some strange places, but every one has been an experience to remember.
"We've slept in gas stations, mosques, churches, gurudwaras, schools, animal sheds, local's homes; in forests, deserts, jungles and everywhere in between."
However it hasn't all been plain sailing, there's no denying that living so exposed to the elements can be tough and Mason admits to sometimes feeling miserable.
"There have been many moments where I have questioned why I am making myself miserable by cycling through the mud in the rain, hungry, cold and tired," she says.
"However, this feeling has yet to last longer than a few hours, and often we have found the 'touring gods' would come through and look after us in the most unexpected ways – our fortunes would turn around suddenly and we would find ourselves relaxing in a local Turkish bath after being fed and taken in by a kind family who took pity on us.
"We have also found that we don't miss creature comforts as much as we thought we would.
"Having said that here has been numerous times recently where I would have killed for a clean, western-style toilet with running water!"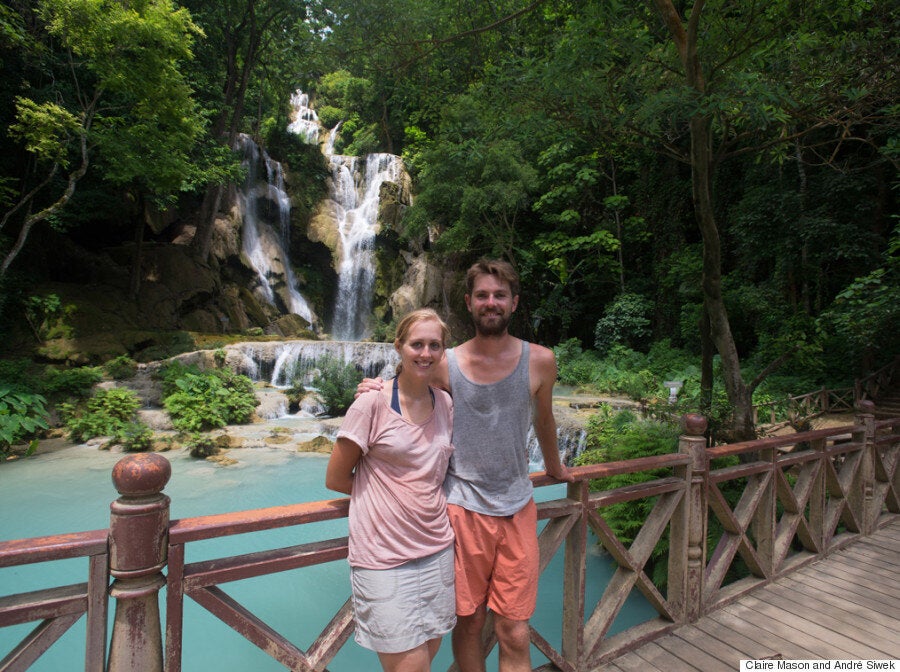 Reflecting on the trip so far Mason says it has changed her in three main ways:
"The first and most important is that I feel my whole perspective on the world has shifted somewhat," she says.
"It sounds a little corny but I really am convinced that the world is mostly filled with nice and kind people who are curious and want to help, of course this is not true of everyone, but I think when you are at home watching TV and absorbing the media it is easy to become convinced the world is a scary place full of people who want to do you some harm and its just not true.
"I feel much more positive about the human race and life in general than I did before the bike trip, and less scared to just go and explore it.
"Secondly, I would like to be more generous to my fellow humans; the generosity we have been shown along our trip has blown us away and made us question how we would have treated travellers in our home countries before the trip.
"Hand on heart I am not sure I would have been half as generous or patient as many of the people we have met and I aim to change this in the future.
"And lastly, I am not so worried about the future and whether growing up and perhaps having a family will spell the end of my travelling days.
"We have met so many people travelling the world from all different walks of life and of all different ages. We have also met quite a few families with young children doing huge round the world trips in camper vans.
"This is something that excites me and makes me feel optimistic for the future and the adventures I have ahead.
This July we're running a Fitspiration campaign, where we're championing fitness as a positive addition to life rather than always being about weight loss. From inspirational interviews to easy-to-follow exercise tips, we hope to inspire everyone to get out there and have fun. Trust us, your body will thank you for it. If you'd like to contribute email uklifestyle@huffingtonpost.com or tag us on social media using the hashtag #HPFitness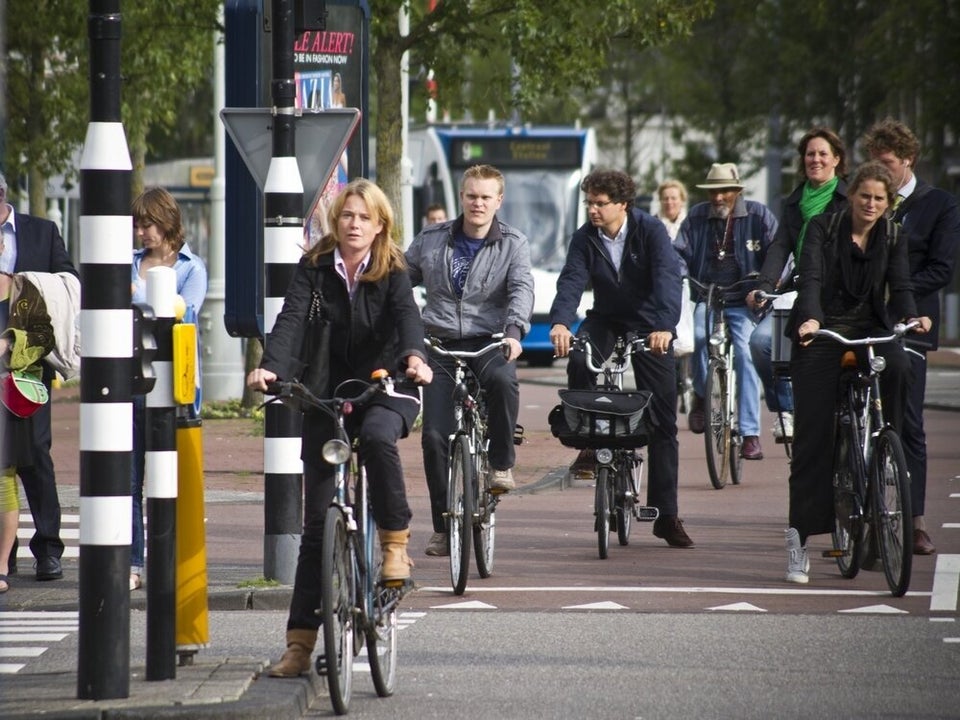 Safe Cycling Cities