A Premier League player has fuelled the Northern Ireland debate after turning his back on the British national anthem during a pre-season game in the United States.
James McClean was seen facing away from the flag of St George as the anthem was sung before his team, West Bromwich Albion, played South Carolina-based club Charleston Battery on Sunday night.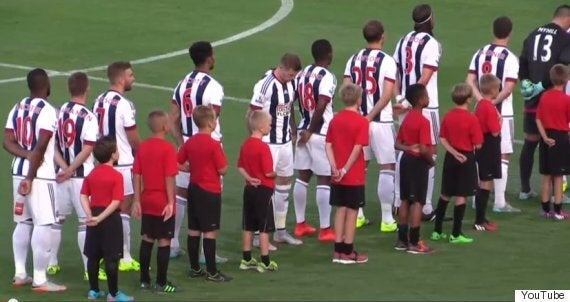 Republic of Ireland footballer James McClean can be seen turning his back on the British national anthem during his West Bromwich Albion club's pre-season match in South Carolina
The 26-year-old has previously sparked outrage after refusing to wear a poppy in the lead-up to Remembrance Sunday in 2012, and according to the Irish Mirror, has reportedly being warned by West Bromich boss Tony Pulis to tone down his anti-English behaviour after this latest incident. McClean is not thought to have been fined or punished over the incident.
McClean's snub sparked condemnation, with The Telegraph's Luke Edwards writing that if the player hates the England flag so much he should leave the Premier League.
He wrote: "I do not believe you should insult the flag of any country that you visit, let alone one that has welcomed you and one where you have made your home."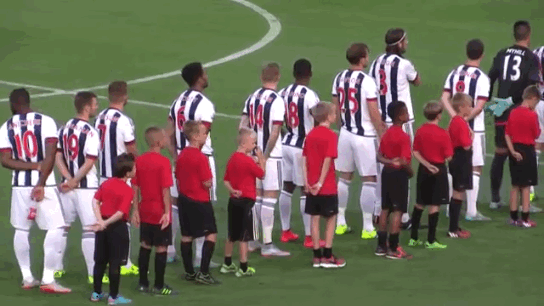 But McClean's actions also garnered support, with some Twitter users claiming the player is entitled to stand up for his beliefs.
However, a cached version of the story, written by Alexander Netherton, says: "This episode ably demonstrates that, far from FIFA's proclamations that politics have no place in football, it is instead evident that the wrong politics, whatever they are deemed to be, are seen as a problem. Likewise, just as the English press want passion from players in the Premier League at a time commercialism is stripping the soul out of the modern game, McClean is criticised for showing his."
While not engaging on the anthem incident, McClean has previously offered a lengthy explanation over his refusal to wear a poppy while playing for Sunderland and Wigan athletic. He said it would have been disrespectful to the 'innocent people who lost their lives in the Troubles'.
McClean, who is from a republican area of Northern Ireland, last year wrote a letter to then Wigan chairman Dave Whelan explaining his stance, saying: "For me to wear a poppy would be as much a gesture of disrespect for the innocent people who lost their lives in the Troubles – and Bloody Sunday especially - as I have in the past been accused of disrespecting the victims of WWI and WWII.
"It would be seen as an act of disrespect to those people; to my people.
"I am very proud of where I come from and I just cannot do something that I believe is wrong. In life, if you're a man you should stand up for what you believe in."
A man claiming to be a British soldier posted a picture of a bullet on one of his social networking pages and, according to the Mail Online, wrote: 'Poppy bullies' death threats against James McClean! Too right he deserves to be shot dead + body dragged past the cenotaph!!'