Chilling footage has emerged of the moment parts of MH17 crashed into a Ukrainian field killing all 298 people on board, in video captured on a mobile phone.
The video entitled, 'It's raining bodies' was uploaded to YouTube on Monday, just over a year since the Malaysian Airlines Boeing 777 was blown out of the sky on July 17. The widely accepted version of events is that a rocket from a Russian-made Buk missile launcher operated by pro-Russian rebels was responsible.
A couple shot the video as they drove towards the crash scene.
The woman is so confronted by the burning wreckage and strewn remains of the passengers she leaves the crash site shortly after approaching it.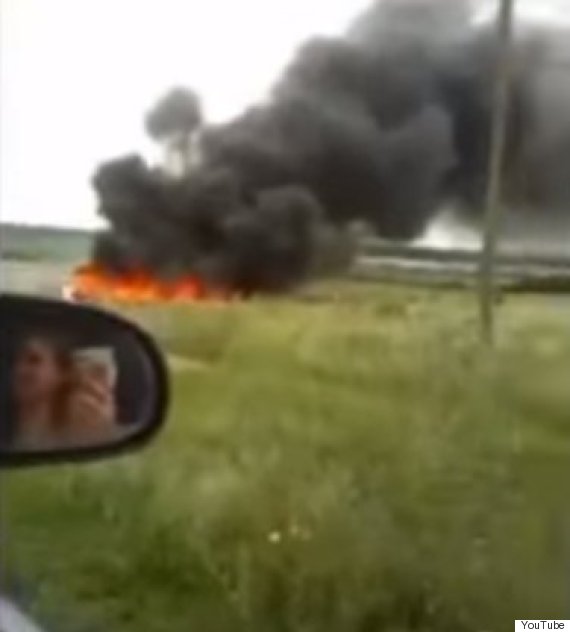 A still from the new video footage that has emerged more than a year after the MH17 crashed into a field in Ukraine
The couple, speaking in Russian, can be heard commentating over the footage. At first the woman asks, "What's there? What crashed?"
The man can then be heard trying to decide what kind of aircraft was involved before realising he can see the remains of passengers.
He says: "People! Oh fuck! Oh fuck!'
"Someone's leg, did you see that?"
SEE ALSO

MH17 Video Of Rebels Rifling Though Wreckage 'Shows Malaysia Airlines Disaster Was Not A Crash'

MH17 Crash: Russia's Ministry Of Defence Tells A Very Different Story About What Happened To Doomed Plane

MH17 Plane Crash Images Faked By Russia, Investigative Group Claims
The woman replies that it is "terrible" before the man tells her not to look. He then continues to describe the gruesome scene.
Story continues below
He says: 'Oh fuck! There are other remains over there. Fuck! So many people! Oh my God, there is a lot more people!"
The video clearly shows the burning remains of the plane as the sky fills with plumes of thick, black smoke.
An investigation into the tragedy by the Dutch Safety Board is expected to be released in October.