A man has been arrested after a train carrying 42 people crashed into a car on a railway track.
The vehicle was empty when the Cross Country train struck it at Clay Mills near Burton upon Trent, Staffordshire, at 7.25pm on Monday.
A West Midlands Ambulance Service spokesman said: "On arrival, crews found the 'Cross Country' train approximately 500 yards from the level crossing. The car involved had been destroyed by the impact, but fortunately the train hadn't derailed.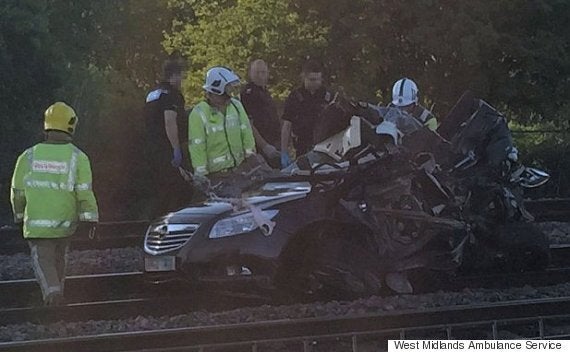 The vehicle was destroyed by the impact
"An initial search of the area could find no sign of the car driver and he was later found nearby unhurt; he wasn't in the car when the impact happened.
"There were 39 passengers and three crew on the train. All were offered a check-up. There were initially five people who required further assessment, three with back pain. Thankfully, after they were seen by medics, all were discharged at the scene.
"All ambulance staff were clear by 9.10pm."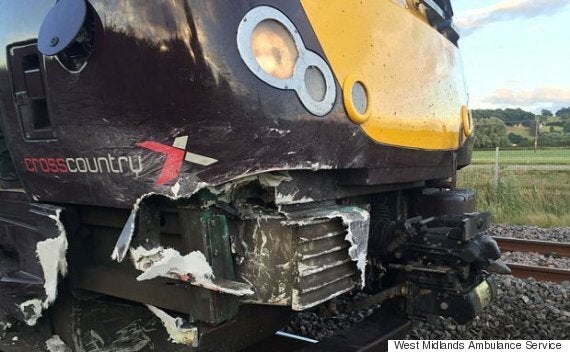 No one was injured in the accident
A British Transport Police spokesman said: "Our officers were called to Clay Mills level crossing on Monday, 20 July, to reports of a train striking car.
"The report came into police at 7.20pm.
"Officers from BTP and colleagues from Staffordshire Police attended the scene, alongside crews from the fire and ambulance service.
"A 35-year-old man was arrested on suspicion of obstructing the railway. He is currently in police custody."
Popular in the Community