Women in Northern Ireland will continue to be the only ones in the UK not entitled to abortions, a court has ruled.
The Court of Appeal said those who travelled to England, where abortion law is much more liberal, should not receive them for free on the NHS as they do not live there.
The 1967 Abortion Act, which liberalised abortion access in Britain, does not apply to Northern Ireland and the province only allows abortions when the pregnancy threatens the mother's health.
This means women who conceive after a rape or incest have no right to an abortion.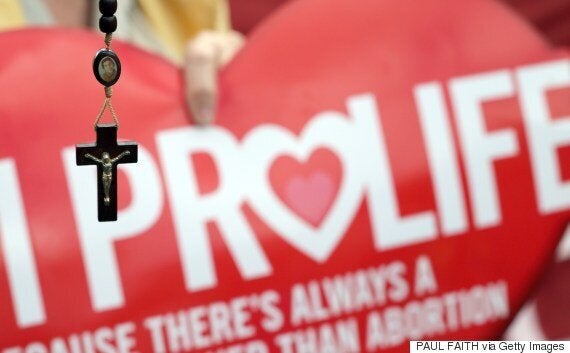 A crucifix at the Annual All-Ireland Rally for Life in Belfast in July, 2014
The rules lead to up to 2,000 women travelling to secure an abortion each year, according to abortion rights campaigners, but those who go elsewhere in the UK have to pay around hundreds of pounds for the procedure, on top of travel and accommodation for the trip, so long as they cannot have them on the NHS.
A woman and her teenage daughter, who cannot be named for legal reasons, took the government to court for not allowing these women abortions on the NHS.
The daughter, now 18, travelled to a private Manchester clinic for an abortion in 2012, when she was 15. It cost £600.
They took the Health Department to the courts, saying the situation breached their right to private and family life, guaranteed by the European Convention on Human Rights.
The mother said the knowledge they could have received an abortion for free would have "reduced the trauma and stress" for them both.
But the Court of Appeal has ruled against them, saying it was rational for Health Secretary Jeremy Hunt to "to consider that it is not his duty to seek to remedy what some might consider to be the harsh consequences of the law adopted by the devolved legislature in Northern Ireland".
"It is not irrational to take the view that English taxpayers should not have to bear the cost of providing abortion services to women from Northern Ireland," the judge added.
Grainne Teggart, campaign manager at Amnesty International in Northern Ireland, condemned the ruling, saying it "only adds to the barriers" Northern Irish women face when trying to access an abortion.
She added that up up to 2,000 women leave Northern Ireland each year to access abortion services because of the "highly restrictive laws" and because "no pathway into the NHS exists as the Department of Health is yet to publish termination of pregnancy guidance".
She said: "Northern Ireland's highly restrictive abortion laws are in significant breach of the UK's international human rights obligations and force women pregnant as a result of rape and incest and whose pregnancies have been given a fatal foetal diagnosis to continue with those pregnancies or pay privately for service provision to which they should be entitled."
In February, Amnesty called Northern Ireland's "draconian" abortion laws "the harshest in Europe".
Dawn Purvis, programme director for Marie Stopes Northern Ireland, said at the time: "The Northern Ireland Assembly forces any woman who is pregnant as a result of rape or incest and wants an abortion to continue with that pregnancy against her will. This is degrading and inhumane treatment.
"Politicians have the power to change this situation and to prove to women that they do care about them, they do value them as equal citizens and they trust them to make choices that are right for them.
"Until that happens women in Northern Ireland will continue to remain second-class citizens in the United Kingdom."
Amnesty estimated that more than 59,000 women had been forced to travel from Northern Ireland to secure an abortion since 1970.
Popular in the Community