Twitter is imploding with celebrity feuds. Nicki Minaj is having a pop at Taylor Swift, Meek Mill is slaying Drake, Ed Sheeran is throwing shade at Bruno Mars and Zayn Malik is calling Naughty Boy names.
It's all too much drama to handle. But lucky for you, we've worked out what's going on, so you don't have to.
You're welcome.
Nicki Minaj VS Taylor Swift
On the surface, this feud is about VMA nominations. Swift is up for Video of the Year for 'Bad Blood', and Minaj is pretty angry that her controversial 'Anaconda' video hasn't got a look in. Awks.
@NICKIMINAJ I've done nothing but love & support you. It's unlike you to pit women against each other. Maybe one of the men took your slot..

— Taylor Swift (@taylorswift13) July 21, 2015
Huh? U must not be reading my tweets. Didn't say a word about u. I love u just as much. But u should speak on this. @taylorswift13

— NICKI MINAJ (@NICKIMINAJ) July 21, 2015
@NICKIMINAJ If I win, please come up with me!! You're invited to any stage I'm ever on.

— Taylor Swift (@taylorswift13) July 21, 2015
If you dig a little deeper, it turns out Minaj was actually trying to comment on the history of racism and white privilege in the music industry. She retweeted this fan who had her back:
@taylorswift13 I'm still confused as to why u just tweeted me when I made it abundantly clear... pic.twitter.com/A5kJyi6fQC

— NICKI MINAJ (@NICKIMINAJ) July 21, 2015
At some point, Kim Kardashian thought it was time to get involved with a photo of her bum and a Kanye quote (obvs). She deleted the tweet, but this is the internet. You can't just delete stuff and expect it to be gone.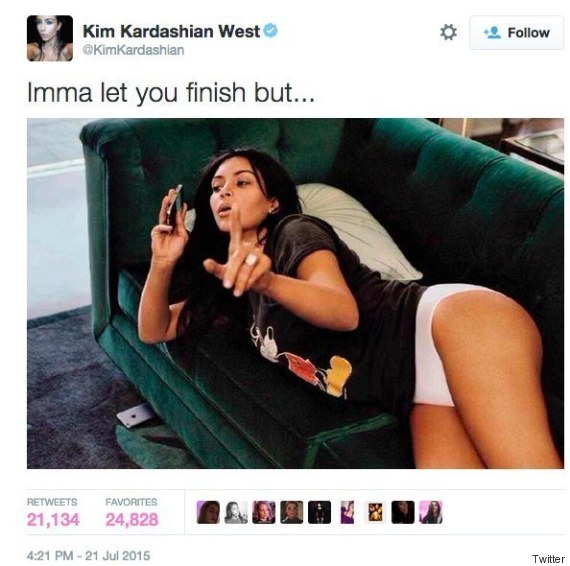 Meek Mill VS Drake
Why would you ever even take on Drake in a Twitter fight when everyone knows that his fans are the most loyal in the world? Just why, Meek Mill?
So, apparently Drake doesn't write his own lyrics, and that's why he refused to share a link to Meek Mill's album.
Stop comparing drake to me too.... He don't write his own raps! That's why he ain't tweet my album because we found out! 😁

— Meek Mill (@MeekMill) July 22, 2015
The whole game know forreal they scared to tell the truth! I can't wait tok these guys and sit back and act like they don't know!

— Meek Mill (@MeekMill) July 22, 2015
And I only speak facts remenber that!

— Meek Mill (@MeekMill) July 22, 2015
Apparently Drake responded then deleted the tweet...
Drake actually tweeted and deleted. Hah @MeekMill pic.twitter.com/dqYUhPTvlp

— Mohamet Ben Khalifa™ (@Ahmet_Diallo) July 22, 2015
Zayn Malik VS Naughty Boy
It seems like only yesterday Zayn was walking away from One Direction... And straight into the recording studio with producer Naughty Boy, who did that 'La La La' song with Sam Smith.
Anyway, Naughty Boy posted one of Zayn's solo tracks on Twitter and sent the One Direction fandom into a frenzy. But now, it appears that the pair aren't working together anymore, as Zayn tweeted this...
@NaughtyBoyMusic you fat joke stop pretending we're friends no one knows you .

— zaynmalik (@zaynmalik) July 13, 2015
Powerful stuff. Naughty Boy never responded, despite One Direction fans constantly bombarding him with tweets like this:
@NaughtyBoyMusic why aren't you replying to zayn 👀

— mahnoor (@zarrytroll) July 14, 2015
Ed Sheeran VS Bruno Mars
Basically poor little Bruno was feeling a bit left out of all the action, so he decided to have a pop at Ed Sheeran for absolutely no reason whatsoever.
Yo I want in on this twitter Beef!! VMAs is the new WWF!! @edsheeran Fuck You!

— Bruno Mars (@BrunoMars) July 22, 2015
He was made to regret it pretty quickly though...
@BrunoMars any way we do dis you gon' come up short

— Ed Sheeran (@edsheeran) July 22, 2015
That Cut deep..U always know how to sheer me to the core. I can't believe we're Sheeran this in public. How dare u! https://t.co/fdYOVnlScF

— Bruno Mars (@BrunoMars) July 22, 2015
@BrunoMars but all my crew know that Bruno has eyebrows dat be uno. And plays Cluedo with SuBo, but you lose coz you blow

— Ed Sheeran (@edsheeran) July 22, 2015
To summarise, we're all feeling like this:
Nicki Minaj vs Taylor Swift.

Meek Mill vs Drake.

Ed Sheeran vs Bruno Mars.

Nigerian Jollof vs Ghanaian poison.

🔥🔥🔥 pic.twitter.com/LnfQrAY99a

— Chidi Okereke (@Chydee) July 22, 2015