A 22-year-old said he has received death threats after posting footage showing someone feeding a seagull a chip laced with white crystals, which is identified in the video as "ket" - short for the class B drug ketamine.
Josh Greenwood, from Huddersfield, says he has faced a huge backlash after uploading the video to YouTube, and insists the substance, which was taken out of a small clear bag, was salt.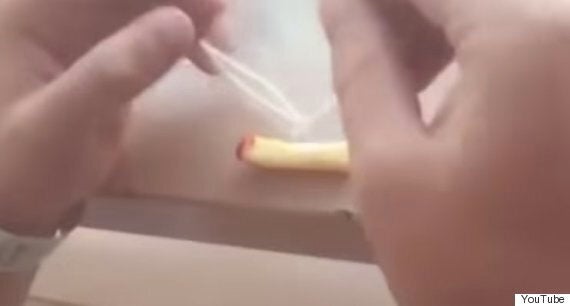 The footage shows a white crystal substance being sprinkled on a chip
The video, filmed in Ibiza, where Greenwood is currently working, was posted onto his Twitter account, as well as a private page for Ibiza employees.
In the footage, a man sprinkles the clear crystals over a chip, saying: "Always make sure you have some KET.. chup with your chips."
When "Sally the seagull" swoops in and eats the chip, there are roars of laughter from the unidentified group, with one man shouting: "Hey he's got the chip! Ahahahaha"
Speaking to student website the Tab, Greenwood said: "A few of the worst comments I got through private message are things like 'I hope someone hangs you' or 'I will bomb your parent's house'.
"I have also been threatened by a few of the Ibiza locals one of them saying 'I hope for your sake I don't bump into you because I will kill you, you arsehole!'"
Although Greenwood says "the larger majority of people have been creasing at it, saying things like 'you're a legend' but I don't take notice of them people," he retweeted a message condoning the video, and appeared pleased with the media coverage.
Speaking of people in Ibiza who complained to Greenwood's employers, he tweeted:
But he added: "I think there are bigger things happening out here and in the world than this."
Posting on Facebook, Greenwood said: "My mate put salt on a chip and a seagull ate it while I filmed.
"It's called a joke. I have my mother on Twitter do you think I would publicly post something like that if it was what it's made out to be?
"It's called sarcasm! Making a joke out of it because of people like you overreacting to something that wasn't even what it was made out to be."
Despite the media storm around his actions, Greenwood appears to be moving on from the incident..
Greenwood's solicitor Paul Booth told the Examiner: "Salt is put on a chip which it is pretended is a drug and the chip is left for a seagull which takes the chip.
"This was a silly joke by a young man on holiday with his mates, who never intended it to be viewed by anyone outside his circle of friends. No drug was put on the chip, nor was the bird harmed in anyway."
Tim Melling, senior conservation officer for RSPB north England, said: "Like with all drugs their effects differ according to body size.
"If you give something to a baby, for example, the effects would be devastating and a gull is smaller than a baby.
"Ketamine could lead to muscle paralysis, causing it to crash out of the sky which could cause it to break a leg or wing. It could cause loss of consciousness.
"It could fly into a car causing a road traffic accident, and the drug can cause bladder problems, all of which could cause long term effects on a bird.
"Ketamine is illegal for a reason and it's totally irresponsible and something we strongly condemn."
Popular in the Community