The five things you need to know on Thursday July 23, 2015...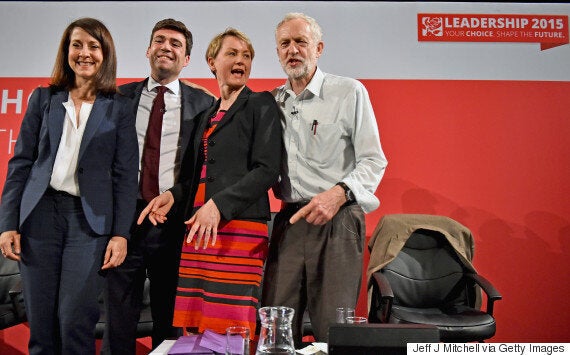 After the Blair-Corbyn tit-for-tat yesterday, this morning the Labour leadership race has yet another narrative twist: pressure on candidates to drop out to help 'Stop Jeremy'.
Liz Kendall's campaign staged its own dawn raid, pinging out texts insisting she would absolutely, categorically not be withdrawing from the race. "It's not going to happen," a spokesman said. "Why should the one person who is putting forward the right message for Labour's future pull out? Liz Kendall's argument that the party must change to win in 2020 is essential in this contest."
The declaration followed a canny bit of negative briefing by critics of the Kendall campaign. "There's quite a bit of private pressure building up on Liz," a senior 'Labour figure who claims to be neutral' told the Times. An MP added: "It may have to be Liz saying, 'Look, I'm not going to win'. And one ally of Yvette Cooper called on Kendall to make a sacrifice similar to that made by Gordon Brown, who stood aside to allow Mr Blair a clear run in Labour's leadership race. "The moderates came together to make sure they didn't split the vote in 1994 — something like that needs to happen again."
This kind of thing first appeared in the Labour First campaign to get each of the Burnham, Cooper and Kendall camps to vote tactically to stop CLPs nominating Corbyn. That hasn't stopped Corbyn stormin' to first place in CLP endorsements.
On the Today programme, Cooper said Kendall should not pull out. "Certainly not, I don't think she should go home and leave it to the boys just because of one poll in the Times newspaper".
The Corbyn Effect is certainly working on other candidates who feel they have to be more vocal on things like austerity. Cooper has been accused by rival camps of being too close to Harriet Harman but today she said the welfare bill fiasco was "a mess...the whole thing has been badly handled" before adding 'I'm not going to get into the politics of blame..' The Shadow Home Sec said she was today launching a campaign against the Tories' 'two-child policy'.
John Prescott's had a classic Today prog interview, railing against Blair for railing against Corbyn, attacking the Murdoch press, John McTernan's 'Morons' remark and lots more.
As for serving in a Corbyn Shadow Cabinet, Andy Burnham last night was the only contender to say he'd be prepared to do that. Cooper at first said it was 'unlikely'. She told Today "I wouldn't stand for the Shadow Cabinet elections" [which Corbyn would reintroduce] under a Corbyn leadership, but then added "you shouldn't just take your bat and ball home." Her critics have already pounced to say that's more fudge.
Last night's LBC hustings had a neat format that yielded the most eclectic questions yet. We learned that 'Imagine' by John Lennon was Corbyn's favourite song for any victory rally. Still, it's hard to imagine all the Labour people, living in perfect peace, if he becomes leader.
Yet Corbyn's Achilles heel could be his anti-Europeanism. On LBC he refused to say whether he would vote Yes in the EU in a referendum. That taps into the wider Owen Jones worldview that this is now a bosses Europe, as well as an older vestigial anti-Common Market stance of the Foot Left. One to watch, that.
One great irony behind the Corbyn surge is that YouGov finds him overwhelmingly in the lead among 'registered supporters' who pay £3, as well as trade union affiliates. Some MPs are muttering that Harman's biggest mistake hasn't been the welfare muddle but her decision to open up the election to the new registered supporters, overnight reducing the years of protection against entryism by far-left groups such as Militant.
Latest figures show that there are 17,850 registered supporters and 25,388 trade union affiliates, with another 30,000 applications being processed. That could mean nearly a third of the total 'membership' made up of left-leaning union members: OMOV may not have changed much at all. And the NEC were told this week that a third of the 55,000 new members joining the party May are under 30, and the single most common age is 18. No wonder they like Corbyn's tuition fee and anti-cuts messages. Jezzamania could be Milifandom writ large.
And here's a final YouGov poll nugget: Just 5% of Corbyn supporters think he represents Labour's best chance of winning the next election.
The Times splashes on extraordinary documents found in the Cabinet Office trawl of files connected with historic child abuse cases. The memos, found in a storeroom of "assorted and unstructured papers", reveals one key paper from November 1986 from Sir Antony Duff, then director-general of MI5.
Writing to Sir Robert Armstrong, the cabinet secretary, about inquiries into an MP said to have "a penchant for small boys", he says the spookmeister accepts the MP's denial and adds: "At the present stage . . . the risks of political embarrassment to the government is rather greater than the security danger".
Was that just a crass expression of the Establishment believing one of its own, combined with a now outdated attitude to child abuse? Or was it part of a cover-up of the truth?
The cache of documents and correspondence also relates to senior Westminster figures such as Peter Morrison, Mrs Thatcher's parliamentary private secretary, Leon Brittan, and Sir William van Straubenzee, former Tory MP. Just as significantly, there are papers relating to Sir Maurice Oldfield, the former head of MI6, and his alleged connection to the notorious abuse scandals at the Kincora boys' home in Northern Ireland.
All will be handed over the Justice Lowell Goddard, who has ordered the whole of Whitehall against shredding or hiding any documents she may need for her new overarching inquiry.
Simon Danczuk and Tom Watson, who have both campaigned hard for justice for victims of abuse, believe the paper trail clues confirm their worst suspicions. Richard Heaton, Cabinet Office permanent secretary has written to the two MPs, apologising for the existence of the "uncatalogued collection" of documents. This one won't go away.
Speaking of historic abuse cases, justice looks like it may catch up with Bill Cosby in the US later today.
Theresa May is known for her tough approach to deportation of terror suspects, immigration targets, data surveillance, police reform and pay. But at the same time, she's built up a hinterland of more liberal policy, from tackling FGM, forced marriage, modern slavery, helping Gary McKinnon, curbing RIPA snooping on journalists and cutting the amount of racially-divisive stop-and-searches.
Today, the Home Secretary (and it's worth repeating that by the end of this year she will be the longest serving Home Secretary in history) has a speech in which she tries to shift the dial a little on deaths in policy custody. An independent review will cover both deaths and non-fatal incidents that have led to a welter of criticism of some police, not least for their outdated attitudes to mental health. She will say: "I have been struck by the pain and suffering of families still looking for answers, who have encountered not compassion and redress from the authorities but what they feel is evasiveness and obstruction." Let's see how far the review now goes.
BECAUSE YOU'VE READ THIS FAR...
Cabinet Committees are where the hard graft of government often takes place and the lists published at the end of term are often a source of fascinating insight into power shifts in Whitehall. I remember when Peter Mandelson was on so many he effectively ran the Government, and of course the decision to appoint Nick Clegg to chair the Home Affairs Cabinet Committee was a brake on much of what Theresa May wanted to do.
Trawling through the latest list, the Mail Online appears to be the first to have reported yesterday that a brand new committee had been created: the "Economic Affairs (Airports) sub-Committee". It is to be chaired by the PM himself.
More importantly, it has none of the Cabinet ministers against Heathrow's expansion and all of those in favour of it. So Mrs May, Philip Hammond, Justine Greening, Greg Hands, Theresa Villiers are not members of the new body, but pro-Heathrow Osborne and Javid are. Zac Goldsmith smelled a rat and so did anti- aviation expansion campaigners. Osborne's jibe at Boris about 'the days when aeroplanes flew freely over the skies of West London' looks more and more like a promise not a threat. Boris was offered an olive branch yesterday by the PM inviting him to sit on the real (rather than Poltiical) Cabinet at Chequers. But this may just have snapped it.
We may find out today whether the Wilson Doctrine devised to protect MPs from the spooks really is more than a quaint convention. Baroness Jones, Caroline Lucas and George Galloway will appear at the Investigatory Powers Tribunal to probe whether the Snowden revelations of bulk collection of data included MPs phone or online communications.
The best sessions will be in private, to protect the security agencies methods, but we may get a little more daylight shone on practices. Several 'Runnymede Tories' will be watching too.
If you're reading this on the web, sign-up HERE to get the WaughZone delivered to your inbox.
Got something you want to share? Please send any stories/tips/quotes/pix/plugs/gossip to Paul Waugh (paul.waugh@huffingtonpost.com), Ned Simons (ned.simons@huffingtonpost.com), Graeme Demianyk (graeme.demianyk@huffingtonpost.com) and Owen Bennett (owen.bennett@huffingtonpost.com)
Popular in the Community