Graphic footage and images have been released of the controversial annual whale slaughter in the Danish Faroe Islands.
Animal rights campaigners, Sea Shepherd, took the images as they actively try to disrupt this year's summer hunt in the north Atlantic islands, which has already reportedly claimed the lives of 250 pilot whales.
As whale pods migrated past the islands in July and August, they were herded by boats towards the beaches where villagers waded into the water and killed them with lances.
Warning: Very Graphic footage
Seven Sea Shepherd crewmembers, mainly from European countries, were arrested this week for trying to interfere with the slaughters, known by the traditional Faroese term 'grindadráp'.
Captain of the Brigitte Bardot, Wyanda Lublink, reports that the Danish Navy vessels HDMS Triton and HDMS Knud Rasmussen were both in the region at the time of the Bøur slaughter.
"It was perfectly clear to me that the Danish Navy was present at Bøur to guard the grindadráp, and that the slaughter would proceed with the full consent of the Danish Navy. How Denmark - an anti-whaling member nation of the European Union, subject to laws prohibiting the slaughter of cetaceans – can attempt to justify its collaboration in this slaughter is incomprehensible," said Captain Lublink.
Article continues below slideshow:
Warning: Very Graphic imagery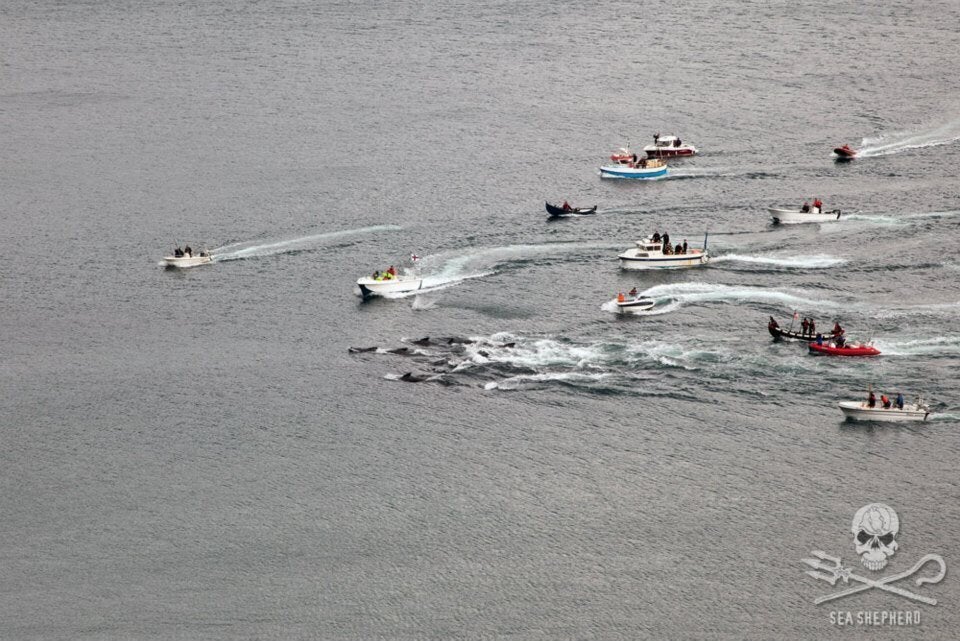 Faroe Islands Whale Slaughter
The event has been condemned by animal rights campaigners and Ricky Gervais spoke out against the "tragic" slaughter, which claims the lives of about 800 pilot whales and some dolphins annually.
Opponents to the slaughter argue that the whale meat is unsafe to eat because of the high levels of mercury contained within it.
While the Faroe Islands are a dependency of Denmark, it has its own government and regulations governing the whale hunt.