When Pip Black and Joan Murphy first came up with the idea for Frame eight years ago, the London fitness scene was bleak compared to the vibrant and ever-evolving offering on today.
The pair, who were 24 and 26 respectively, had both played competitive sport throughout childhood and university, but the "work hard, play hard" London lifestyle (they worked in media and advertising and liked to drink gin) had started to take its toll, and they were growing uninspired and demotivated by the classes available.
"Back then there wasn't much on offer, apart from a few serious gyms and the odd expensive yoga studio," Pip tells HuffPost UK Lifestyle. "Exercise had started to get very negative connotations associated with it."
She says no studios had seemed to understand that exercising can actually be enjoyable. "Who really wants to plug their headphones in and run on a treadmill staring at a wall after a day stuck staring at a computer?"
They decided to take matters into their own hands and set out on their own to create something fresh, dynamic and, above all, fun.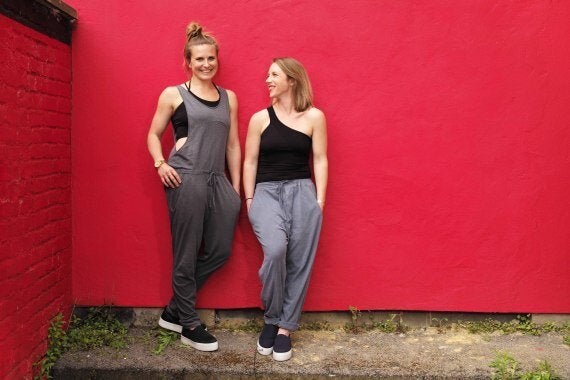 Pip Black (R) and Joan Murphy
To do so they had to shake things up completely, which Pip says was easy because they were completely new to the industry.
"We broke all the rules of the industry as we'd never been in it and, to be honest, we didn't like anything about it at the time," she says.
In March 2009 they opened in their first gym in Shoreditch, east London, and, after weathering a six-month set back due to a road closure preventing access to the facilities, they have grown every year - adding more studio spaces and classes. In 2012, they opened their second location in Queen's Park and September 2015 will see the launch of their third gym, in King's Cross.
They pride themselves in offering a diverse range of fun, high-energy classes, from Rocket Yoga to dance classes such as Frame Rave.
"If we like something we just do it, easy as that!," she says. "We're the target demographic and so the fact that we run the show means that we totally understand our customers and make constant changes to stay ahead of the competition - without having to worry about answering to some crazy hierarchy."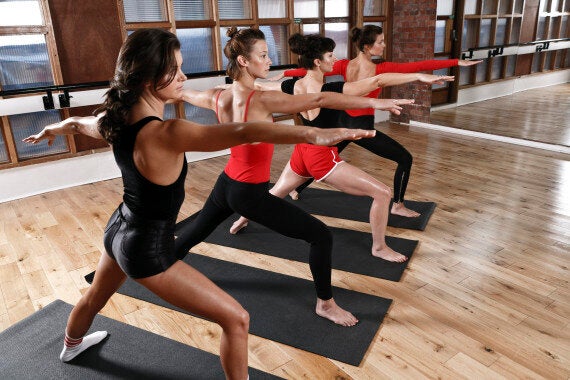 With little experience and few contacts, it hasn't been an easy ride for the duo, but Pip credits their passion for fitness and sheer determination for getting them to where they are today.
Pip says they didn't start off with a lot of money and everything they make is reinvested. "For this reason I think we are quite humble, not like a huge expensive gym with no soul - Frame definitely has soul."
One of the most difficult parts of setting up was employing the right staff.
"Finding instructors was difficult to start as no one was teaching classes how we wanted them and fitness instructors were quite set in their ways," she says. "We started to recruit a lot of dancers and to train them up in fitness as they were generally much better entertainers!"
Now, the Frame family has grown, they employ more than 100 trainers and a team of staff running front of house, PR and marketing.
Pip says no two days are the same. She currently spends a lot of time at their digital agency working on the new website, while Joan liaises with the architects and contractors talking about the site builds.
"There are currently not enough hours in the day so we have to plan meticulously and prioritise, which doesn't help because Joan is a morning person, I'm an evening person," she says.
Since setting up, Pip and Joan have both become mothers: Pip, 32, has a 10-month-old son called Phineus with her parter Peter Prescott, 44; Joan, 34, also has a son, 19-month-old Zayden, with her husband Alex Dullard, 34.
The job is pretty full on but Pip says that becoming mothers has helped her find some work-life balance.
"Between 5.30 and 7pm, when Phineus goes to bed, it's no work (unless there's an evening event) just play time," she says. "I find on the weekend it's best to plan in four hours or so and get childcare and then not work the rest of the time, rather than trying to do both at the same time - then you achieve nothing and just get frustrated.
As for finding time to let of steam and relax, Pip will often choose and exercise class. "Joan and I are obviously both massive believers in exercise and so try to fit in at least 3 sessions per week - this used to be way more but sometimes there just isn't the time any more!"
"Over the past few years more and more operators with similar mindsets have opened studios that aim to offer exercise with a 'twist' to create communities where their customers actually want to go, rather than feel they have to," she says.
But Frame didn't simply latch on to the emerging trend, they set the bar.
Her advice for women looking to set up their own business?
"Make sure you're 100% sure you want to do it and are happy to give up your social life for a few years whilst you get your business up and running," she says.
"Never think that you've nailed it - you need to constantly upgrade and tweak things - nothing is ever perfect."
Related