The body of a suspected migrant has been found on the roof of a Eurotunnel train on the British side of the Channel Tunnel.
The teenager, who was discovered by police on the loading bay of the vehicle shuttle service, is believed to have died in France and then been carried through the Chunnel yesterday.
A police spokesman said: "Kent Police was called at 4.13am to a report that the body of a male had been discovered on the loading bay of a Eurotunnel train at the Channel Tunnel terminal in Folkestone.
"Inquiries are ongoing to establish the circumstances behind his death."
The death highlights the lengths migrants are going to in a bid to reach Britain amid the escalating migrant crisis in Calais.
On Sunday night a migrant drowned in the northern French port city as he tried to break through a secure fence on to the Eurotunnel site.
And two others died in separate incidents in recent months, including an Eritrean migrant who was reportedly killed trying to get on a train at Coquelles.
Channel Tunnel operator Eurotunnel has repeatedly called on the UK and French Governments to end the migrant crisis, which has seen numbers swell in Calais over the summer.
An estimated 5,000 migrants displaced from countries including Syria, Libya and Eritrea are now believed to be camped in and around the port.
The latest death comes as video footage emerged apparently showing migrants travelling to Britain on empty freight train carriages.
A number of people are seen in an otherwise empty carriage which arrived in Folkestone earlier this month, in footage from a worker obtained by The Sun.
John Keefe, from Eurotunnel, told the paper: "It is likely this group took advantage when the authorities were distracted by other migrants. Because of their activity in France we can't sometimes fully load a train."
As millions of Britons are poised to go on holiday, travellers heading to the Channel Tunnel and the Port of Dover were warned to expect delays on part of Kent's road network.
Operation Stack - where freight traffic is queued on sections of the M20 - remains in place, and Kent Police warned it could continue until at least Sunday.
Strong winds and heavy rain forecast are also expected to add to travellers' woes, leading police to ask drivers to plan their journey carefully.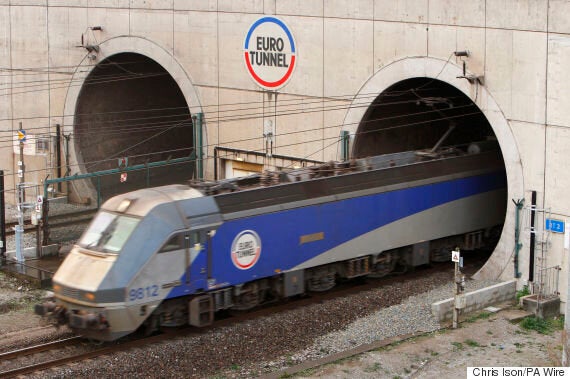 The man was believed to have died on the French side of the tunnel and been transported through on a Eurotunnel train (not pictured)
A Kent Police spokesman said: "Operation Stack is likely to have a knock-on effect and lead to increased congestion on the A20 as well as other local roads.
"Motorists are therefore asked to consider if their journeys are absolutely necessary, and if so whether alternative routes can be taken."
The Port of Dover said the motorway was closed coastbound between junctions 8 and 11 following the problems at the Chunnel and high volumes of freight traffic.
But a port spokesman said it remained "open for business", with P&O Ferries and DFDS Seaways operating full services.
This month Home Secretary Theresa May announced that a new secure zone would be created at Calais for UK-bound lorries amid the escalating migrant crisis across the Channel.
The area will be able to hold more than 200 vehicles, taking them off the open road at the French port where they have been targeted by thousands of migrants trying to reach Britain illegally.
The crisis in Calais has been rising over the summer, with more than 8,000 attempts by migrants to travel to Britain being intercepted in just three weeks between June 21 and July 11, Mrs May said.
The annual cost of products being written off because of contamination fears when migrants clamber on board trucks could reach £1 billion.
Lorry drivers paid fines totalling £6.6 million for carrying illegal immigrants into Britain through Calais in the last year, official figures have shown.
The sum is over £2 million more than the £4.2 million paid to the Home Office in 2013/14.
French authorities have faced claims that they are not doing enough to safeguard lorry drivers from intimidation, violence and attempts by migrants to climb on to vehicles.
Tim Waggott, the chief executive of the Port of Dover, has called on the UK Government to help ensure the £100 billion trade route is protected from disruption in the long term.
The Road Haulage Association (RHA) has suggested the deployment of the French military to boost security in Calais to protect truckers.
The Freight Transport Association (FTA) wrote to Prime Minister David Cameron this month, saying the situation in Calais was "deplorable" and conditions for drivers had reached "unacceptable levels".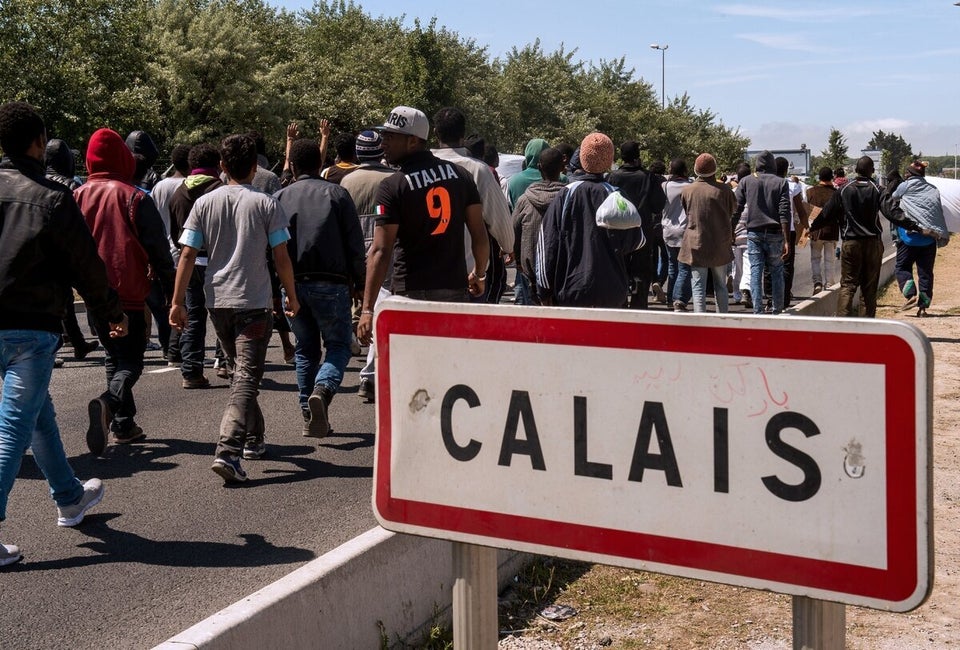 Migrants in Calais