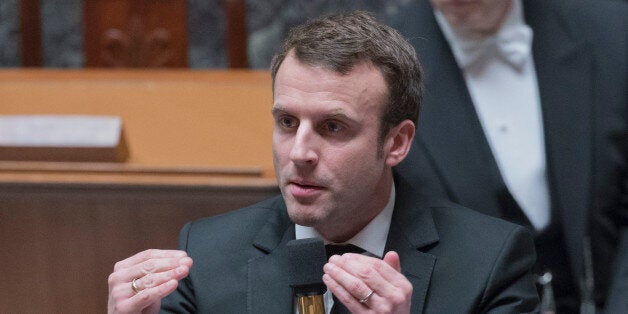 A senior French minister has warned that it is 'too early' to talk about any EU Treaty change needed by David Cameron ahead of the UK's referendum on membership of the European Union.
In a move that will infuriate some Eurosceptics, economy minister Emmanuel Macron told the Chancellor that there would be "a clear 'No'" in lots of EU countries if they were asked to agree new arrangements at present.
Speaking at a joint meeting in Paris, Mr Osborne had again flagged up the possibility that the UK referendum vote, which David Cameron has promised before the end of 2017, could take place as early as next year.
He said that there was a reform agenda that the UK and other EU states could 'work positively on' to get a fairer relationship and to address public 'concerns' about migration and benefits.
Mr Macron made clear he wanted to work constructively with London on a common agenda of economic reform and the Chancellor's aides were pleased at the positive tone of his remarks.
But the Economy Minister was also asked directly about the idea of EU states committing to Treaty change required by any renegotiation achieved by Mr Cameron.
Mr Macron said: "On treaty change, I think all of us are very careful about Treaty change right now.
"Because if you ask people about Europe in the current situation, I do believe the answer will be a clear No in a lot of countries, whatever the question will be.
"So what we need to first is to work on concrete things and solve issues. For me...the question is not 'do you want a Treaty change or not?', the question is 'what do you want to do?' What we want to do is clear. George Osborne is here to emphasise the British view, you have a lot of important speeches about what the UK wants.
"We have now to discuss to find common solutions. The day you have the solutions, we will discuss about the right vehicle. But I think speaking right now from scratch without clearly identifying what you want to do, just about Treaty change or not, is definitely too early."
Lasting changes to EU rules would mean updating the Lisbon Treaty, which governs all 28 states.
Several hardline Eurosceptic Tory MPs and MEPs have attacked the idea of a legally binding 'protocol' to guarantee changes after a referendum, deriding it as a 'post-dated cheque that could bounce'.
Aside from his remarks about treaty change, Mr Macron talked about a 'win-win' approach to Britain's renegotiation process.
"I think we have the basis of a common agreement. France wants reform that strengthens Europe, not reform that weakens it. But I've heard nothing today that was incompatible with that," he said.
Treasury sources insisted that they viewed Mr Macron's remarks as very constructive and pointed out that he left the door open to treaty change or a legally binding protocol.
Mr Osborne, who was on the first of several trips to European capitals as part of the UK's renegotiation effort, said: 'What we are interested in is a Europe that works for all its citizens."
French Foreign Minister Lauren Fabius has described the UK's referendum on membership as "very risky", pointing out that countries cannot "join a football club and decide in the middle of the match we are now going to play rugby".
The Paris meeting came as David Cameron told a press conference in Indonesia that his EU negotiations were going "quite well" but there could be "road blocks ahead".
Mr Cameron has in the past insisted his plans "do involve treaty change, and proper, full-on treaty change" and Foreign Secretary Philip Hammond recently warned that the way Brussels reneged on a bailout fund deal with the UK suggested it could not be trusted.
After Commission President Jean-Claude Juncker tore up a written agreement that the European Financial Stability Mechanism would not be used for future bailouts, Mr Hammond said told MPs: "It gives us a very obvious riposte to those who say, 'Don't worry too much about treaties, let's just have an understanding together'.
"Sadly our experience is, once again, that you do need to have these things nailed down otherwise they can come back and bite you."
But there has been intense speculation that Mr Cameron is now resigned to not getting changes to the Lisbon Treaty, which governs all EU states, in time for his referendum, and will rely on 'binding protocols' instead.
This weekend it some Whitehall sources claimed that the Prime Minister was even considering fast-tracking the poll to June 2016, although he said today he had no date in mind.
French President Francois Hollande has previously warned that he does not want the EU to rush into changing the Treaty, which would trigger referenda in several states.
President Hollande also faces a Presidential election in 2017 and he and other leaders have suggested that changing treaties to achieve smoother working of the eurozone would have to wait until after the Greek crisis plays out.
Mr Osborne said: "The law passing through the House of Commons requires the referendum to take place by the end of 2017.
"But if we have a deal that we can recommend to the British people before then, then of course we can have the referendum before then. What we're interested in is the substance of an agreement."
Mr Macron and Mr Osborne discuss EU renegotiation (from 43 minutes)
At today's event the two ministers announced the creation of a new joint UK-France Data Taskforce to unlock up to €60 (£42) billion of untapped economic growth across the European Union.