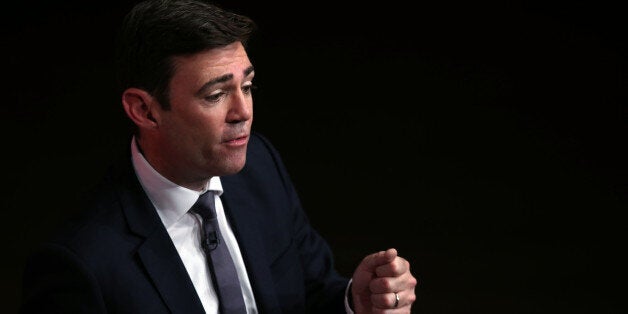 Andy Burnham will say Labour should consider introducing a new tax to fund social care and ignore any subsequent attacks from the "Tory press".
In a speech this evening, the shadow health secretary and Labour leadership candidate will outline his vision for a national health and care service where social care is provided on the same principle as the NHS.
Burnham will announce plans to create a commission to look at how the new service would be paid for. And he will criticise Labour for having been too afraid in the past of taking on conservative newspapers.
"I am determine to make Labour the Party that helps everyone protect what they've worked for. And I believe the only way we can do that is to extend the NHS principle to social care - where everybody is asked to make a contribution according to their means and when everybody then has the peace of mind of knowing that all their care needs, and those of their family, are covered," he will say.
"And yes, let me be clear: I would have to persuade people of a difficult financial change to bring this about. And this is where the modern Labour Party has always backed off, fearing difficult headlines in the Tory press. But that timidity is leaving a broken care system in place and seeing many more family homes sold like my grans."
Burnham will add: "I believe Labour need to rediscover the self-confidence to make a big argument. It's time to trust the people. If what we're saying is right, and provides people with an answer, they will support us, whatever the media says.
In May it was reported that Burnham was considering resurrecting plans to fund social care by imposing a tax on estates when people die.
The policy has been dubbed a "death tax" by the Conservatives. And a 2010 election poster campaign run by the Tories against Gordon Brown on the issue led to a huge row. Cross-party talks between Burnham, then the health secretary, and his Tory shadow Andrew Lansley, on social carefell apart amid the argument.
Burnham's campaign said today it would not preempt the conclusions the commission would draw on funding for his new national health and care service.
The Labour leadership contender, who had been seen as the frontrunner until Jeremy Corbyn's surprise surge in support, will say the "broad-based, inclusive commission" will look at introducing a "new care levy".
"Worrying about a partner and how an older couple will cope with an inadequate care system is the single biggest concern of many voters. The Tories have realised it - but their values and philosophy prevents them from finding the answer," he will say.
"Their answer is to keep the random changes - or dementia taxes - but to introduce a care cap. But they've already broken their Election promise on this by delaying it. And when it is finally introduced, my confident prediction is that to most people it will feel like a care con not a care cap. Over this Parliament, we are looking at five more years of brutal cuts to adult social care budgets."
Burnham's commission will also consider ditching tuition fees in favour of a "universal graduate tax" model for young people on both the academic and technical routes. It will also examine "new ways of paying for housing" to get people on the housing ladder.
On Saturday Burnham took part in the last of 20 leadership hustings alongside Corbyn, Liz Kendall and Yvette Cooper. The debate can be watched in full here.