Burglary victims should not expect to be visited by police officers after the crime any more, as police are forced to focus on more serious crimes as their numbers dwindle, one of the country's most senior officers has said.
Sara Thornton, the head of the National Police Chiefs' Council, told the BBC the service had to concentrate its dwindling resources on growing areas such as sexual crime, terrorism threats and cyber crime, rather than crimes such as burglary, which have fallen in recent years.
She said "it could be" certain home burglaries were not attended.
"There are a lot less burglaries than there used to be, a lot less car crime, but the sorts of crimes that are on the increase - sexual offences, concerns about terrorism, cyber crime - that's where we really need to focus," she told Victoria Derbyshire on Tuesday.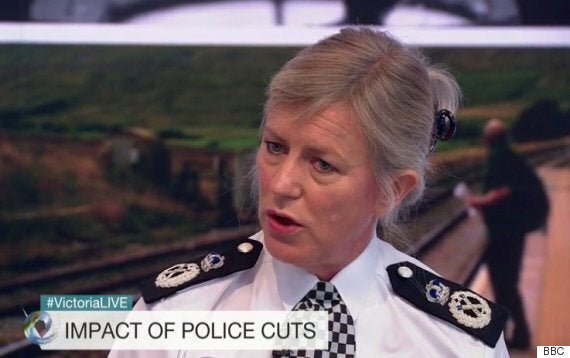 Sara Thornton on Victoria Derbyshire
"We need to move from reacting to some of those traditional crimes to think about focusing on threat and harm and risk and protecting the public.
"If we're really serious about putting a lot of effort into protecting children, for example, it might mean if you've had a burglary, for example, and the burglar has fled, we won't get there as quickly as we have in the past.
"Of course, we will still want to gather evidence, but we might do it in different ways."
The issue of what the police can and can't do in light of large budget cuts is a divisive question, with reformers insisting the service can adapt but many within it saying it will have to do less with less.
Many people tweeted about Ms Thornton's comments using the #CutsHaveConsequences hashtag, coined by the Police Federation, which represents rank-and-file officers, as part of its campaign opposing cuts to force budgets.
Ms Thornton said that burglary was important but added: "Think of the threat to our children from sexual offences, from sexual abuse, from online abuse, that's what we've got to prioritise."
She added: "I don't think it's possible to carry on doing what we've always done, as we will just fail the public but also cause unacceptable stress among our officers and staff."
Related