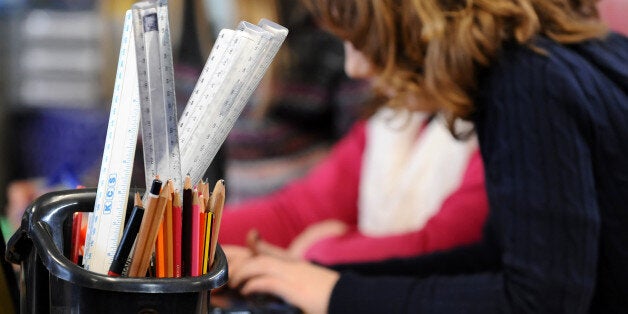 Forget the glass ceiling, the "glass floor" is the problem for bright, poor youths in Britain, who will earn less than their unintelligent, rich peers.
New research released by the Social Mobility and Child Poverty Commission reveals wealthy kids are 35% more likely to become high earners than clever, disadvantaged young people, even if they are not academically gifted.
Alan Milburn, chair of the commission, called the findings a "social scandal".
"It has long been recognised that there is a glass ceiling in British society that prevents children with potential progressing to the top. This research reveals there is a glass floor that inhibits social mobility as much as the glass ceiling.
"It's a social scandal that all too often demography is still destiny in Britain. The government should make its core mission the levelling of the playing field so that every child in the country has an equal opportunity to go as far as their abilities can take them."
He added: "Employers also need to step up to the plate by ensuring that internships aren't simply reserved for those with the right social contacts and that recruitment processes aren't skewed to favour polish over potential."
The child poverty commission research, conducted by LSE's Abigail McKnight, found two main pillars supporting the "glass floor"; more advantaged parents securing educational opportunities to help their children overcome their lack of ability and overtake their poorer peers, and the same parents helping their children into the labour market through unpaid internships and informal social networks.
McKnight said middle class families were "hoarding" the best opportunities in the education system.
"The labour market is a real barrier to the upward social mobility of less advantaged children. Children from less advantaged families who show high potential at age 5 are struggling to convert this potential into later labour market success.
"Schools could do much more to help children from less advantaged families build on high early potential."
The report comes as a House of Lords select committee on social mobility started its investigation into how young people can be best prepared for the world of work.
The committee, appointed to investigate the transition from school to work for young people, is investigating the complex choices young people are faced with when considering career options.
Baroness Corston, committee chair, said the current generation of young people has "the worse chances in recent memory" of being able to enter the workforce successfully.
"Recently, focus has been placed on those who study A-levels and who are able to go on to university, and those who are not in education, employment or training at all," she said.
"We want to look at the group that falls between these two categories. They are often known as the 'missing' middle, and could make up as much as 50% or half of all of 16-19 year olds – if not more. Too little attention has been given to this group for too long, and we hope to establish with our inquiry what this group needs by talking to businesses, experts and most importantly, young people."
Popular in the Community