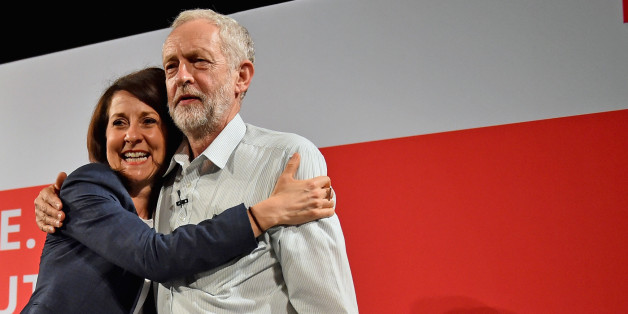 Jeff J Mitchell via Getty Images
Hip hop, vests and biscuits all came under the spotlight today when Labour leadership contenders Jeremy Corbyn and Liz Kendall took questions from Mumsnet users.
The pair, seen as representing the left and right wings of the party respectively, spent an hour answering questions this afternoon, which ranged from the serious to the silly.
Ms Kendall revealed she does not have a favourite biscuit, instead preferring to snack on popcorn.
In a rare insight into his fashion sense, Mr Corbyn told one Mumsnet user where he bought his vests.
Here are the best bits from the discussion:
Liz Kendall on biscuits: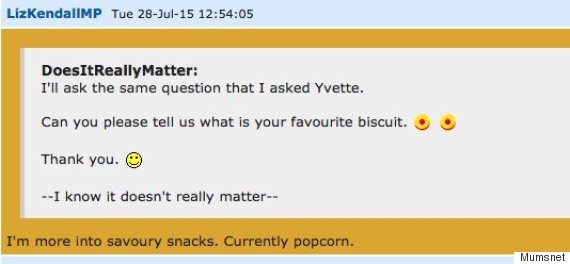 @owenjbennett to be fair this has endeared me to her. Biscuits are crap. Whereas popcorn... Is delicious.

— Sara BenROAR (@sarabenwell) July 28, 2015
Forgetting the deficit < forgetting the digestive. https://t.co/Ra3ubh1ljP

— Vincent Wood (@wood_vincent) July 28, 2015
Jeremy Corbyn did not reveal his biscuit of choice, leading to speculation on Twitter:
@JamesUndy1 @paulwaugh I'm not sure - proper tea is theft innit?

— Andrew J. Willshire (@ajwillshire) July 28, 2015
@paulwaugh TUC biscuits (do they still have those?)

— Paul Richards (@Labourpaul) July 28, 2015
@paulwaugh @owenjbennett Garabaldi, surely.

— Dan Kelly (@DanKellyEsq) July 28, 2015
Jeremy Corbyn on his vests: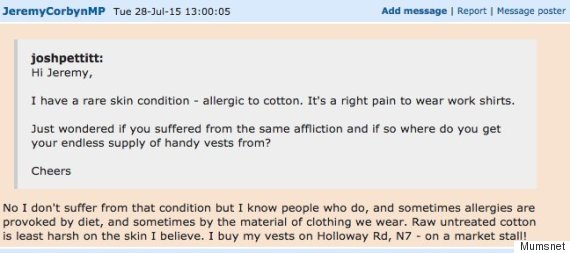 'I buy my vests on Holloway Rd, N7 market stall'

@corbynjokes @MumsnetTowers pic.twitter.com/CFw0jhUPfl

— Jeremy Corbyn (@sexyjezzacorbyn) July 28, 2015
Liz Kendall on why she loves Public Enemy:

Jeremy Corbyn on why he won't withdraw from the leadership contest:

Earlier today, Mr Corbyn blushed when asked how he felt about some Mumsnet users describing him as "sexy".
"This is the most embarrassing thing I have ever heard," he said.