The actress, who plays the inimitable Patsy Stone, has confirmed that filming will start on the big-screen adaptation on 12 October.
Get that bolly on ice... Eddie and Patsy are back!
The script has been penned by Joanna's co-star Jennifer Saunders, who plays Patsy's BFF Eddie Monsoon.
Speaking of it, Joanna said: "It'd be wrong for me to say that I've completely read it because I think it's been changing, but we are starting filming it on October 12th."
She also revealed that Julia Sawalha (Saffy), Jane Horrocks (Bubble) and June Whitfield (Mrs Monsoon) will all reprise their roles in the film.
"We are all there, the same old gang. Lots of people you will have seen in it before.
"I think we are going down to the south of France to do some of the shooting there… It'll all be shot on location. It is going to be ravishingly funny! Very gorgeous… and [in a Patsy voice] completely fabulous!"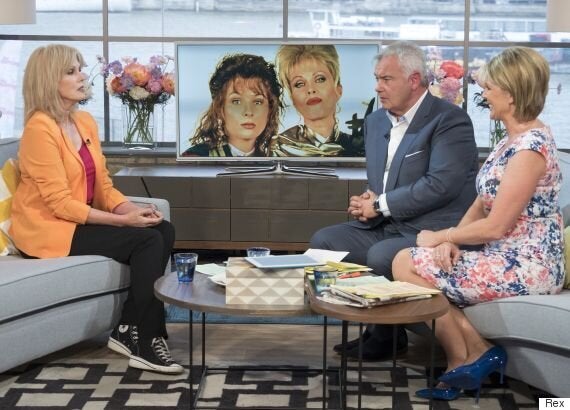 Joanna revealed the news on 'This Morning'
On bringing back the beehive hairstyle to play Patsy again, Joanna added: "I usually use my own hair, and that's usually for one show a week in front of an audience, but when you're shooting for seven or eight weeks everyday, I think I'll give it a bit of a break."
'Ab Fab' first hit TV screens in 1992, and since then, 40 episodes of the show have been made.
Most recently three 20th anniversary episodes aired in 2011/12, one of which celebrated the London Olympic Games.