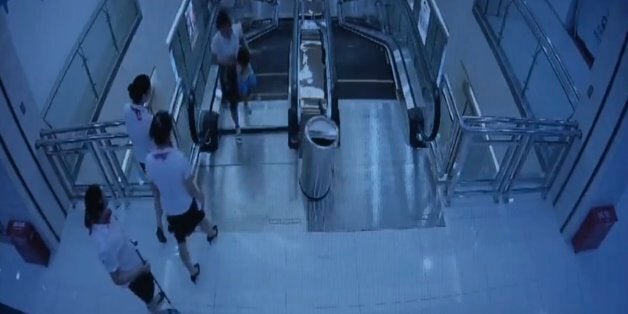 Xiang Liujuan was shopping with her two-year-old son at Anliang department store in Hubei, China, when the accident happened and a short clip of the CCTV footage has since been widely shared online.
However, the full CCTV recording has been uploaded to LiveLeak, and shows two women in uniform tripping on the loose floor plate, before arriving at the top of the escalator unscathed.
WARNING: Graphic from 1:03
The pair, who are reportedly shopping centre staff, are then seen watching the escalator without taking any action to ensure the safety. Liujuan and her son then board the escalator, and the staff appear to say something to her before she steps onto the plate.
After she falls, one of the women manages to rush her son out of the way, but as half her body became trapped in the machinery, they were unable to save her. Rescue crews reportedly took four hours to remove Liujuan's body from the escalator.
Workers have been blamed for her death for failing to screw the floor plate back into place after carrying out routine maintenance work.
Related