A petition demanding justice for Cecil the Zimbabwean lion killed by an American dentist has gained 700,000 signatories.
Created by a user 'Ruth McD' and addressed to Zimbabwe President Robert Mugabe, the petition outlines the circumstances of Cecil's death and the problem hunting presents to local communities.
It reads: "The legend of Cecil started about three and a half years ago, when the then-10-year-old lion was kicked out of his pride, beaten by younger, more powerful males.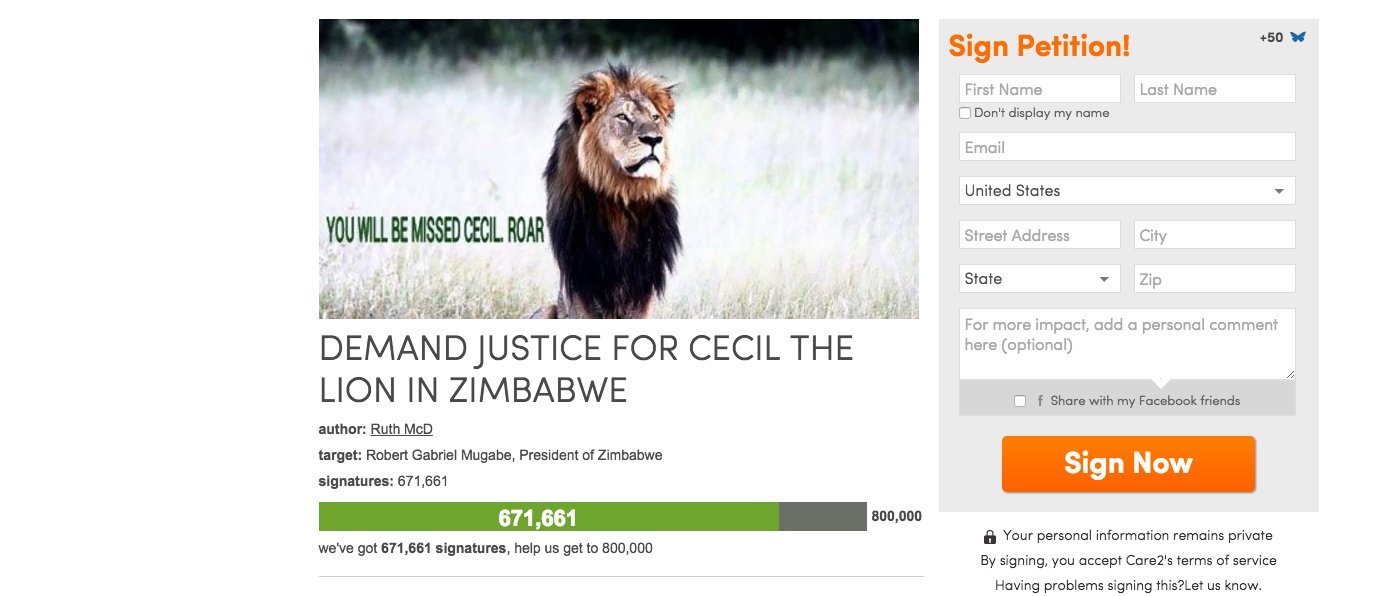 The petition reached 670,000 signatories by Thursday morning.
"Hunters argue that as loners, prideless male lions aren't as important to sustaining lion populations.
"But Cecil wasn't finished."
Those signing the petition left messages of support. One wrote: "So discusting justice for who did this...So sad all these animals being killed for no reason."
Another said: "I believe this man should be punished for what he did! He has to kill to prove his masculinity? What a sad excuse for a human being!"
SEE ALSO:
The lion, who had a distinctive black mane, was collared as part of an Oxford University study which has been ongoing since 1999, and was protected inside the park.
Cecil's six cubs are now expected to be killed by the next lion in the hierarchy, to prevent them mating.
Walter Palmer, the 55-year old dentist from Minneapolis accused of killing Cecil, issued a statement regarding the outcry over Cecil via a local public relations company.
Although the lion's death sparked an outcry from around the globe, Palmer maintained the hunt was legal.
Meanwhile, Animal rights organisation PETA said it wants to see Palmer "extradited, charged and preferably hanged".