Police handled a terrifying situation in the best possible way after being confronted by an frenzied knife-wielding man.
Lee Vickers, 37, threatened PC Alex Prentice and PC Debbie Wishart with a large blade when they were patrolling nearby his Northamptonshire house.
He can be seen trying to stab an officer in a fit of rage. Vickers swings at PC Prentice twice before being overpowered, disarmed and eventually arrested.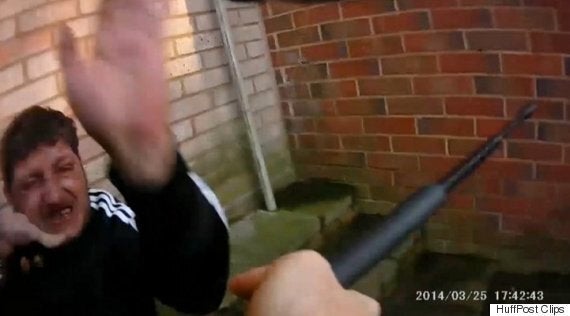 The moment the man was disarmed and arrested by PC Alex Prentice
PC Prentice and PC Wishart can be heard defusing the man's anger and frustration, telling him repeatedly: "put it down, put down the knife."
The video has emerged from PC Prentice's body camera, which was mounted just inches away from where Vickers violently approached him.
Vickers was jailed for three-and-a-half years after the incident and both officers received a Chief Constable's Commendation and The Boatman Shield at the police awards in May.
The incident took place outside a terraced house in a council estate in Corby, Northamptonshire and occurred on 25th March last year.
In June the metropolitan police deployed 20,000 body cams to officers in London to help police fight crime and boost public confidence.
The Mayor of London, Boris Johnson told the Guardian: "This is exciting technology that will build trust, help the police do their jobs, and allow the public to hold officers more accountable.
"Our plans for the roll-out of body-worn video will make the technology available to more officers in a single city than anywhere else in the world and is a giant step towards a truly 21st-century police force for London."