Solar Buddies is a new product deemed to be the "safe" way for teachers to put suncream on a child because it involves "no-touch".
The gadget has a roll-on sunscreen applicator so teachers are able to apply cream to children's skin without violating any rules banning physical contact with pupils, that have been imposed in some schools.
The applicator costs £7 online and founders Kelli Aspland, 36, and Laura Griffin, 32, say it also "prevents the usual mess associated with children putting on suncream".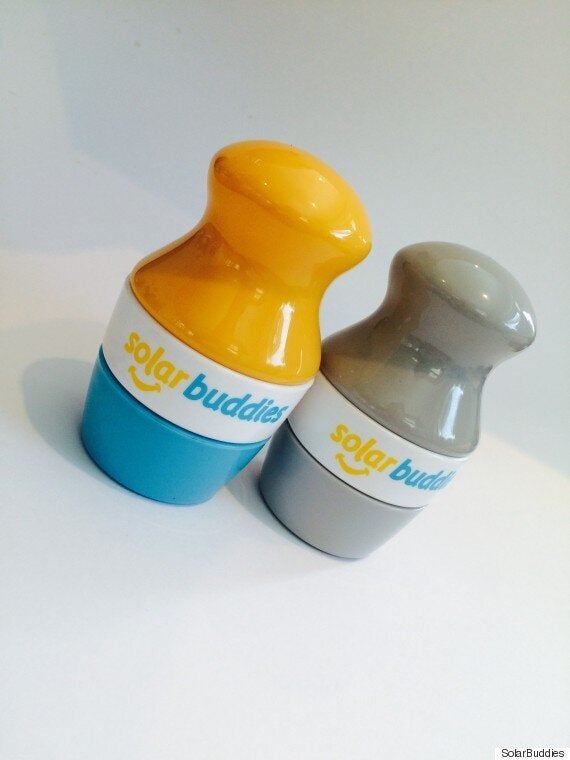 The Solar Buddies bottle is refillable so parents can choose the suncream most suitable for their child.
Aspland and Griffin are both stay-at-home mums from South Wales.
On a blog on the Solar Buddies website, they write: "Kelli and Laura first had their idea for the child-friendly sun lotion applicator whilst discussing the "No Touch Policies" most schools now have in place when it comes to applying sun lotion to children.
"The Solar Buddies applicator assists teachers and school staff in applying the lotion to children in a safe, convenient and mess-free way.
"The idea behind the Solar Buddies came not only to help safeguard the children, but teachers too."
The founders said they discussed the product with parents and realised they would be a lot happier if teachers were able to apply sun lotion without fear of the policy.
They said coming up with the idea was easy, after they noticed how much mess their children made when applying sunscreen at school.
Aspland and Griffin said they took inspiration from deodorant applicators, and the pair have made 5,000 bottles so far.
Following several incidents where children were badly sunburned at school, the National Association of Schoolmasters Union of Women Teachers (NASUWT) union advised teachers to supervise suncream application rather than apply it themselves.
On their website, they advise: "The NASUWT's advice is that children should apply their own suncream. For younger children or for pupils with special educational needs this may be under the supervision of a member of staff if necessary, or pupils may be kept indoors if none is available.
"However, NASUWT advice is that teachers should not apply suncream to children.
"The Department for Education doesn't have any specific guidance on the matter, prefering to leave the decisions to individual head teachers."
A Department for Education spokeswoman told the NASUWT there is no specific guidance for schools on the application of suncream.