When it comes to how people treat their smartphones these days, there's a dramatic difference between treating the device like a tool that makes life easier and viewing it as a not-so-figurative fifth appendage.
We are right, as a culture, to be worried about this obsessive behavior. But just because some people engage in inappropriate texting, there is still a large population of smartphone users with a surprisingly balanced relationship to their devices - and they deserve a little credit. Below are 23 simple signs you have a healthy relationship with your smartphone - congratulations on maintaining your humanity while still being an active participant in the 21st century!
1. Your days don't begin and end with the infinite scrolling of your news feeds.
Maybe you wake up with a few gentle stretches or a daily meditation routine, and drift off to sleep after journaling or kissing a loved one goodnight. But your phone has nothing to do with it. And your sleep hygiene thanks you for that.
6. Your phone doesn't double as an alarm clock.
That's what an actual alarm clock is for -- or your pets. But not your phone.
7. You don't succumb to peer pressure to respond to text messages instantly.
That's the beauty of text messages -- once they're sent, they sit on your phone until you're ready to read and respond to them. Indefinitely. So you take however much time you need, and it's a wonderful, wonderful thing.
8. And on the flip side, you don't freak out when others don't respond to you right away.
That mentality goes both ways. You're secure enough to recognize that other people are probably busy with other things. JUST LIKE YOU. If they don't respond within .35 seconds, it's not a sign that they hate you or are angry with you. So you continue to breathe easy as if you didn't start the conversation at all, which is also a wonderful thing.
9. Your smartphone doesn't ever find its way to the dinner table.
Mealtime is for nourishing your body and the relationships you share with family or friends currently sitting next to you. The rest of the world can wait 20 minutes to demand your attention.
Yes, taking pictures of your food is fun. No, shoving your phone in your plate doesn't make it taste better. 'Nuff said.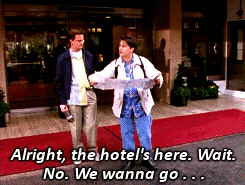 11. You still remember how to use an actual map.
SURPRISE -- before the advent of GoogleMaps, people still arrived at new locations on time and in one piece. Whether you're traveling in a new city or hiking through an expansive mountain range, you're able navigate just fine without any GPS capabilities.
12. You can go screen-free on a Saturday -- and actually enjoy it.
Weekends are for spending time out and about in the world -- not staring at a screen that already dictates too much of your time during the week. You intentionally unplug, and know that real benefits come from it.
13. You still feel that unique pleasure when reading a paperback book.
Reading on a screen just isn't the same. It's taxing to our mental resources, preventing us from diving as deeply, remembering what we read and garnering satisfaction from it. You know that feeling the dry edges and manually flipping the pages of a book is an experience that can't be replaced. It even helps you sleep better, too.
14. You're able to give a friend your undivided attention (without any residual anxiety).
Listening to a friend in need, whether they're excited about a new job promotion or facing tough news from a loved one, is a reflex that comes naturally. You stop what you're doing, put your phone away, make eye contact and give a genuine effort to help. It's as simple as that.
15. You let your brain hold on to important memories instead of your phone's data storage.
Your recall abilities are on point, from the encore performance at the last concert you attended to what you wore to your BFF's birthday dinner. Keeping that phone out of the equation requires you to pay more attention and internalize more information, keeping your mind (and memories) much sharper.
16. You don't even flinch when you see that "low battery" warning.
That's what your charger is for. And you can think of plenty of engaging things to do while your phone recuperates.
17. You've recently exercised tech-free and loved every minute of it.
Yes, that running playlist really adds pep to your step. But running with only your thoughts keeping your mind occupied is one of the best moving meditation options available. Bring on that newfound sense of Zen.
18. You spend more time playing with your dog than taking filtered pictures of him.
Yes, he is the cutest, cuddliest animal in the whole wide world. And he loves you even more when you use both hands to scratch behind his ears.
19. You embrace awkward eye contact with strangers rather than even more awkwardly "checking" for new notifications.
An important part of life is embracing the unknown factors that come along with it each day. While new encounters may start out uncomfortable, they're also essential for making new connections and building new relationships.
20. You've never accidentally dropped your phone in the toilet.