UPDATE: Empire State Building's Cecil The Lion Projection Called 'Embarrassing' For Neglecting Black Murder Victims
A glowing image of Cecil the Lion has been projected onto the Empire State Building in New York, to raise awareness of endangered animals like Cecil, who was killed by American dentist Walter Palmer, sparking outrage around the world.
Cecil was among a range of animals projected onto the iconic building, including a tiger, eagle, whale and lizard, in a show which trilled spectators on Saturday night in the US.
The images of Cecil and other creatures covered 33 floors of the building in an eight-minute video loop, and could be seen for miles around.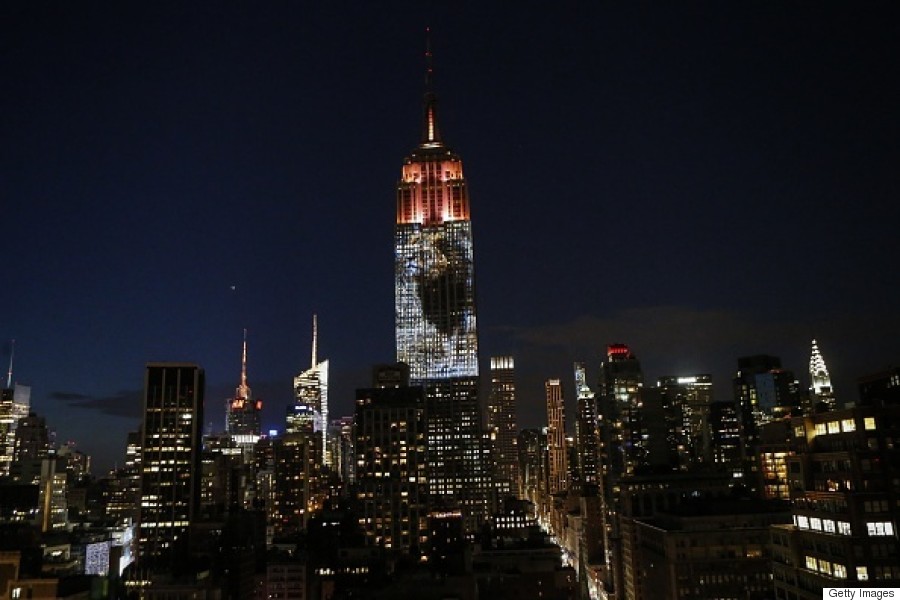 Cecil's face in New York
The "Projecting Change on the Empire State Building" show was created by Louie Psihoyos, director of the Oscar-winning 2009 film "The Cove," which raised awareness of Japan's brutal dolphin-hunting industry. Psihoyos is also the founder of the Oceanic Preservation Society.
He's used the Empire State Building to send a message before: in 2011 the landmark was lit up in red to symbolize the blood of the dolphins in 'The Cove.'
Fisher Stevens, who produced 'The Cove,' told AFP the stunt aimed "to start a conversation."
SEE ALSO:
Cecil the lion and other endangered species projected on the the Empire State Building http://t.co/D9SJvDLca7 pic.twitter.com/viyeLmcFTX

— Mashable (@mashable) August 2, 2015
Photo of #CecilTheLion dazzlingly displayed at Empire State Building #USA http://t.co/lyyiQmYXNI pic.twitter.com/zjxeJ527RN

— The Daily Star (@dailystarnews) August 2, 2015
TGFTechNews: Cecil the lion and endangered species glow on the Empire State Building #Tech #TechNews pic.twitter.com/vVdHRRQoLH

— News Mayotte (@NewsMayotte) August 2, 2015
Empire State Building Pasang Foto Singa Cecil http://t.co/bJVGhDIwrl | https://t.co/ECYIAoLtKq pic.twitter.com/wvzfZMgU6G

— Ricki Harmon (@rikiblake) August 2, 2015
turday