Footage of the incident shows the man stumbling at the top of the steps, as the metal plates give way causing him to fall further into the mechanics.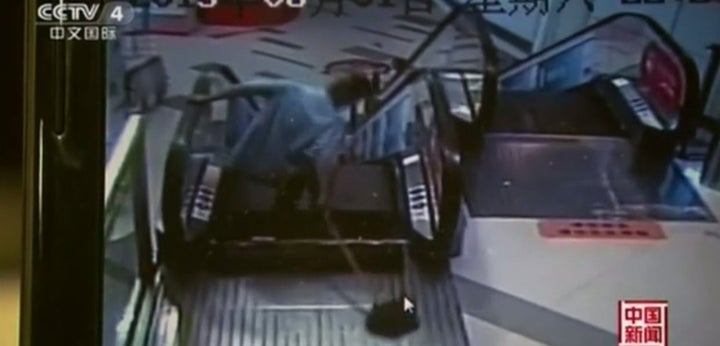 The escalator was in a shopping mall in Shanghai
The latest incident occurred on Saturday evening at a Shanghai shopping complex.
The video shows extensive rescue efforts to release the man, though doctors at a nearby hospital were unable to save his foot.
The China Daily newspaper reported that 37 Chinese people are killed a year in escalator-related incidents in the country. There are 3.6 million registered escalators.
However, Chinese control authorities have revealed 73 deaths and 82 injuries were recorded in 74 escalator accidents across the country in the first half of 2015.
Zhou Jigao, director of the construction business research committee under the Shanghai lawyer's federation, told China Daily: "Such accidents seem to happen by chance, but they all point to a loophole which is the lack of management and maintenance of escalators and elevators."
Shanghai authorities say they will launch an investigation into the latest incident.
Popular in the Community