Jeremy Corbyn addressed a large crowd of cheering supporters from the top of a fire engine in central-London on Monday evening, as a rally of hundreds held to boost his Labour leadership campaign overflowed into the street.
The veteran leftwing MP and surprise frontrunner in the race to succeed Ed Miliband said he had been inspired by people who had joined his campaign in order to reject "the politics of personal abuse and the politics of celebrity".
"I am not indulging in personal abuse of anybody. I won't do it, never have, never will, there isn't time, it is a waste of energy," he said.
"I want on September 12, whatever the result, us to be together, to stay together, to keep on being together in order to develop the policies that will bring real social justice."
Corbyn told the crowd: "We don't pass by on the other side and leave the poorest to fend for themselves."
The rally also heard speeches from Corbyn supporters who branded Labour's current shadow chancellor "economically illiterate" and attacked Tony Blair for making "crass" interventions in the leadership debate.
Corbyn was greeted with cheers and a standing ovation when he entered Camden Town Hall opposite St Pancras International station. And his speech ended to chants of "JezWeCan" from supporters.
Some of the Corbyn backers were wearing '#JezWeCan' necklaces and stickers. Speaking inside the hall, Corbyn urged his supporters to "stay together" in the face of criticism from others within the party.
"I am sure that some people who are making slightly negative comments about what we are saying in within the confines of parliament will understand that this is an open and democratic process that has brought lots of people together, on the basis of hope of on the basis of determination, on the basis of democracy. That voice cannot be silenced, that voice cannot be stopped, that power cannot be denied, together we are very strong," he said.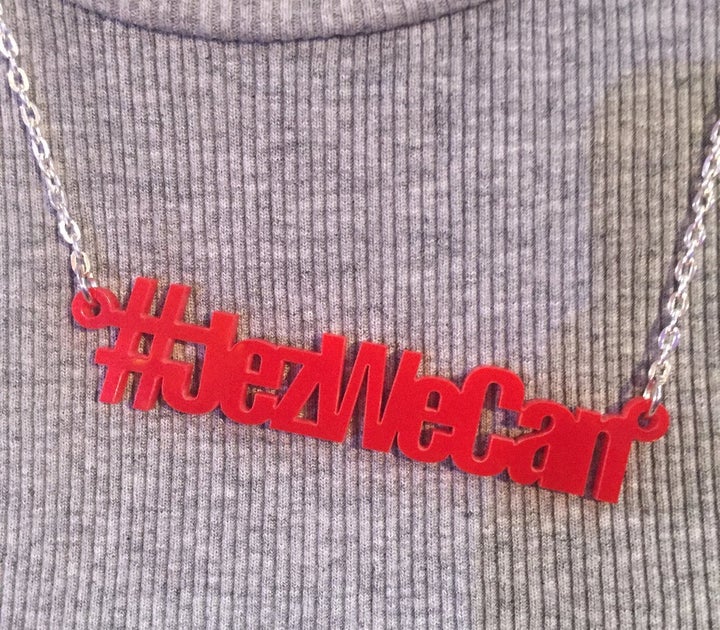 Queuing for the event, Jimmy, 29, told The Huffington Post he voted Green in 2015 because it "felt like Labour were as rightwing as the Tories".
"The only reason I joined the Labour Party is because I'd like to see a leftwing politician in British politics. The only reason I joined was so I could vote for Jeremy Corbyn," he said.
"As for the others in the leadership battle I don't like any of them because I feel like that are just David Cameron in a Labour outfit."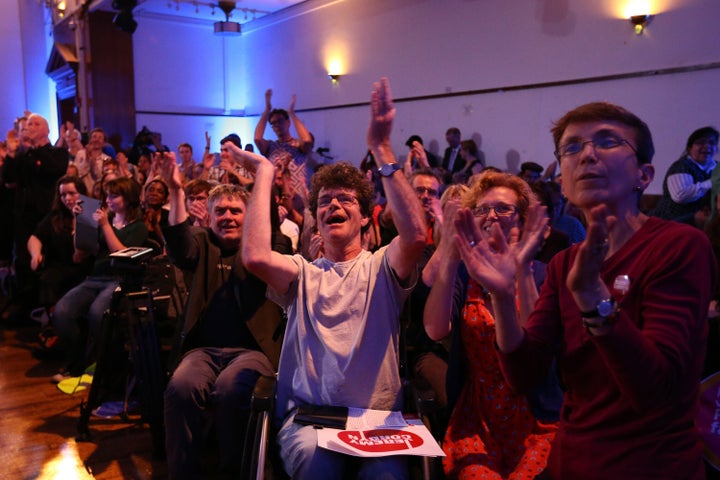 Emma, a 25-year-old teacher, said it was Corbyn's campaign that persuaded her to rejoin Labour having become "disillusioned" with the party in 2009. "He fights for social justice, he is against trident, he pro-welfare, he is keen on renationalising things. I don't believe we should have private companies benefiting massively from subsidies yet not sharing the wealth, sharing the rewards," she said.
Corbyn's rivals, Yvette Cooper, Andy Burnham and Liz Kendall were not popular. "I don't really like any of them," she said. "There hasn't really been anyone that completely reflected my views at the forefront of the Labour party for a long time. I think there were things Ed Miliband said that I agreed with, but he was trying to be too centre for me. I think he [Corbyn] is the first person for a long time that has come out and said things very publicly that I agree with."
And she was unimpressed with the "scaremongering" that said Corbyn was too leftwing to be elected prime minister at the general election in 2020.
An enthusiastic audience of hundreds in the hall also heard from former London mayor Ken Livingstone, PCS union general secretary Mark Serwotka, Guardian columnist Owen Jones and others.
Livingstone used his speech to attack the Blairite wing of the Labour Party, singling out Chris Leslie for specific criticism. Earlier on Monday the shadow chancellor, who is backing Yvette Cooper for Labour leader, said Corbyn's economic policy was not "credible". He also said he would refuse to serve in a Corbyn shadow cabinet.
But Livingstone hit out at "economically illiterate" Leslie. "Listening to him saying 'Jeremy isn't electable', well excuse me, you bloody well weren't a few weeks ago," Livingstone said.
Serwotka also devoted much of his introductory remarks to criticising Leslie. "The shadow chancellor is telling everybody that Jeremy is not electable and doesn't have a credible economic policy. Well I think we all agree its his economic policy that is not credible," he said.
"Chris Leslie shouldn't be so presumptuous, he said he won't serve in the shadow cabinet, he hasn't even been bloody asked yet."
The union general secretary also attacked Tony Blair for making "crass and intensive" remarks about people who backed Corbyn. The former prime minister had said those who "say their heart is with Corbyn" should "get a transplant".
Serwotka told the rally that he was in fact waiting for a heart transplant. "If get hauled in tongiht for my transplant, I will go into hospital hoping Jeremy wins and I wake up with a new heart still wanting Jeremy to win," he said.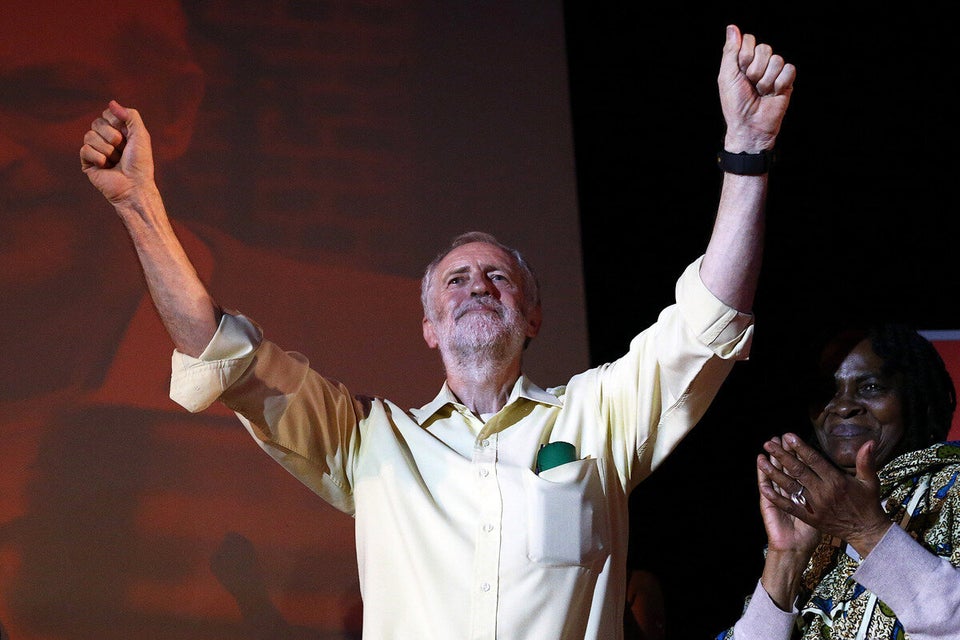 Jeremy Corbyn's London rally