Pop quiz: what does a female scientist, engineer or mathematician look like? The answer: you're asking the wrong question.
The fact is that there is no fixed idea of what any of these female professionals look like because appearance doesn't dictate whether or not you are good at your job in STEM.
Yet that is what OneLogin platform engineer Isis Wenger had to contend with, when her picture was used to help recruit more engineers.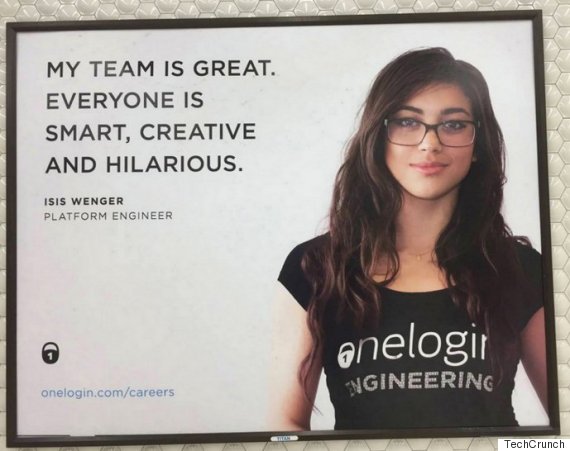 Some people were more concerned about her looks, reported TechCrunch.
One said: "This is some weird haphazard branding. I think they want to appeal to women, but are probably just appealing to dudes. Perhaps that's the intention all along. But I'm curious people with brains find this quote remotely plausible if women in particular buy this image of what a female software engineer looks like."
Another added: "If their intention is to attract more women then it would have been a better to choose a picture with a warm, friendly smile rather than a sexy smirk."
SEE ALSO:

Finally, Brainiacs Work Out Why Women Find Air-Con Too Cold In Offices

Body Confident, Plus-Size Women Pose Topless For Empowering Photos
So far, so sexist.
But Isis Wenger was not going to put up with that, and so she started #iLookLikeAnEngineer, to help overturn the stereotypes about what female engineers should look like.
The response has been incredible.
Here's a snapshot of the pictures so far, starting with Wenger:
Just updated my Medium post! #iLookLikeAnEngineer pic.twitter.com/szMTCuRVu0

— Isis Anchalee (@isisAnchalee) August 3, 2015
Others quickly followed:
BS in HCI, 10y in tech, 20 events spoken at, 6 co-run. Brag, but worked for it f*cking hard, xo #ILookLikeAnEngineer pic.twitter.com/t4oRi85JBY

— fantastic ms. (@fox) August 4, 2015
Really into software development, really into shoes. #ilooklikeanengineer pic.twitter.com/rAjkdKi6Qy

— Julie Haché (@juliehache) August 3, 2015
Late in the game but YES #ILookLikeAnEngineer Software Engineer to be exact. Interned at NSBE, Microsoft, and Pandora pic.twitter.com/pzSZieQVHc

— Chardai P. (@DaiiDreamingg) August 4, 2015
#ILookLikeAnEngineer The female flight controllers of STS-120. pic.twitter.com/5fqVKggn1p

— Holly (@absolutspacegrl) August 4, 2015
We all have engineering bachelors degrees, most have masters & most are pursuing PhD's. #ILookLikeAnEngineer pic.twitter.com/yhpjUepI9S

— Khalia Braswell (@KhaliaBraswell) August 4, 2015
I was one of the earliest engs @Pinterest; I've worked on infra, api, web, ads, homefeed & more #ILookLikeAnEngineer pic.twitter.com/vn0aS58JIv

— Tracy Chou (@triketora) August 4, 2015
I build accessible UIs, have a CS degree, actually dream about bug fixes... & collect food hats. #ILookLikeAnEngineer pic.twitter.com/sEaHOReymv

— Cordelia (@cordeliadillon) August 4, 2015
#ILookLikeAnEngineer who likes mesh routing, IoT stuff, standardization, and handbags that look like other things pic.twitter.com/DFA79jOhRk

— lotterleben (@Lotterleben) August 4, 2015
#ILookLikeAnEngineer who could use more sleep. No need to run my creds, I'll still be an eng without your validation. pic.twitter.com/KhCBh8LPNL

— ¯\_(ツ)_/¯ (@EricaJoy) August 4, 2015
#ILookLikeAnEngineer NASA Space Shuttle Mission Control time! pic.twitter.com/6NBPpyCgRq

— Holly (@absolutspacegrl) August 4, 2015
I am one of six lead developers of the software behind a quarter of the internet and #ILookLikeAnEngineer. pic.twitter.com/sUaiRo9S0r

— Helen 侯-Sandí (@helenhousandi) August 4, 2015
And finally, keeping it old school...
Admiral Grace Hopper will forever be an engineering superstar to all of us engineers. #ILookLikeAnEngineer pic.twitter.com/mute8G3tcC

— Werner Vogels (@Werner) August 4, 2015