Is your irritating smartphone alarm not enough to get you out of bed? Look no further. Inventor and YouTube star Colin Furze has come up with the "high voltage ejector bed," which is exactly what it sounds like.
It's a concept bed frame that "flips" sleepyheads onto their feet, with sirens and trumpets blaring at the same time. Users can also adjust the force from low to high, depending on how much they need to be yanked out of bed and how far they are willing to be thrown.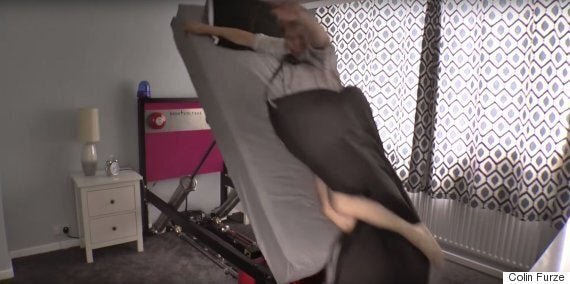 In a YouTube video, Furze experiments using the bed a bunch and almost hits the opposite bedroom wall a few times, too. It's that powerful.
To make the bed, Furze put together the frame, outfitted it with a hinge for flipping the sleeper up off the mattress and added pneumatic pistons to power the bed. The entire thing is powered by a massive air compressor.
The project was made as a joke as part of coffee company Taylor of Harrogate's campaign for its new coffee blend, "High Voltage."
"It's actually a pretty remarkable piece of engineering, even though the end result is just a silly YouTube video," Mike Wehner wrote in The Daily Dot.
We tend to agree. As of Tuesday, the video had garnered over 2,000,000 views. Furze also noted on his Twitter page that people seemed to actually want to buy the bed.
"This ... is the home of crazy inventions, brilliant world records and constant disregard to health and safety," Furze's YouTube channel warned. Please, don't try this at home.