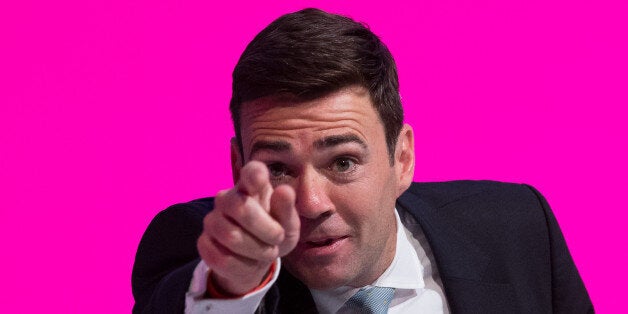 Andy Burnham has revealed that he would not "cling on" to power ahead of the next general election if his leadership of the Labour party fails to make a breakthrough with the voters.
In an interview with The Huffington Post UK, the former Cabinet minister and bookies' favourite for the Labour leadership signalled that he would step aside voluntarily ahead of 2020 if things weren't working.
Asked if he would try to stay on as Labour leader right through to the next election, even if his leadership performance turned out to be similar to Ed Miliband's, he replied: "I'm not that kind of person.
"You can't live in these parts that I live in and not get some pretty down to earth advice on a pretty regular basis.
"And if it wasn't working, people wouldn't hold back, partly out of regard for me I guess. I'm not that kind of person who will cling on. I know it sounds corny, but Liz accused me of wanting to put the party first but I do. I genuinely do, always have, always will."
Some Labour MPs are hoping for a new system to allow them to oust a failing leader but others, like Tom Watson, believe that Mr Miliband's experience will persuade the candidates to jump before they were pushed.
"I'm not an individualist politician. You put the party first so that it can be a force for the people, for the country," Mr Burnham said.
"My career has always been defined by that approach and it wouldn't change. I've got enough about me to know if it wasn't working and I wouldn't drag Labour down with me."
Mr Burnham is up against Jeremy Corbyn, Yvette Cooper and Liz Kendall in the race to succeed Mr Miliband. Ballot papers in the election will go out this weekend, and a winner will be declared on September 12.
Some MPs believe that whoever wins the leadership race will find it difficult to heal the party and could fail to make the required impact needed with the voters.
Labour is already behind in the polls and to have a hope of getting power needs to win more than 90 seats in Tory seats with majorities of more than 3,000.
Labour MPs like Frank Field, backed by peers such as Lord Knight and Baroness Royall, have suggested that the new leader should face a re-election in three years' time to check if they are in a strong position to win in 2020.
But in his interview, Mr Burnham stressed that he was the only candidate who could unite Labour and suggested he would offer each of his rivals an important post if he won.
"The four candidates in this race all hold pretty distinctive positions on the Labour spectrum. That's one of the good things about this race that I think the last one never quite offered. I think we all have fairly carved out positions that are quite clear and each of them has a body of Labour opinion and sympathy that sits around it," he said.
"So it will be incumbent on the new leader to knit that back together. I think it would be to make a great mistake to allow the incipient factionalism in the party to take hold and it look like one side has won over another, that would be a great mistake.
"I've not decided but my instincts say each of those people has said something of value in this race, has added to it and made it better by being in it and has said something the party needs to listen to. And so you would want those threads to be pulled back together."
Asked if Mr Corbyn in particular would merit a party role, maybe as party chair, if not a Shadow Cabinet post, Mr Burnham replied: "I'm not saying Shadow Cabinet, but I'm not rejecting the idea of a role.
"When I say everyone's added something to this race, what Jeremy is doing that is of real value to the Labour party is breaking us out of this shallow retail politics and that is an important service to the Labour party. There's a yearning for bigger ideas that are worth getting excited about and voting for at election time. "
But after former Militant man Tony Mulhearn was spotted at a Corbyn rally in Liverpool recently, Mr Burnham also warned his rival against keeping company with far-left activists.
"I don't doubt for a second there are lots of enthusiastic people who have joined who want something bigger from politics who are drawn to what Jeremy is saying. But there are others underneath who don't have the Labour party's best interests at heart. I would just say Jeremy does need to take care about that."