A British grandfather has joined the fight against IS in Iraq saying he is "prepared to die" in an effort to show his grandchildren what he is "really about".
Jim Atherton, 53, is part of a Christian militia called Dwekh Nawsha, which means The Sacrificers, and uses a machine gun and grenades to help protect Christians in villages such as al-Qosh, according to The Sun. The militia fights alongside Kurdish peshmerga warriors.
Before leaving his home in Tyne and Wear in April, Mr Atherton had no military experience but he has already reportedly come under mortar and rocket attack and returned fire. He says his nerves are holding-up and he has "done alright" so far, despite having suffered a heart attack in 2007.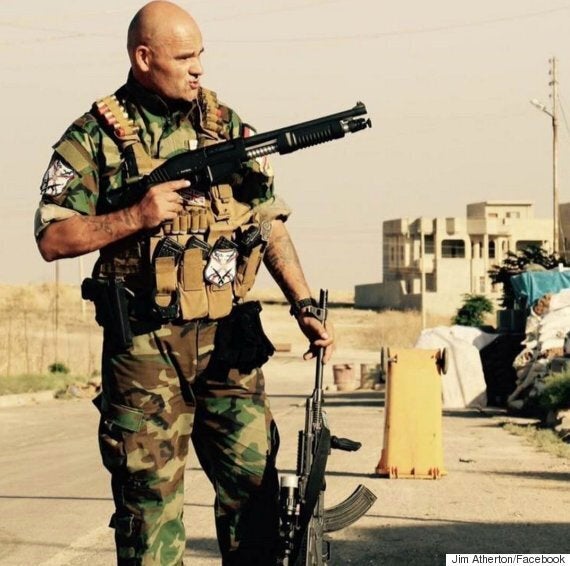 British grandfather Jim Atherton is fighting IS alongside Christian militia Dwekh Nawsha in Iraq
Describing his motivation Mr Atherton said: "I felt I had to do it. I wanted my grandkids to know what I'm really about."
He added: "I couldn't stand seeing IS killing women and kids. No one seemed to be doing anything about it, so I decided I would."
Mr Atherton's wife was "devastated" with his decision and his children were "panicking", he said.
Mr Atherton's father was a soldier and his younger brother died while serving in Afghanistan. While not a churchgoer, Mr Atherton said he was Christian, and decided to join the militia after reading about them online.
He told The Sun: "I'm a middle-aged white van man. I thought if I'm going to do anything with myself it's going to be now."
Mr Atherton, who used his downtime in the UK to care for rescued dachshunds, spent around £3,000 on weapons. Among his arsenal is a RPK light machine gun which he purchased for £650, a Glock pistol for £1,500 and a shotgun for £200.
While patrolling he also has a knife strapped to his leg and stores a £65 grenade in his chest pouch along with his Marlboro cigarettes. Mr Atherton even has to buy his own ammunition, which costs £1.30 a round.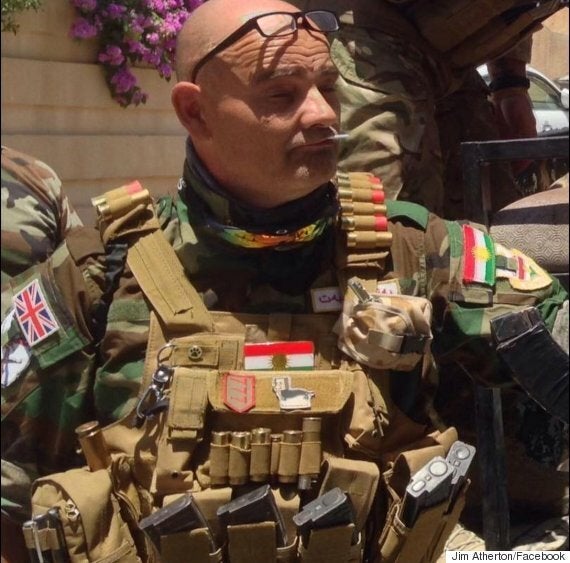 Mr Atherton purchased all his own weapons including a machine gun, a pistol and a shotgun
To raise money for his travel and weapons the white van driver sold his Sierra Cosworth, two motorbikes, a boat and a variety of car parts.
Mr Atherton, who wears a Union Jack patch on his body armour as well as a dachshund badge, told the newspaper that the militia has made him feel "very welcome", and told of longing for a bacon sandwich.
He said the average peshmerga fighter is 18 to 25 years old and it was an "honour to stand beside them". He said they called him "Jimbo" and queued-up to shake his hand.
Mr Atherton said the Special Branch had visited his wife and urged her to tell him to return to the UK, and upon coming home for a holiday last month officers waited for him at Manchester Airport. He was later questioned for a "couple of hours" he said.
He told The Sun: "I don't encourage anyone else to come out — it was just something I had to do."
A Dwekh Nawsha comrade of Mr Atherton's said he was a "good soldier" and that the militia was "honoured" to have him.
Mr Atherton isn't the only Brit to have joined the group.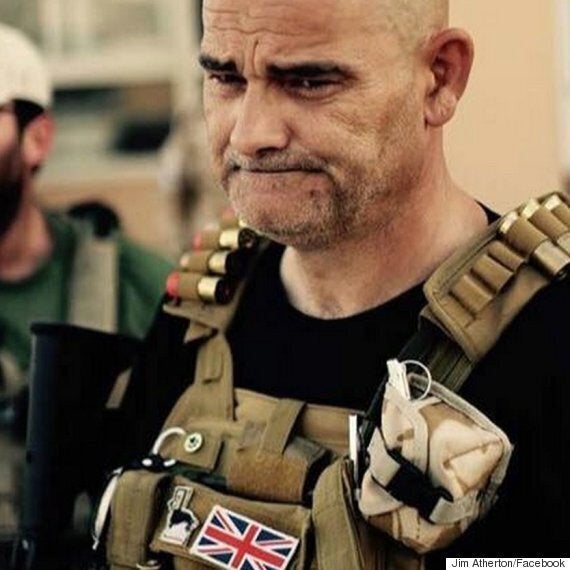 Mr Atherton said the Special Branch had visited his wife in the UK and had waited for him at the airport when he returned home for a recent holiday
In February it was reported that Tim Locks, a former bouncer who runs a building company, had sold his house and flown to Iraq. He told the Daily Mail: "I just wanted to help people out here. Any society which kills people, cuts people's heads off, needs to be challenged." He was taken on for his construction skills, the newspaper reported, but hoped to move to the frontline.
Earlier that month the newspaper interviewed another western volunteer, said to have been a former public schoolboy, who had joined the Kurdish People's Protection Units.
While those who fight for IS are charged on their return to the UK - The Sun reported earlier this year that around 40 had so far been charged - the legal position on those found to be fighting against them is not so clear.
Helen Fenwick, a professor of law at Durham University who specialises in counter-terrorism legislation, explained to The Guardian that prosecutions of Britons fighting against IS "wouldn't appear to be in the public interest" as they were engaging in the same fight as British forces.
One issue authorities have to consider, the newspaper reported, is whether anti-IS fighters are considered likely to present a danger back in the UK. It quoted a CPS spokesperson as saying they had no guidance on the issue: "It's really up to the police if they want to refer a case to us, and it's about looking at the individual facts."
According to research by Channel 4 News Britons fighting abroad aren't simply limited to Iraq and Syria. There are thought to be around 100 British citizens enlisted with the Israeli Defence Force who do not have dual British and Israeli nationality.
Related