New mum Kimberley Walsh has spoken out about how overwhelming she found those early days of parenting son Bobby Jay, who turns one in September.
"The first two weeks phased me a little bit, I'm going to be honest. I thought, 'It's going to be fine.' And then nothing prepares you - nothing," Walsh says.
"You can't quite get your head around the intensity of those first two weeks, where it's literally you and them and every minute of every day is just living to keep them alive.
"I wasn't going to try and keep up appearances and try to do anything. I was like, I'm going to hibernate, I'm going to learn what the hell's going on with this baby and I'm just going to live every hour as it comes."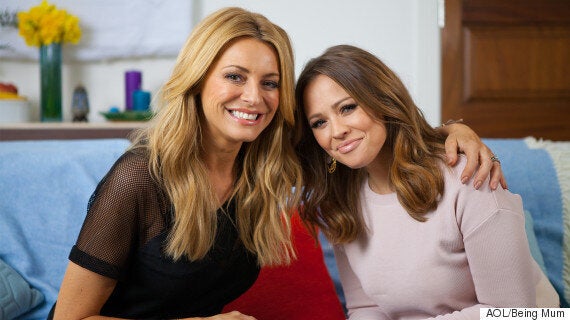 While Walsh admits she had no sense of night or day those first few weeks, napping when son Bobby did was what helped to get her through those difficult and sleep-deprived early days.
The singer and actress was interviewed by Tess Daly as part of AOL Original series, Being Mum, and also discusses her early struggles with feeding Bobby.
"I thought, it's all going to be fine, he's just going to crawl up and it's all going to be lovely. I just thought that I'd be that person. And then, it was so hard," Walsh reveals, telling Daly she and fiancé Justin Scott would both be up all night, trying to give Bobby colostrum through a syringe to make sure he was fed, surviving on 10 minutes of sleep at a time.
"When he finally latched on, I burst into tears and cried for about an hour. I mean, it was emotional. My whole family were crying with me! I just thought, this boy is going to be hard work. He's a tricky customer."
In the video, Walsh also talks about how her son - at six months - only just started sleeping through the night.
"I've realised he wasn't hungry at all, he was just playing me for a fool, and I fell for it," Walsh laughs.
The performer also reveals that when it comes to the kind of mum she sees herself as, she knows she'll be a "worrier."
"That drive home from the hospital - the whole world changes in that one journey," she tells Daly.
"I just see everything completely differently. It's really bizarre but I feel like I'm just going to be one of those mums that stalks their child, basically."
Watch the video to see Walsh discuss her "textbook" pregnancy (and how she can't wait to do it again), trickier-than-expected labour and the joy that she feels at being mum.
The Being Mum series, hosted by Rochelle Humes and Tess Daly, is a beautiful and humbling series that defines what it means to be a mother today.
In each episode Rochelle or Tess will meet a well-known personality, or a mother with a remarkable story, to discuss the ups, the downs, the ins and outs of what being a mother is really like.