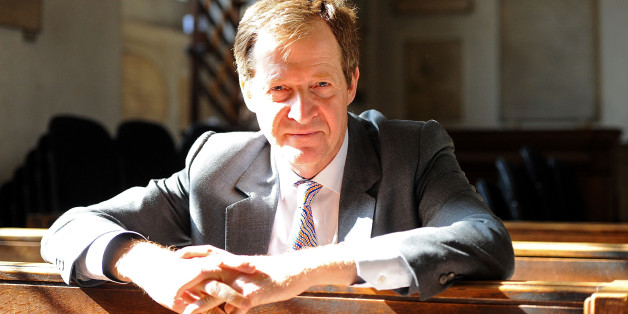 Eamonn M. McCormack via Getty Images
A Jeremy Corbyn victory in the Labour leadership contest would unleash "chaos" on the party and country, Alastair Campbell has said.
Tony Blair's former director of communications said on Monday that he could say with "absolute certainty" that Corbyn would not be able to win the general election in 2020. To elect him leader, Campbell said, would show Labour had "given up on being a serious party of government".
Corbyn, the veteran leftwinger, has emerged as the surprise frontrunner in the contest to succeed Ed Miliband. Writing on his blog, Campbell urged Labour supporters to vote for "ABC" or "Anyone But Corbyn".
The result of the leadership contest between Corbyn, Andy Burnham, Yvette Cooper and Liz Kendall will be announced on September 12.
The preferential voting system used for the election means Labour members rank the candidates in order. Speaking to the BBC today, Kendall, who is seen as the Blairite candidate and has been sharply critical of Corbyn, admitted she was the underdog in the race and had a "long way to go" to get into contention.
However she refused to directly encourage her supporters to give their second and third preferences to anyone by Corbyn. "People will use their other preferences to make sure they get the best candidate for the job," she said.
The Political Betting website highlights how Labour's alternative vote system could prevent a Corbyn victory.
The new Labour leader will be whoever gets more than 50% of the vote first, with the candidate boasting the lowest share knocked out and their vote re-distributed until the winner passes the threshold. Using number crunching website Nojam, the website shows how if Corbyn gets 41% in first round, Burnham 25%, Cooper 22% and Kendall 12%, Cooper still wins based on the second, third and fourth preferences.
ALASTAIR CAMPBELL: It Has to Be ABC - Anyone But Corbyn: Labour Could Be Finished if He Wins

In June, Campbell indicated in a blog for The Huffington Post that he intended to stay out of the leadership race and would not be endorsing a candidate.
However he said he would not "bite my tongue" and would "lead the charge to try to replace whoever is leader" if it became clear they were not on track to win in 2020.
In his blog today, Campbell has decided to speak out against Corbyn. He said: "The two main parties, when choosing a leader, are picking the person they intend thereafter to try to persuade the people of the UK 'this is who should be your prime minister.' And yet the Labour Party, if it elects Jeremy Corbyn as leader, is selecting someone that every piece of political intelligence, experience and analysis tells you will never be elected prime minister."
He said that while Corbyn was "likeable" and "sincere", the Islington North MP would be "a leader of the hard left, for the hard left" that would not convince voters in seats Labour needed to win back from the Conservatives.
"Some of the positions winning him the loudest applause in his packed meetings are those that will be met with the most deafening silence when campaigners get out on the doorsteps of the undecided come election time," he said.
Corbyn's surge in support is believed in part to have come from young people, who were not Labour members before the general election, flocking to pay the £3 fee in order to support him.
blog: Nice guy, good MP: but it has to be ABC – Anyone But Corbyn. Labour could be finished if he wins http://t.co/MZ9NFYWg4p

— Alastair Campbell (@campbellclaret) August 10, 2015
In his blog Campbell said young people needed to remember that Labour was more often out of power than in, and the public at large would not vote for a prime minister who was a "cross between Russell Brand, Nicola Sturgeon and their favourite uncle".
"Whilst I accept that I cannot survey the post electoral scene and say with any certainty that a Labour Party led by Andy Burnham, Yvette Cooper or Liz Kendall will win the next election, I think I can say with absolute certainty that a Corbyn-Tom Watson led Labour Party will not. For that reason alone, I agree with Alan Johnson that what he called the madness of flirting with the idea of Corbyn as leader has to stop. That means no first preferences, no second preferences, no any preferences. It frankly means ABC, Anyone But Corbyn," Campbell said.
"If Corbyn wins, no matter how inclusive and emollient he might try to be, then stand by for his supporters and backers bringing back the politics Kinnock and others fought so hard to beat. I doubt that the deselection processes will spare those MPs who nominated him to get him on the ballot paper and now say they regret it. In short, stand by for chaos, in the PLP and in the party in the country. To those of his supporters who will say this is alarmism, I say just look back and see how this story has unfolded before. "
Campbell said Burnham, Cooper and Kendall needed to "understand they are in a fight not just to be Labour leader, but to save the Party".
"With those three, I could see possible routes both to defeat and also to victory in the country. With Corbyn, I'm afraid I can see only the route to defeat, and much, much worse. I wish it wasn't so. But it is. And it is horrible to watch, unless you're David Cameron, or George Osborne, as things stand his likeliest successor in Number 10."