Police have launched an investigation after a baby boy was offered up for adoption for £15,000 in an online advert.
The post was listed on a classified website with the heading: "£15,000 1 Year 8 Months Old Boy For Adoption".
It is not known whether the advert, which was initially put on useddudley.co.uk, is serious or an elaborate scam designed to prey on childless couples.
The post shows a picture of a baby boy, who loves "cars, stacking cups, balls and books" as well as "cuddles and being around other children".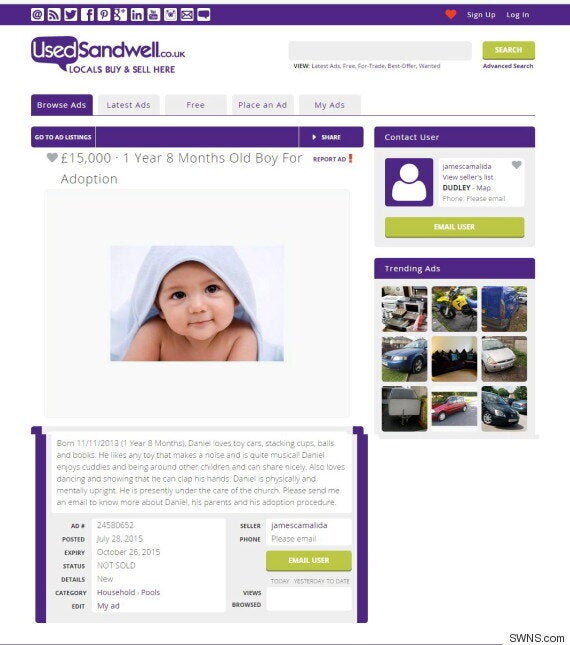 The advert was posted by user 'jamescamalida' and has also appeared on versions on the site operating in Sandwell (pictured), Wolverhampton and Walsall in the West Midlands.
A spokesperson for West Midlands Police confirmed officers were trying to establish the authenticity of the post.
But they said so far an investigation had found it did not correspond with anyone known to the authorities.
The website claims the advert was linked to a scam email address.
Helen Slater, from Dudley, West Midlands, was one of a number of worried users who contacted the website after she saw the first advert on 25 July.
She said: "I was absolutely stunned.
"My first thoughts were for the welfare of the child and that the parents could be unstable and a threat to the baby's wellbeing."
Another local resident Gary Hardy, 22, added: "This is very worrying, whether it is a scam or not.
"It's sick that people would do this either way and the police need to take swift action."
The advert was removed, but just three days later went live on the same website again.
A spokesperson for the NSPCC, said: "Adverts like this can cause distress to members of the public who stumble across such things online.
"We would advise people to contact their local police and childrens' services departments if they are worried."
Black Press Group Ltd, who run the useddudley.co.uk said live moderators are used to try and prevent such posts appearing on the website.
A spokesperson said advert was placed using an email address "frequently used for scams" which has now been blocked.
They added that the site uses technology to block items using certain words but said "baby" couldn't be banned because it was often used to describe clothes.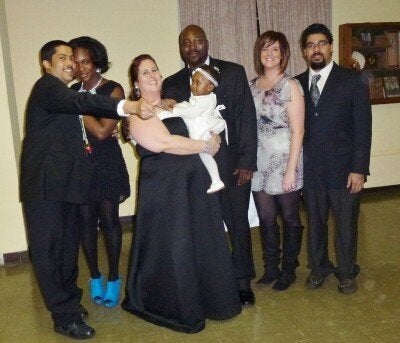 Adoption Portraits