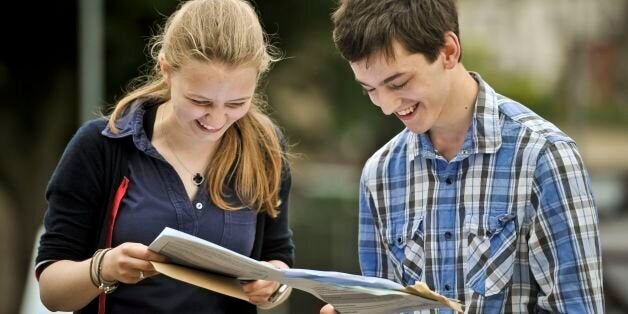 The proportion of top A-level grades awarded this year has fallen slightly, while the numbers of students accepted onto university courses has risen, after the student numbers cap was lifted.
A* and A grades were dished out to 25.9% of exam entries - a 0.1% drop compared to 2014 - and the fourth year in a row the number of top grades has fallen. However, overall pass rate of A* to E grades rose by 0.1% to 98.1%, recovering after the drop last year, which was the first decline in 30 years.
Mathematics remains the most popular subject, accounting for 10.9% of all entries, followed by English (10.5%) and biology (7.4%), the Joint Council for Qualifications (JCQ) said.
Girls have again outperformed boys by 1% overall, but boys continued to earn more A* grades for the fourth year running, with 8.7% achieving a top mark compared with 7.8% of girls.
The number of exams taken has also risen by 2% compared with last year, up to 850,749 despite a 1.1% fall in 18-year-olds sitting the tests.
As of Thursday morning, 409,410 places have been confirmed, up 3% on last year, according to Ucas.
Commenting on the results, schools minister Nick Gibb said: "This year's A level students are among the best qualified in a generation and I want to congratulate them on today's results which reflect the dedication of teachers and young people across the country.
"These results provide the clearest proof that the introduction of the EBacc and our drive to persuade more pupils to study core academic subjects has been a success.
"As a result thousands more pupils, from all backgrounds, are studying subjects that will secure them a place at a top university or an apprenticeship and that will help to secure well paid employment."
Kevin Courtney, deputy general secretary of the National Union of Teachers, said: "The results for A and AS-Levels reflect the hard work of students and their teachers. Many young people will rightly be celebrating their achievements and considering their options for the future, and nothing should detract from that.
"However, we should also note that debate about the appropriateness of A-Levels as a high-level qualification is by no means closed.
"Proposals for an inclusive national baccalaureate are once again under discussion, through the work of the National Baccalaureate Trust.
"Schools and colleges are facing substantial real terms funding cuts for post-16 education, and it is vital that those cuts are reversed to ensure that future cohorts of learners are not disadvantaged and are able to achieve their potential and realise their aspirations."
James Kewin, deputy chief executive of the Sixth Form Colleges' Association gave his congratulations to students, but added: "Ongoing cuts to 16-19 funding are threatening the life chances of students and the ability of Sixth Form Colleges to deliver the sort of high quality education young people need.
"To ensure the sector can continue to act as engines of social mobility and deliver outstanding exam results, the Government should maintain sixth form funding at current levels while an urgent review of education funding is undertaken."
Popular in the Community