Kensington Palace has issued one of its strongest warnings to date about photographing Prince George, detailing "disturbing" incidents where members of the paparazzi have gone to extreme lengths to photograph the young boy, including hiding in the boot of a vehicle, obscuring themselves in sand dunes and using other children as bait.
The palace described a series of "increasingly dangerous" tactics used by members of the paparazzi in order to obtain images of the young prince.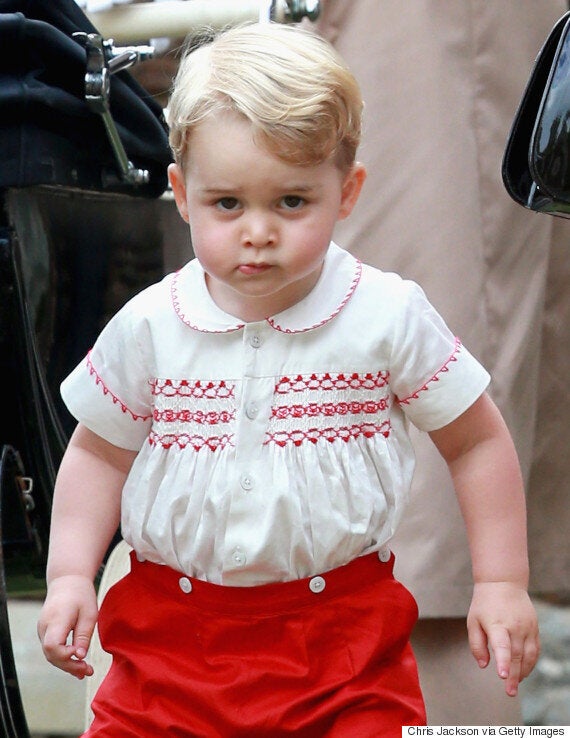 Kensington Palace said Prince George (pictured) was being 'harassed' by paparazzi
Just last week, a photographer was discovered in the boot of a rented car, where he was hiding out in an attempt to shoot photos with a long lens through a small gap in the vehicle, the palace reports.
The palace said in a statement: "Already concealed by darkened windows, he took the added step of hanging sheets inside the vehicle and created a hide stocked with food and drinks to get him through a full day of surveillance, waiting in hope to capture images of Prince George.
Scroll down for our slideshow of the 10 cutest pictures of Prince George (which weren't taken with a telescopic lense)
"Police discovered him lying down in the boot of the vehicle attempting to shoot photos with a long lens through a small gap in his hide.
"It is of course upsetting that such tactics – reminiscent as they are of past surveillance by groups intent on doing more than capturing images – are being deployed to profit from the image of a two-year old boy.
"The worry is that it will not always be possible to quickly distinguish between someone taking photos and someone intending to do more immediate harm."
The palace was prompted to write the lengthy letter after an "increasing number" of incidents saw the two-year-old being "harassed".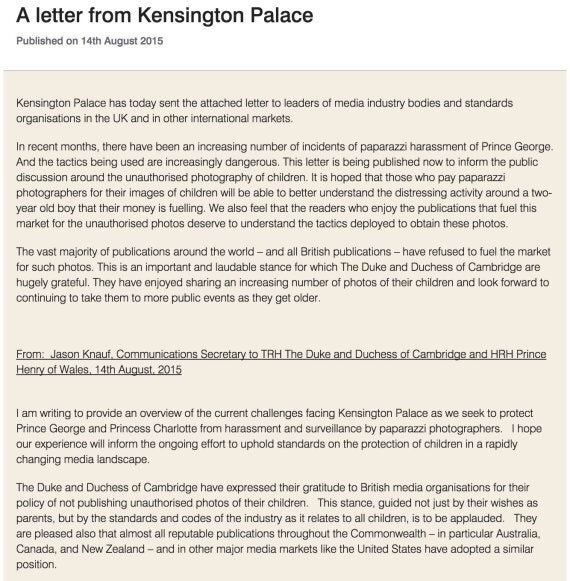 Letter from Kensington Palace
The palace wrote a series of tweets about how the paparazzi "continue to pursue" the young prince.
In the statement, Kensington Palace said that The Duke and Duchess are concerned about providing a childhood for their son and daughter "that is free from harassment and surveillance".
The statement continued: "They [The Duke and Duchess] know every parent would object to anyone – particularly strangers – taking photos of their children without their permission.
"Every parent would understand their deep unease at only learning they had been followed and watched days later when photographs emerged."
This palace lists the following incidents which have happened in recent months:

• on multiple occasions used long range lenses to capture images of The Duchess playing with Prince George in a number of private parks;

• monitored the movements of Prince George and his nanny around London parks and monitored the movements of other household staff;

• photographed the children of private individuals visiting The Duke and Duchess's home;

• pursued cars leaving family homes;

• used other children to draw Prince George into view around playgrounds;

• been found hiding on private property in fields and woodland locations around The Duke and Duchess's home in Norfolk;

• obscured themselves in sand dunes on a rural beach to take photos of Prince George playing with his grandmother;

• placed locations near the Middleton family home in Berkshire under steady surveillance
Article continues below slideshow: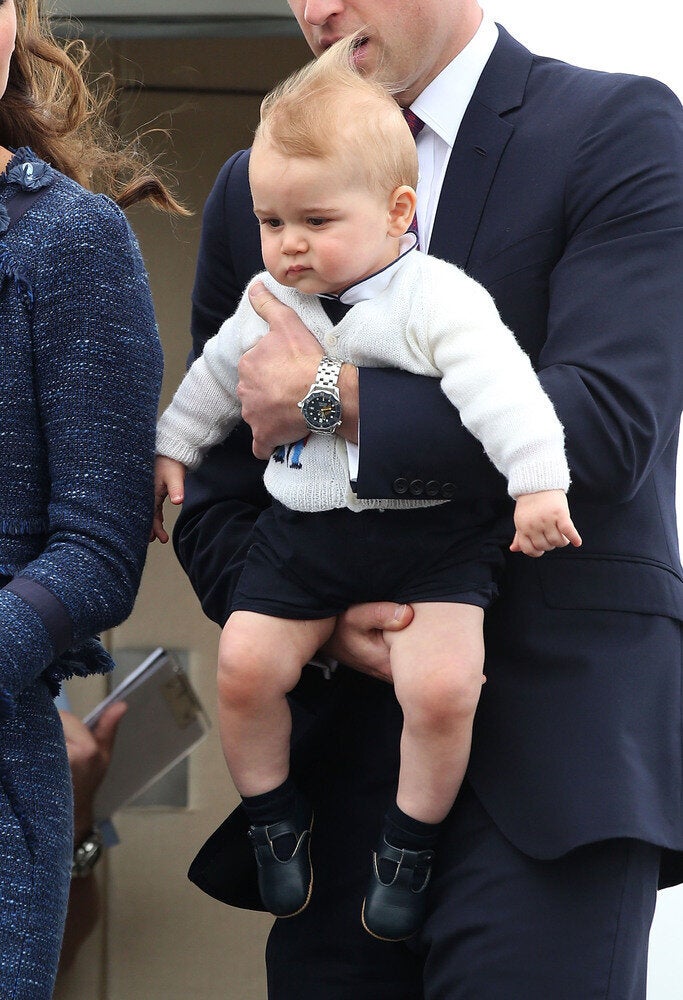 Prince George's Cutest Moments
The news has sparked a fierce debate. With some people questioning the freedom of the press.
While others sympathise with the Duke and Duchess's concerns.
Related