• Huge explosion caused by motorcycle bomb during rush hour
• Up to 19 people dead and 80 injured
• Majority of injured are reportedly foreign tourists
• Defence Minister says bomb was placed inside Erawan Shrine
• Reports of up to three explosive devices
Up to 19 people are believed to have been killed in a large explosion at a Bangkok tourist hotspot.
The blast occurred during the evening rush hour at the Rajprasong intersection, which has been the centre of several contentious political demonstrations in recent years. Security video showed a powerful flash as the bomb exploded.
"All I can say now is there has been an explosion in central Bangkok involving a motorcycle bomb," deputy national police chief Aek Angsananond told Reuters.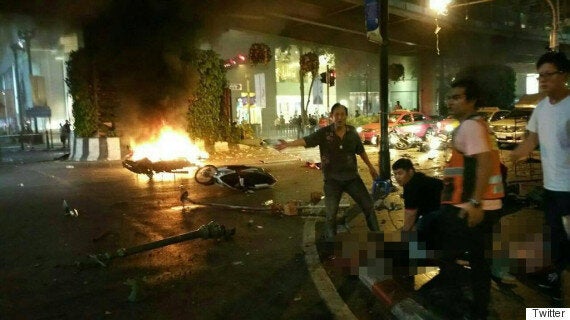 Up to 16 people are reported to have been killed in the blast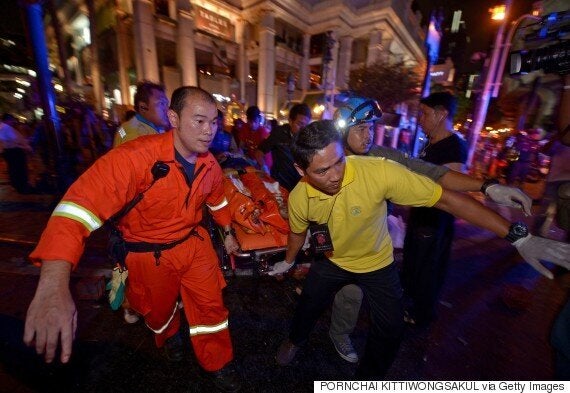 Thai rescue workers carry an injured person after the blast
The blast appears to have occurred in front of the Erawan Shrine, a tourist landmark also popular with Thais. Citing Defence Minister Prawit Wongsuwon, the Bangkok Post writes the device was placed inside the shrine area.
At least two bombs were found at the scene, said Maj. Gen. Weerachon Sukhondhapatipak, a spokesman for Thailand's ruling junta. He said at least one had detonated and another was made safe.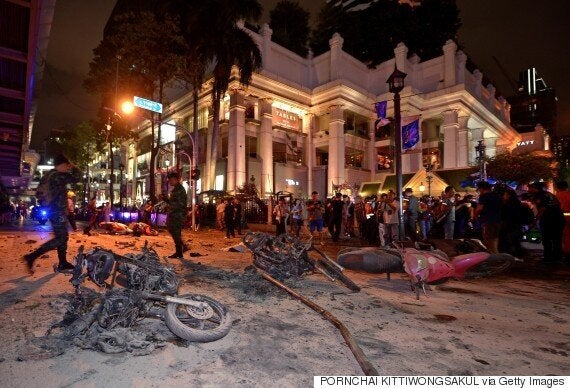 Up to 80 people are believed to have been injured in the blast
The first bomb was found inside the shrine compound, while the second was found opposite the complex, Weerachon said. A report for television station Thai PBS said a further device has been located under a Skytrain, though this is unconfirmed at present.
"It was like a meat market," New Zealand paramedic Marko Cunningham told Reuters. Cunningham, who is working with a Bangkok ambulance service said the blast had left a two-metre-wide crater.
He added: "There were bodies everywhere. Some were shredded. There were legs where heads were supposed to be. It was horrific."
A reporter for Thai PBS said he counted 16 bodies at the scene. The Nation TV put the death toll at 27, though there has been no confirmation of this figure. There are reports that up to 80 people have been injured in the blast.
Alessandro Ursic said: "When I arrived they had already cleared the bodies from the ground outside the Erawan shrine but there were and there still are pieces of human flesh strewn around the intersection; it's really graphic."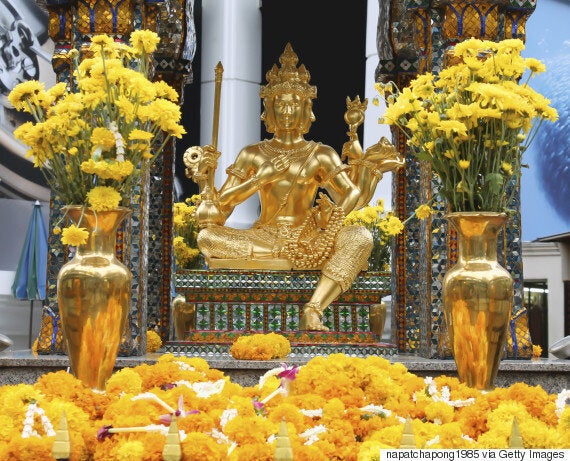 The Erawan Shrine is a tourist landmark also popular with Thais
"I saw more than five bodies inside of the Shrine," a unidentified witness told Steve Herman, reporting from the scene on live streaming app Periscope, "I've never seen anything like this in Bangkok before," they said.
Thailand's capital has been relatively peaceful since a military coup ousted a civilian government in May last year after several months of sometime violent political protests against the previous government.
However, there has been some tension in recent months as the ruling junta has made clear it may not hold elections until 2017 and wants a constitution that will allow some type of emergency rule to take the place of an elected government.
Car bombs are almost unknown in Bangkok, but have been used in southern Thailand, where a Muslim separatist insurgency has been flaring for several years.
No one has taken responsibility for the attacks. "We still don't know for sure who did this and why," Deputy Prime Minister Prawit Wongsuwon told reporters. "We are not sure if it is politically motivated, but they aim to harm our economy and we will hunt them down."
Anusit Kunakorn, secretary of the National Security Council, said Prime Minister Prayuth Chan-ocha, the former army chief, was closely monitoring the situation.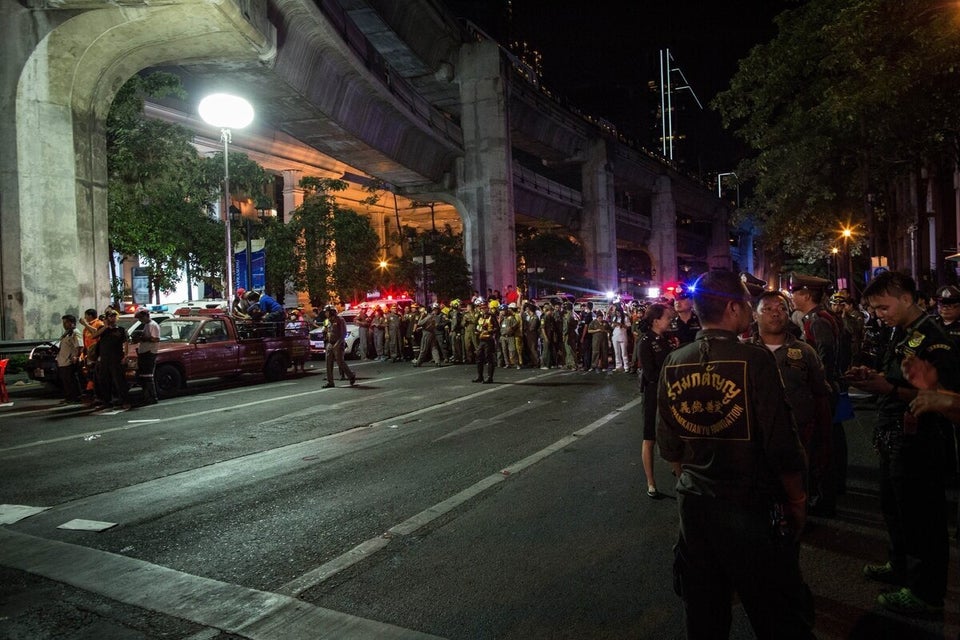 Bangkok explosion
Related