A woman stripped off to her underwear in Central London last weekend in a bid to raise awareness about body image.
Armed with a white board, some marker pens and a blindfold, Jae West headed to Piccadilly Circus to campaign for self-love and self-acceptance.
When she arrived in the busy shopping area she took off her dress and stood in her underwear with arms stretched out, holding a handful of pens.
The whiteboard was propped up against her legs, its message read: "I'm standing here for anyone who has struggled with an eating disorder or body image issue like me... To support self-acceptance draw a '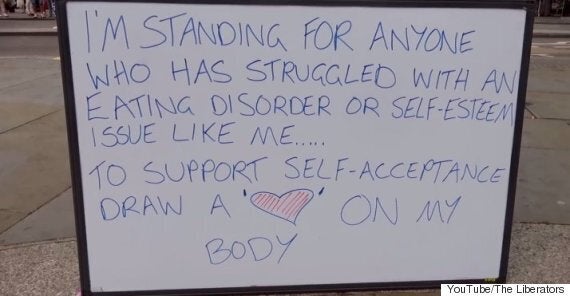 West is part of a group called The Liberators, who aim to raise awareness around issues facing society.
Writing on the group's blog, she admitted she was "scared" in case no one picked up a pen and drew on her body. She said "heart was racing" and she was afraid of being "ridiculed" in public.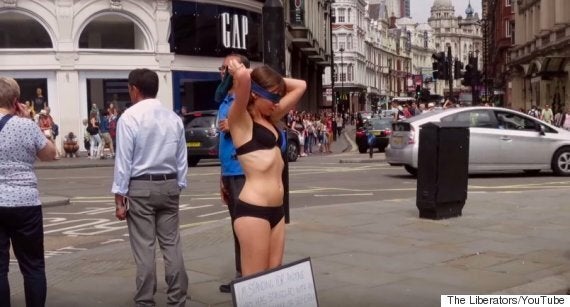 West in Piccadilly Circus
But it didn't take long for an onlooker to make the first move and pick up a pen. "All of a sudden I felt one of the pens in my left hand slip out of my grasp. The feeling of the felt pen was on my skin was one of the most overwhelming feelings of relief, gratitude and love that I've ever felt. I just burst into tears. I don't know who that first person was but I am so thankful for their contribution," she wrote.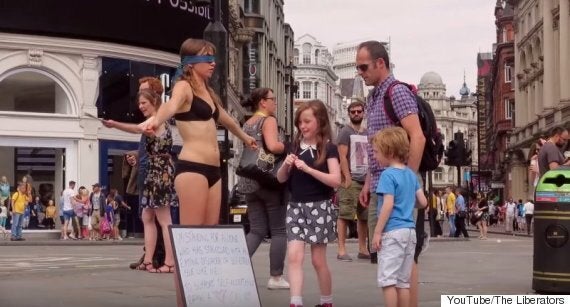 A young family draw a heart on West's body
She added: "One of the most moving and inspiring moments for me was listening to a Father explain to his children what I was doing. He was acknowledging the fact that everyone should love themselves exactly as they are and appreciate the bodies that they are given.
"It warmed my heart to know that his children and others would grow up understanding the impact of this global issue and have a feeling of contribution after drawing a love heart on my body. If everyone could know and appreciate how beautiful they are from childhood I think this world would be a very different place."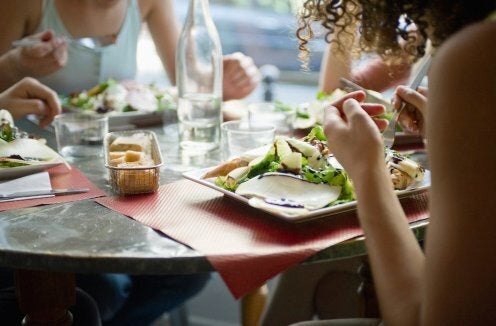 Spotting The Signs Of An Eating Disorder
Useful websites and helplines:

Beat, call 0845 634 7650 or email fyp@b-eat.co.uk

Samaritans, open 24 hours a day, on 08457 90 90 90

Mind, open Monday to Friday, 9am-6pm on 0300 123 3393