Paddy McGuinness can breathe a sigh of relief this morning, as his debut episode of 'Coronation Street' has gone down well with viewers.
READ MORE:
Fans of 'Corrie' have been skeptical of the soap's so-called "stunt casting" over the past few months, with the decision to recruit the likes of Shayne Ward and Sarah Harding to the cobbles getting a lukewarm reception.
Viewers grew even more concerned when Sarah's brief stint in Weatherfield proved to not exactly be Bafta-worthy, but thankfully Paddy's guest appearance has been much more well-received.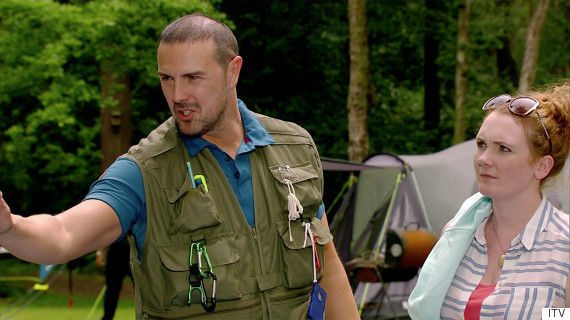 Paddy McGuinness in 'Corrie'
For the rest of this week, Paddy will be playing camping expert Dougie, who strikes up a friendship with the Dobbs/Tinker family, only to eventually rub them up the wrong way with his know-it-all attitude.
'Corrie' fans were quick to voice their approval, after his debut on Monday night, heaping praise on the 'Take Me Out' presenter on Twitter:
Loved @itvcorrie and the happy campers lol!! Please have Paddy McGuinness as a regular he was brilliant😊 #beargrylls

— maria tiltman (@80squeenie) August 18, 2015
@PaddyMcGuinness you were genius on Corrie.

— Joe (@Joe_Clws) August 18, 2015
@PaddyMcGuinness let the street see the cobbles #corrie you were classic last night

— kerry George (@misskerry_lou) August 18, 2015
@PaddyMcGuinness in @itvcorrie last night has made my year!

— zoe ashlie banister (@princessangel84) August 18, 2015
Only have to see paddy mcguinness on tele an he makes me laugh hahaha love him😂 @PaddyMcGuinness

— Demimcloughlinx (@DemiMcloughlinx) August 18, 2015
@PaddyMcGuinness I thought u did really well in corrie 2night love watching u on the TV :)

— Tiffany O'Meara (@tiffanyomeara) August 17, 2015
Paddy McGuinness is the best addition to Corrie in a long time. 'I was born in the outdoors son', like a revived Phoenix Nights

— Joe Buckingham (@JoeBuckarooBuck) August 17, 2015
@PaddyMcGuinness on corrie is the best thing I've seen all year 😂

— Jack Newbery (@Jack_Newbery) August 17, 2015
Hope @PaddyMcGuinness stays in @itvcorrie! He's brilliant!

— imogen (@ParkinsonImogen) August 17, 2015
Paddy McGuinness should have a permanent role on #corrie like that little battle between him and Tyrone

— #ITSJODI (@Jodi_Rushworth) August 17, 2015
I think @PaddyMcGuinness should become a Corrie regular. Fitted in rather well. Good actor as well, the whole package @itvcorrie

— Matt White (@MattWhite92) August 17, 2015
@PaddyMcGuinness @itvcorrie got to make a spin off show just about Dougie

— Chris Miller (@7e421a28e297478) August 17, 2015
Corrie goes camping and Paddy McGuinness is in it. YESSSSSSSSSSSSSS. #Corrie #CorrieGoesCamping

— Mnxe (@Mnxeu) August 17, 2015
.@PaddyMcGuinness in #corrie = genius!! 👍

— Sharon (@see75) August 17, 2015
just watching corrie on catch up and there's @PaddyMcGuinness on set ! might start watching it regularly :)

— dazlongthorne (@leedslovingdaz) August 17, 2015
But, of course, you can't please everybody, and there were a few unsatisfied customers:
Paddy McGuinness can not act.

— Amy Beanland (@amybeanland) August 17, 2015
Good of Coronation street to allow paddy mcguinness to rekindle his role from max and paddys road to nowhere!. What an acting range his got!

— Hector Moriarty (@RoryRorMfc) August 17, 2015
I wish #Corrie would stop hiring shite celebs to be 'actors'. Paddy McGuinness and Sarah Harding are awful and can't act.

— 50shadesofnick (@OhMyDaleys) August 17, 2015
Ah yes. Lets do a terrible storyline and then challenge ourselves to make it even worse. Add Paddy McGuinness. Job done. #Corrie

— David Bedwell (@DavidBedwell) August 17, 2015
Thankfully, it sounded like Paddy wasn't going to let the negative criticism spoil his night:
Enjoyed your company on here tonight. Tons of good #Corrie feedback, the odd bell end & one of my fave actors sent me a tweet. Standard!

— Paddy McGuinness (@PaddyMcGuinness) August 17, 2015
Right I'm off! Gonna have a bowl of crunchy nutters & watch the film Porky's. Life doesn't get much better. N'night y'all.

— Paddy McGuinness (@PaddyMcGuinness) August 17, 2015
When Paddy's 'Corrie' role was announced back in April, the stand-up comedian and actor admitted appearing in the soap was something he'd always wanted to do, revealing: "Being asked to appear in 'Coronation Street' was a very special moment to me.
"An iconic and much loved show not just in the UK but around the world. The character I'll be playing is very funny and I'm sure the 'Corrie' fans will love them."
LIKE US ON FACEBOOK | FOLLOW US ON TWITTER