UPDATE: Corbyn's camp have retracted a statement saying he lobbied the Home Office on behalf of Dyab Abou Jahjah.
Corbyn's camp have retracted statement confirming he lobbied Home Office on Jahjah. Seems there was mix up their end. Tweets deleted.

— Ben Riley-Smith (@benrileysmith) August 19, 2015
What follows is the original story published before the retraction.
Jeremy Corbyn "lobbied the Home Office" in 2009 to allow a Muslim extremist who condoned the killing of British soldiers to stay in the country, according to The Telegraph.
However, a correspondent from The Guardian claims Corbyn's campaign denies the Labour leadership frontrunner ever sent the letter.
Spokeswoman for Corbyn now denying Home Office letter+visa claim, says spokesman quoted was wrong and unauthorised. Something odd going on.

— Rowena Mason (@rowenamason) August 19, 2015
The revelation comes hours after Corbyn first denied knowing Dyab Abou Jahjah, then was forced to admit associating with Lebanese extremist.
According to the newspaper, the Labour leadership frontrunner asked the then-Home Secretary Jacqui Smith to grant Jahjah a visa so he may speak in Parliament. In 2004, Jahjah has called the killing of British soldiers in Iraq a "victory."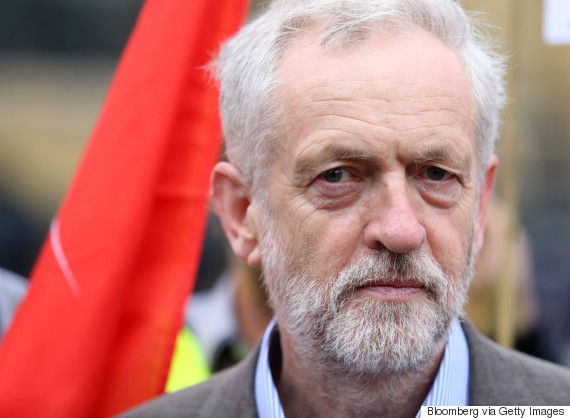 Jeremy Corbyn, candidate for the leadership of the Labour Party, pauses at an event outlining his plans for a publicly owned railway network, in London, on Tuesday, Aug. 18, 2015
Earlier, Corbyn had declared that he did not know who Jahjah was as he angrily dismissed allegations of anti-Semitism. After a picture emerged of the pair attending a meeting, he was then forced to concede they had shared a platform at Westminster in 2009, shortly before Smith banned Jahjah from re-entering Britain.
In a statement, Corbyn said: "My staff have researched this and tell me that I did meet this man in 2009 but I have no recollection of him. As an MP I have met thousands of people over the years. Because I meet them, it does not mean I share their views or endorse their views."
"Sorry, who?" @jeremycorbyn on claim he invited controversial activist to Parliament http://t.co/yk38jDwHRG #wato pic.twitter.com/Rt9ByJYTIn

— The World at One (@BBCWorldatOne) August 19, 2015
Earlier this week, Corbyn denied having any current contact with a self-confessed Holocaust denier Paul Eisen, telling Channel 4 News on Monday that he had never made a substantial donation to either Eisen or his Deir Yassin Remembered charity.
The Labour leadership frontrunner was last week accused by the Jewish Chronicle of associating with "Holocaust deniers, terrorists and some outright anti-Semites" in an editorial that expressed "deep foreboding at the prospect of Mr Corbyn's election as Labour leader."
READ MORE: