Cochin International Airport has become the first airport in the world to be powered entirely by the sun.
The move to solar will save 300,000 tonnes worth of carbon emissions over the next 25 years, which is the equivalent of planting three million trees, a press release stated.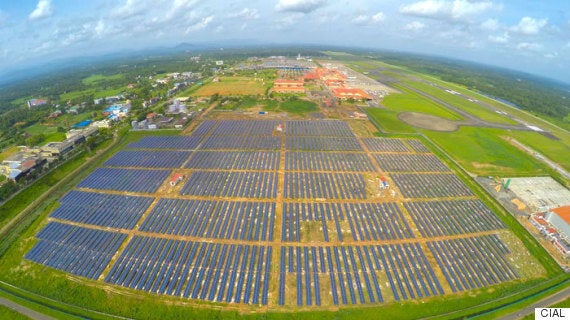 Solar panels dotting airport landscapes are not an entirely new concept but this will be the first airport to get all its power from the sun.
The 45 acre cargo complex will be covered by 46,150 solar panels and generate between 50000 and 60000 units of electricity a day, which should meet its demand for power.
The airport is owned by Cochin International Airport Limited (CIAL), a parent company that plans to sell all the energy gained to a state corporation -- Kerela State electricity board.
During the day, CIAL will give the board as much power as the airport generates with plans to get it back as when it is required. This will cover periods during the night, when less power is being produced.
The 12 MW solar plant initially began its life as a pilot project in 2013.
"We initiated a pilot project in February 2013 as part of our plan to shift to renewable energy by setting up a 100 kilo watt unit," VJ Kurian, managing director of CIAL told Quartz.
"When we found that feasible, we set up a 1MW unit in November 2013."
India's Prime Minister Narendra Modi has been clear about his plans to grow the country's solar sector in a bid to scale up clean energy use by five times before 2022.