A nine-year-old boy, who was previously bullied for having one hand, has become the first person in the UK to be fitted with a child-sized bionic hand.
Josh Cathcart, from Dalgety Bay in Fife, was reportedly tormented by classmates who teased him about his disability, but now he said he cannot wait to show off his "awesome" new tool to friends at school.
His parents, Clare and James, were looking for a way to help their son, who had become withdrawn, when they came across Touch Bionics in Livingston, West Lothian.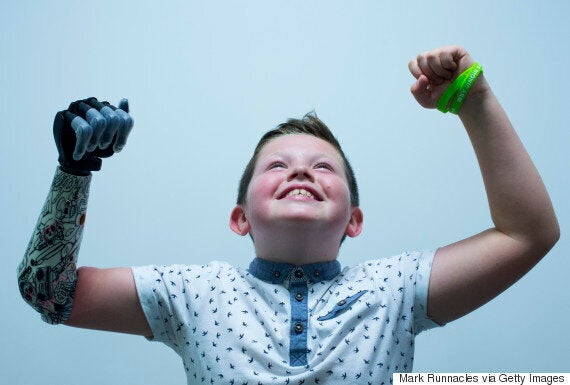 Nine-year-old Josh has the smallest bionic hand in the UK
Speaking in an interview with the Press Association, Josh said: "I got it put on about two days ago. It feels quite heavy. I can stick my thumb up. I can make a pinch grip, I can get a grip for cutting with a knife.
"I made myself a bagel yesterday. I can open bottles and packets with it, I can stack up blocks, I can build Lego with it and I can pull my trousers up."
Josh's mother said: "Josh had been getting picked on and became quite withdrawn and upset, so we started looking for something a bit more advanced, something that moved.
"So, we had chats with him and then went on the internet and came across this company.
"He was born missing a hand. At first, I didn't really give it much thought but as time went on I blamed myself for it."
Wiping away tears, she said: "Now I can see him with two hands."
Related