One Direction fans, devastated by the announcement that the band will "take a break" next year, are being comforted by those affected by the splits of boybands Take That, Westlife, JLS and Blue.
One Direction will officially split in March, according to The Sun.
The four remaining members - Harry Styles, Liam Payne, Louis Tomlinson and Niall Horan – decided last week that they would pursue separate projects for a year following a meeting in London.
The band's fans, known as One Directioners, have thus far reacted with horror and dismay to the news. But this is much like the reaction of fans of 90s bands Take That and Westlife, and even more recent acts JLS and Blue.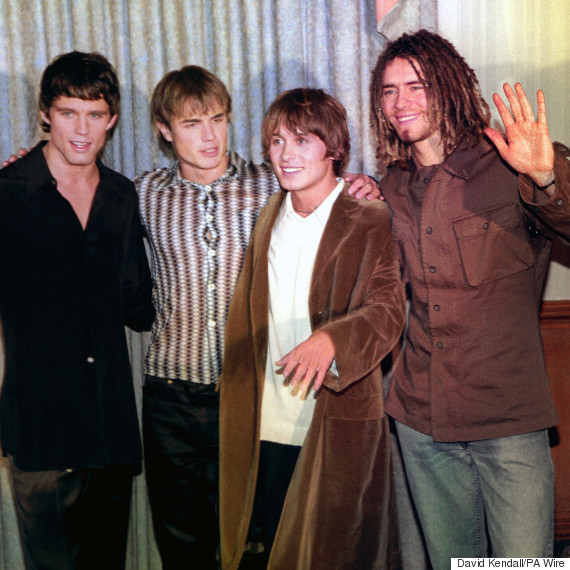 A farewell wave from pop group Take That in Manchester in February 1996
Older fans have been here before.
One Direction fans, I got through Brian leaving Westlife & then their split when I was younger, you can do this! 🙏🏼

— Rachael Devine (@_rachaeldevine) August 23, 2015
Should stop liking boy bands, all they do is split up! First Westlife, then JLS and now One Direction 😥😥😥 #devastated

— Lauren. (@LSH_xo) August 23, 2015
I love Take That more than anything but you can't deny that One Direction are more well known worldwide than Take That ever were 💁

— mark to the owen (@dontbeawful) August 23, 2015
It's ok One Direction fans, I went through this with Take That & Boyzone. You may feel like your heart is in a blender, but you can do this.

— Lia (@LisforLia) August 23, 2015
I predict One Direction to be trending until March. At least. Cue support phone lines being set up a-la Take That in 1996.

— Rachel Hawkins (@Our_Rach) August 23, 2015
Oh no @onedirection is going on hiatus. Just like @takethat all over again. Dig deep @georgieonlife You survived that, you'll survive this

— Georgie Ryan (@georgieonlife) August 24, 2015
@ElleEmSee you got caught up in the One Direction frenzy. Happens to the best of us. *whispers* "I still love you 5ive"

— Aidan Browne (@aidanjwbrowne) August 23, 2015
One direction splitting up hasn't got shit on when 5ive called it a day

— Josè (@joe_cadman) August 23, 2015
i feel old now NSync, Take That, Westlife, JLS, the Wanted, One Direction... hiatus better than split

— T_Au (@T__Au) August 24, 2015
All this one direction drama is boring me I don't care if they spilt or not I'm just still upset about westlife splitting up

— katie (@ARGENTSNOW) August 23, 2015
Abso devastated about one direction 😭😭😭😭 It's like Westlife all over again

— hannah jane (@hannahjanexo) August 23, 2015
Though perhaps not everyone was supportive...
I'm too old for One Direction, but I guess if I were 20 years younger I'd feel like I did when Take That split up: wholly indifferent.

— Tom Hamilton (@thhamilton) August 23, 2015
One Direction fans will never understand the real pain of a breakup like we did with Take That

— Duignan (@djuaicgknan) August 23, 2015
LIKE US ON FACEBOOK | FOLLOW US ON TWITTER