Some 20 people are now feared to have died in the Shoreham Airshow crash, as pictures of the tragedy showed how a fireball engulfed cars and the jet on Saturday.
The mother of one of the victims of the Shoreham Airshow crash has called for acrobatic plane displays to be restricted to taking place over the sea to avoid a repeat of the tragedy.
So far seven people have been confirmed dead, but authorities have warned the toll will rise.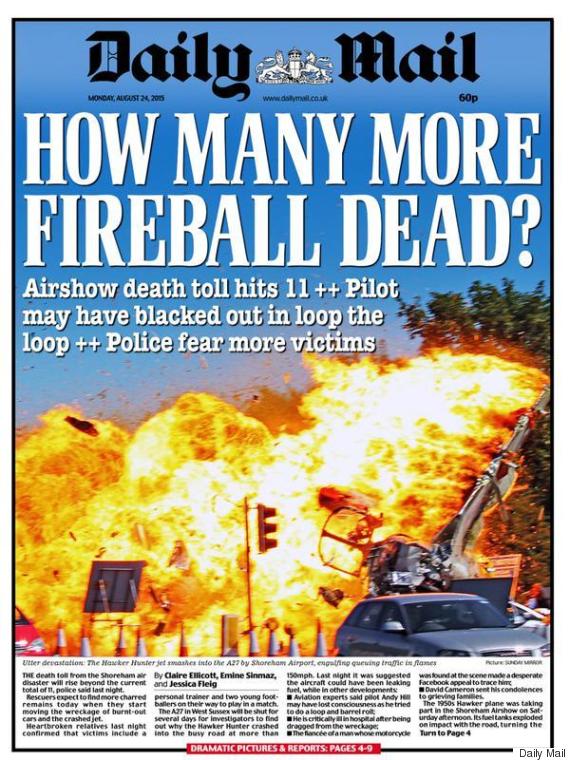 Today's Daily Mail (above) and The Sun (below) both describe the crash as a 'fireball'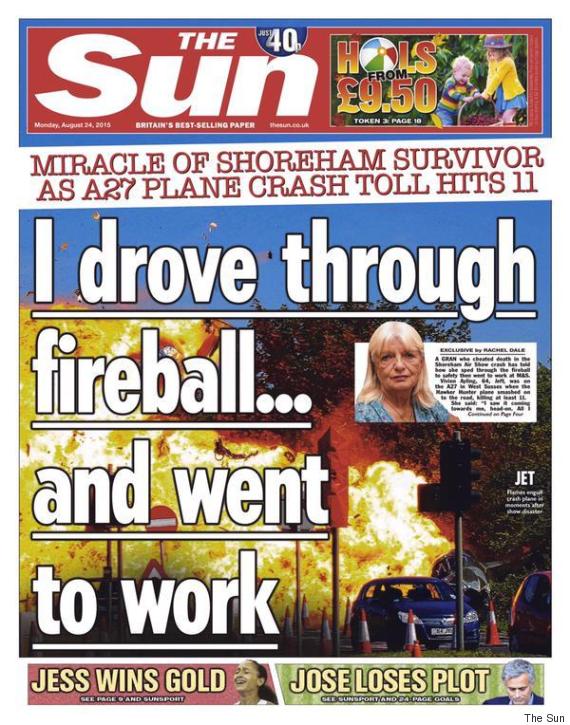 The jet, a 1950s Hawker Hunter, crashed at about 1.20pm on Saturday shortly as it performed stunts in front of thousands of spectators at the airshow.
The plane crashed on the A27 dual carriageway after failing to pull off a loop.
Sue Grimstone, whose son Matthew was killed when the plane crashed in the road in West Sussex, told the Daily Telegraph her son's death had been "a waste", adding: "Airshows should be over the sea. It should never have been over that road."
Police had already said it was "highly likely" the death toll would reach 11, but, on Monday, they said it could now be 20.
Pilot Andy Hill, an experienced aerobatic stunt flyer who has performed at shows up and down the country and flies for British Airways, was pulled alive from the wreckage and is in hospital. Fourteen people were injured.
The crash in pictures
Photo gallery

Shoreham Air Crash

See Gallery
MP Grahame Morris agree with Mrs Grimstone, telling The Daily Mirror that airshows should be "limited to displaying over water".
MP Graham Stringer told the paper: "I think when an event like this kills 11 people – and it's not the first time there have been fatalities at an airshow – there should be a serious look at the regulations with a view to tightening them up."
Bodies of the dead were still being removed on Sunday. Air accident investigators are to continue to working at the scene and the wreckage of the plane is due to be
The wreckage of the plane, which still has engine fuel on board, is also expected to be removed by crane today.
Flowers, yellow bouquets, roses and sunflowers, were left at the railings of a footbridge near the crash scene.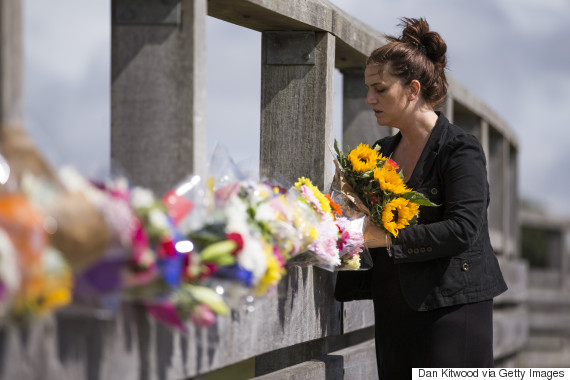 Tributes were left near the scene
According to Press Association, one card read: "We didn't know you but we came because we care, we wanted you to know that you and your families are in our thoughts. Shoreham grieves for you and with you. Rest in peace."
Another said: "Thinking of all those who have lost their lives at the Shoreham air show on 22 August 2015. Friends and family are in our thoughts. Rest in peace to you all."
A message from St John Ambulance read: "Our thoughts are with loved ones left behind."
A Civil Aviation Authority spokesman said: "The safety standards that must be met by all major civil air displays in the UK are among the very highest in the world.
"All air display arrangements, including the pilots and aircraft, must meet rigorous safety requirements. Individual display pilots are only granted approval following a thorough test of their abilities.
"All aviation safety requirements are regularly reviewed to ensure they provide the highest possible levels of protection. Events of this nature are very rare, but we will now thoroughly examine the circumstances to establish if further improvements can be made.
"We immediately commenced our review processes and remain committed to continuously enhancing the safety of all civil aviation and will provide further updates in the days to come."
READ MORE:
While police are yet to formally identify any of those killed in the tragedy, Mr Grimstone's family said they were in "total shock" at his death, adding: "He was the kindest person you could ever meet with, a great wit."
Sussex Police Assistant Chief Constable Steve Barry said: "A lot of specially-trained officers are sifting, as we speak, so we do need to keep an open mind, but from what we have seen at this stage it is possible that we will find more fatalities."
The crash site is "extremely large" and is spread over 400 yards of the A27 and the airfield.
Everyone who was killed is believed to have been on the road.
Mr Barry said the status of the jet's ejector seats was yet to be determined but confirmed the pilot was pulled alive from the burning plane.
The A27 is expected be closed for several days for the investigation and for wreckage to be removed. The road itself was also badly damaged and will need to be repaired.
Specialists from other police forces and the West Sussex Fire and Rescue Service have been brought in to help with the operation.
Mr Barry said it was "very, very significant ... the likes of which I have never seen before".