Shocking eyewitness footage has emerged of a series of explosions that struck a US military storage building at Sagamihara City in north-central Kanagawa, Japan.
Emergency services rushed to contain the burning unit on Sunday as helicopters circled overhead, and ten fire engines attempted to extinguish the blaze.
The depot is a storage facility for petroleum products and ammunition but it is also reported to house the families of serving soldiers, according to the Telegraph.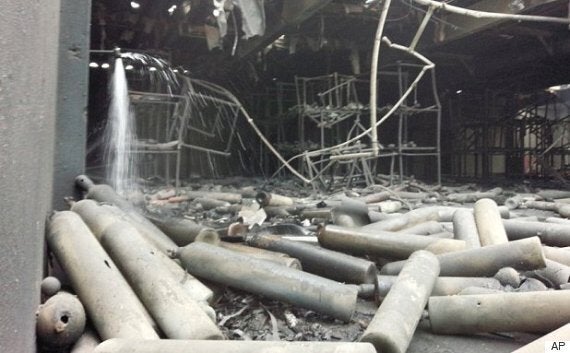 The aftermath of the explosion, compressed gas canisters litter the floor
Firefighters continued through the night to battle the fire triggered by the blast, of which there are currently no reports of injuries.
Navy Commander Bill Urban told Reuters: "There are no reports of injury, and base firefighters and first responders are currently fighting the resulting fire to prevent its spread to nearby buildings."
The blasts began at approximately 1am local time, and continued for more than ten minutes. Eyewitnesses released video footage of the blazing unit:
Yoshihide Suga, a government spokesman, stated: "This sort of incident triggers anxiety among residents living near the US bases, and we urge the US to provide further information, to investigate the cause and to prevent the repetition of such incidents."
The explosions at the US base come just before a huge blaze erupted at a steel plant nearby at Tokyo's Haneda Airport.
Onlookers captured the scenes as the fire's enormity was illustrated by the large plumes of black smoke rising into the sky, which reportedly caused some disruption to flight services.
Video uploaded from traveler Darren Pauls shows planes still moving on the tarmac as thick, black smoke rises above the airport:
Kota Tanabe, a spokesman with Kawasaki City Fire department told CNN that the incident, at Nippon Steel factory, caused no immediate report of casualties, however the situation is still not all clear.
Sky News reported that local police declined to speculate on whether there was any link between the two incidents.